As the world's most popular search engine, Google puts an endless amount of knowledge at people's fingertips. It enables users to learn more about topics they're interested in, find nearby services, and connect with charitable causes that mean something to them.
With a content network that reaches 4.3 billion users worldwide, Google Ads can be a powerful marketing tool for any organization. Best of all, Google makes the platform accessible to charitable organizations through its Google Ad Grants program for nonprofits. Eligible organizations receive up to $10,000 per month in free advertising credits, allowing them to place their landing pages at the top of search results for mission-relevant keywords.
Google provides the reach, but it's up to you to write ads that pull net surfers in. We understand that paid advertising may be a new realm for most nonprofit marketers who want to add new marketing channels into the mix, which is why we've put together this guide. To help strengthen your keyword strategies, we'll cover these keyword-specific tips:
While the program can launch your digital marketing efforts forward, your campaigns will only be as beneficial as the keywords you choose. Let's dive in!
1. Identify what's unique about your nonprofit.
Like any marketing strategy, you need to figure out what makes your brand stand out from similar organizations.
Determining this will allow you to communicate your work effectively through your ads and stand out on search engine results pages when featured alongside competitors. It'll also help you kickstart your initial list of keywords.
Even if you're still waiting for your Google Ad Grants application to be approved, brainstorm potential keywords related to your mission. You'll also want to identify your target group beforehand and think of terms that will appeal directly to them. For instance, a wildlife rescue organization might target terms like:
Wildlife animal rescue

Nature conservation

Prevent deforestation

Wildlife sanctuary
From here, conduct a competitive analysis of the organizations you compete with using the selected keywords. Are they ranking organically, or have they purchased ad space for these terms? How do they position themselves in their ads, and how can you differentiate your organization from there's in your ad copy? What other keywords are they targeting?
Look into possible variations of your selected keywords until you find a combination that places you in the first several ads that appear. If you need ideas for related keywords, Google Keyword Planner allows you to search for synonyms and get new keyword ideas.
2. Create a short list of targeted keywords for your Google Ad campaigns.
Generic terms lead to high fees and low ROI. After creating your list of potential keywords, hone in on more specific keywords based on your nonprofit's unique services.
Returning to our example, let's say our fictional wildlife rescue organization specializes in bird rehabilitation. Considering their specialization will allow them to narrow their keyword list and choose specific terms prospective supporters might be searching.
Instead of generic terms like 'animal rescue,' they can specifically reference their services by targeting terms like:
Bird rescue

Wild bird rehabilitation

Injured bird rescue
Choosing specific keywords will allow them to target an audience that's interested in their services more accurately and are more likely to get involved.
3. Understand the role of different keyword research tools.
While it's possible to conduct keyword research manually, doing so can be time-consuming and take away time better spent writing your ads, marketing your nonprofit on other platforms, and pursuing your mission. That's where keyword research tools come in handy.
Knowing how to use different keyword research tools is essential as you narrow down your keyword list. While we briefly touched on Google Keyword Planner, let's retake a look at it among a few others in more detail.
Google Keyword Planner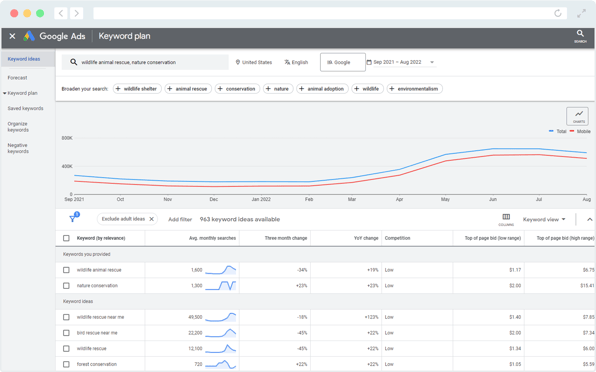 This is Google Ads' official tool that helps you find the optimal keywords for your ads. You simply type in a few words or phrases related to your organization. Then, it provides you with a variety of data for the search terms you entered, such as:
Average monthly searches

Top of page bid estimate

Competition for the keyword

Historical stats such as year-over-year change
It'll also provide keyword ideas and suggested competitive bids to help you allocate your advertising budget effectively. After all, planning your budget ahead of time will enable you to prioritize the most important search terms for your mission.
Google Trends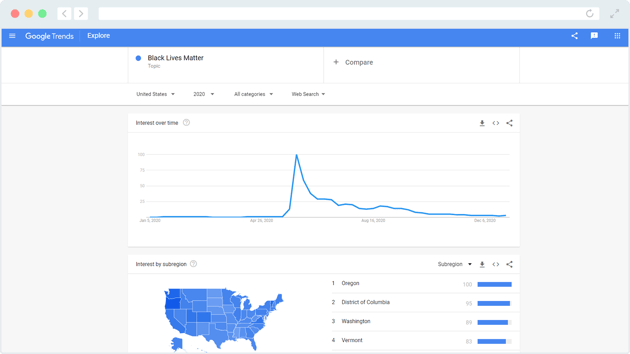 This is a free tool from Google that gives you a sense of what people are searching for at any given time. You can sample time and geography-based data, giving you insight into trending searches in specific areas.
Google Trends lets you see how keywords fare over time and pinpoint at which point of the year searches for specific keywords are most popular, making it ideal for choosing seasonal keywords.
Google Search Console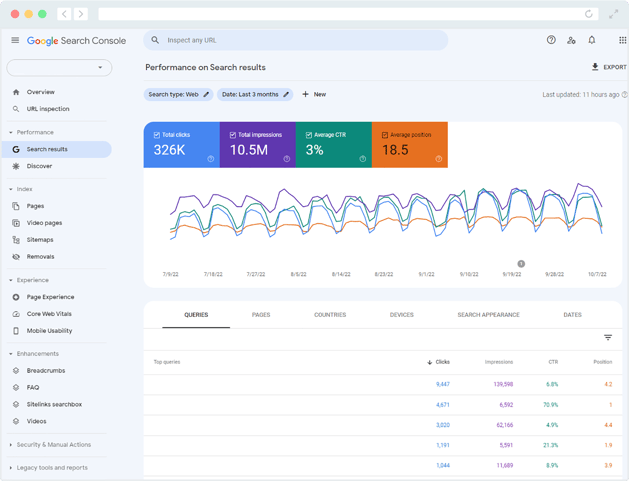 While not exclusively for keyword research, Search Console allows you to monitor your site's overall performance. In turn, you can optimize your website and refine your ads to drive more traffic.
This tool enables you to do the following:
View which search results and sites drive traffic to your site

Monitor impressions, clicks, and rankings on Google

Test and improve the mobile usability of your site
By allowing you to monitor site performance and make adjustments to optimize its usability, Search Console can directly impact your Google Ad campaigns.
While there are other tools out there, these are the three main ones that Google provides for solidifying your Google Ad Grant keyword strategy.
4. Use the phrase keyword match type in your Google Ad Grant campaigns.
When bidding on keywords, you'll need to choose a keyword match type. Selecting various keyword types allows you to either expand or refine when your ad appears. In other words, this will tell the Google Ad interface how aggressively (or restrictively) you want it to match your ads to different search queries.
When building your Google Grant campaigns, here are the two keyword match types you should consider:
Phrase match:

Selecting the phrase match option allows your ads to show on searches that include the meaning of your keyword. The term's meaning can be implied, which means it may show your ads for queries containing synonyms, plurals, or close variants of your keyword. This match type enables your ad to be shown for more searches than exact match.

Exact match:

Choosing this keyword match type means ads can show on searches with the keyword's same meaning or intent. It gives you more control over who sees your ads but also limits your ad by showing it for fewer searches.
Between these options, we recommend using the phrase match to help you reach more prospective supporters. Exact match will limit the number of users you reach with your nonprofit's Google Ads.
To further refine your audience, use negative keywords. This feature allows you to select keywords you don't want your ad to appear for. For instance, an endangered bear organization that wants to use 'bear' in their keyword lists might list 'Chicago' or 'teddy' as negative keywords.
5. Coordinate your keywords with your landing pages.
An important part of your nonprofit's Google Ads is your landing pages. You'll want to choose pages that match the search intent behind your keywords.
In most cases, you'll want to direct users to a specific area on your site, not just the homepage. People want to find what they are looking for without hassle. Many nonprofits leveraging Google Ad Grants target specific conversion goals, such as:
Increase funds by promoting donation and sponsorship forms

Boost volunteer recruitment by amplifying volunteer sign-up pages

Increase visibility for

advocacy campaigns

by advertising petitions and events

Increase event registrations by sharing event pages

Spread awareness for the cause by promoting

blog content
Directing potential donors to your donation page or a volunteer sign-up form makes it that much easier for them to get involved.
For instance, if someone searches 'homeless shelter volunteer opportunities," they're looking to sign up to volunteer. In this case, the landing page associated with your ad should direct users to your volunteer registration page.
Links to your homepage can be helpful if you are working on brand name recognition, but otherwise, direct people to the relevant page that matches your ad.
6. Use keywords in your nonprofit's Google Ad copy.
High-converting ads spell out exactly what they are promoting. Well-placed keywords in both the title and body of the ad ensure that when people click on your landing page, they know what to expect.
When users see keywords in your ad copy, they'll understand whether your ad aligns with their search intent and offers what they're looking for. And if it doesn't, they're less likely to click it, meaning your organization won't have to pay for clicks from unqualified leads.
Take the below search result for the search term 'breast cancer research' for example. Notice how the Breast Cancer Research Foundation included different variations of the term "breast cancer research" in their ad copy. With the exact term and variations, their ad successfully communicates their mission and what users can expect when clicking the linked landing page.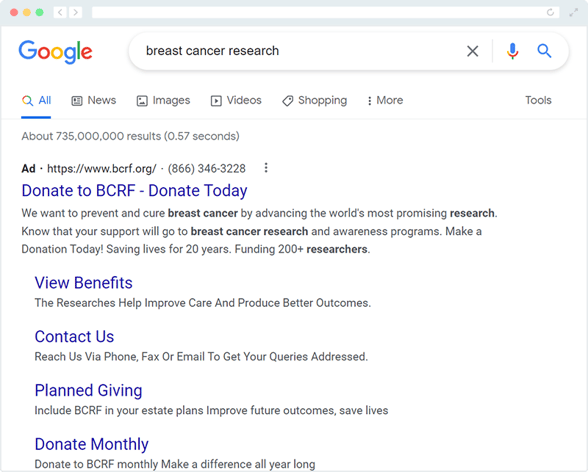 7. Adhere to the program's keyword guidelines.
When the Google Ad Grants program was established, there weren't any formal compliance requirements. This led to nonprofits promoting unhelpful content and targeting keywords that didn't drive qualified leads. In 2018, Google launched its official compliance rules.
As explained in Getting Attention's guide to Google Grants eligibility, these compliance guidelines aren't intended to exclude organizations from participating in the program. Rather, they're intended "to help nonprofits develop thoughtful strategies and leverage the grant money to drive meaningful conversions."
To maintain your Google Ad Grants eligibility, follow these keyword-specific guidelines required by the Google Grants team:
No single-word keywords.

Exceptions include brand keywords, approved medical conditions, and other similar cases.

No overly generic keywords.

Your keywords should be somewhat specific and indicate the intent of the person searching the query.

Keywords must have a minimum quality score of 3.

The Google Ad Grants team evaluates keywords based on how well your ad quality compares to other advertisers. It assigns a score from 1-10, with higher scores meaning that your ad and landing page are more relevant to someone searching for your keyword.
While Google implements other compliance guidelines, these are the ones specific to keywords. Follow all regulations, but be especially aware of these when designing your keyword strategy.
8. Organize your Google Ad groups strategically.
Before developing your ads and selecting keywords, understand how your Ad Grant account is structured. Each Google Ads account is broken down into campaigns. Each campaign contains different ad groups. You then assign each ad group specific keywords and create multiple ads that target those keywords.
Formatting your account this way allows you to allocate your advertising budget to the most important topics for your nonprofit.
When crafting your ad groups, experiment with different strategies, including:
Separate ad groups:

Split up your keyword buys into different categories. For example, you could have one ad group devoted to recruiting activists, and another for reaching out to

recruit potential volunteers

. This distinction allows you to track each campaign's progress better.

Use single keyword ad groups:

Keep everything organized by creating ad groups with just one keyword. This enables you to track each keyword's success and create a cleaner account structure.
With a poorly organized Google Ad Grant account, your ad performance will suffer, so make sure to give plenty of forethought to how you structure your account.
9. Use automated bidding for your Google Ads.
When creating your bidding strategy, remember that Google limits how high Ad Grant accounts can have their max CPCs when using manual bidding. The highest bid allowed is currently $2.00, but there's a workaround that allows you to go above this cap.
By selecting a Smart Bidding strategy for your campaign, you can exceed the $2 bid cap. Also known as auction-time bidding and automated bidding, Smart Bidding strategies use machine learning to optimize for conversions and conversion values.
In other words, Google will automatically adjust your bids for different keywords based on your goals, maximizing the success of your campaigns.
Smart Bidding strategies include:
Target cost-per-action (CPA):

This keyword bidding strategy enables you to set the average cost you're willing to pay per conversion. Then, when a user conducts a search that fits your services, Google Ads will use your Target CPA to set a bid based on the likelihood of converting.

Maximize conversions:

This bidding strategy enables you to maximize the total conversion value of your campaign within the budget you specify. You set the value you want to maximize, such as the number of clicks. Then, Google will automatically adjust your bids.

Target return on ad spend (ROAS):

This bidding strategy analyzes and predicts the value of a potential conversion whenever a user searches a term related to your offerings. In other words, if the bid strategy determines a user's search is likely to generate a high-value conversion, target ROAS will bid higher on that search.
Not only will using automated keyword bidding allow you to go above the bid cap, but it can also limit the manual labor necessary to manage your nonprofit's Google Ad Grant account. To effectively use Smart Bidding, make sure you first set up conversion tracking, so you can track user interactions and choose the bidding strategies that will maximize ad campaign success.
10. Track the results of your Google Ad Grant campaigns.
Even after choosing keywords and designing ads that target them, the work's not over yet! You need tools to monitor your campaign performance and refine your ads to generate better results over time.
Which keywords were successful, and which didn't receive results? Knowing this allows you to adjust your keyword strategy to ensure you're targeting the right terms and creating ads that drive value.
Google offers a few tools to Google Ad Grantees that you can use to monitor your campaign performance, including:
Google Analytics:

Get in-depth reports on various aspects of your campaign, monitor ad performance, and track your site's performance.

Tag Manager:

Track user interactions on

your nonprofit's website

,

such as donations, event signups, and volunteer registrations.
These two tools will give you a solid foundation for tracking your campaigns' performance, but note that these are just the main ones Google provides. There are other tools out there that can help you track results — it's just up to whatever your team finds most helpful.
Wrapping Up
Getting your website's content in front of the right people is essential for spreading awareness for your cause.
If you're still not convinced that Google Ad Grants are the right move, know that organic visitors only make up 44% of total nonprofit web traffic, according to 360MatchPro's fundraising statistics page. In other words, paid advertising drives 66% of traffic on average, and Google Ads puts paid advertising within your team's grasp without impacting your budget.
The Google Ad Grants program can play a powerful role in amplifying your site. However, it takes some forethought into which keywords will connect you with qualified prospects. Targeting the right keywords with your Google Ad Grant campaigns will help place your ads in front of the right audiences while also boosting your site's organic searches. With some research and time, you'll be well on your way to creating powerful ads for your nonprofit.