Your nonprofit's website serves as your organization's online headquarters. This is where both dedicated supporters and curious website visitors come to learn about your mission and current operations, register for events, sign up to volunteer, and make donations.
However, it isn't enough to just create a website—even if the site has a great look and top-tier functionality. You have to actively drive people to your website in order to get them to engage with the important resources and tools you offer.
There are a number of ways to do this, from linking to your website on your social media profiles and in your email campaigns to tapping into the power of organic traffic through search engine optimization (SEO).
But there's another way to boost activity on your website—by applying for and using Google Ad Grants to run ads within Google searches!
The Google Ad Grant program is a corporate philanthropy program offered by Google in which qualifying charitable organizations are given a $10,000 monthly budget to use to create Google Ads that boost exposure for their mission and drive traffic to their websites. These ads are placed on Google's search engine results pages (SERPs) for specific keywords that nonprofits use their Ad budgets to bid on.
Google Ad Grants may sound like a great option for boosting visibility for your nonprofit and its important web pages, but you may be wondering, "Does my organization qualify?" Let's explore the eligibility criteria to find out!
Baseline Eligibility Criteria
If your nonprofit is a 501(c)(3) organization with a solid website, you're likely eligible for the Google Ad Grants program. However, there are a few exceptions. Schools, educational institutions, government organizations, hospitals, and healthcare organizations are not eligible for the Google Ad Grants program.
According to Cornershop Creative's guide to Google Grants for nonprofits, here are the specific requirements you need to meet:
The biggest piece of the puzzle for most nonprofits will be the last requirement, having a functional website. For the Google Ad Grants program, this means that your nonprofit owns the domain of the website, that commercial activity is not the main purpose of the website, and that the website provides an excellent user experience.
Take this opportunity to ensure that your website employs design best practices like showcasing your nonprofit branding, providing intuitive navigation, prioritizing accessibility for every visitor, using impactful visuals, and simplifying conversion forms. This will help you make the most out of Google Ads—after all, getting an internet user to click on your ad is only half the battle. Make sure that a high-quality website experience is waiting for them on the other side, and you'll increase your chances of that user engaging with your site and your cause.
How to Maintain Your Eligibility
It is possible for organizations to lose their Google Ad Grant eligibility if they don't keep up with their accounts. So, you should be prepared to meet the baseline eligibility above and also:
Stay active and monitor your account performance. Log in at least once a month and update your campaigns at least every 90 days. You also need to maintain a (minimum) 5% click-through rate for your account and set up conversion tracking in Google Analytics to prove you're getting at least one conversion each month.
Create an ad structure that meets some minimum requirements. Your ad structure should include two ad groups per campaign, two ads per ad group, and at least two sitelink ad extensions (these are text links that can appear below ads). You should also create relevant ads that are geo-targeted to better reach your audience.
Choose

high-quality keywords

when creating ads. The keywords you select should be more than one word (unless you're using a branded term, like the name of your organization) and have a quality score of three or more. Your keywords should also be specific. For example, say your organization is focused on women's rights and wants to boost the visibility of its current advocacy campaign using Google Ads. You could target keywords like "women's rights organization" or "advocating for women's rights." These are much better picks than something general like "women's rights."
Share your performance data with Google. Google will send your organization an annual performance survey via email—make sure to complete it!
Adhere to the guidance in the

Ad Grants Policy Compliance Guide

. Follow the rules regarding the types of pages you can link to, the limits on political activity, and the full ban on hate speech of all kinds.
These criteria may feel like a series of hoops to jump through, but once you've been awarded the Google Ad Grant, it will feel more like maintenance work as you regularly use Google Ads to drive more traffic to your website!
6 Steps to Applying For the Google Ad Grant
After reviewing the full eligibility criteria for the Google Ad Grant, you now have a good idea as to whether or not your organization qualifies. To kickstart your Google Ad Grant journey, the next step you'll need to take is to apply for the grant. Here are the steps to follow:
Set up Google Analytics for your organization.
Register as a nonprofit with TechSoup.
Enroll in Google for Nonprofits using the TechSoup validation token.
Register for Google Ad Grants and complete the verification process.
Create the Ads account for your organization.
Google will review the account to make sure it fits all requirements.
To make the process of assessing your eligibility and applying for the grant even easier, consider working with a nonprofit web design company that also offers Google Ad Grant management. The right partner can help you not only improve your website but also apply for the Grant and set up your account according to Google's policies and best practices, all the while keeping your organization's goals in mind.
---
It's time to begin leveraging the Google Ad Grant to get more eyes on your cause and your nonprofit's most important web pages. Use this short guide to help you prepare to apply for the Google Ad Grant, and keep in mind that there are Google Grant experts who can help you navigate the process.
And, if you find that Google Ads are especially useful for your nonprofit, you can even consider expanding your efforts by using the Microsoft Ad Grants program to further your reach on sites like Bing, AOL, Yahoo, and Microsoft Edge. You've got this!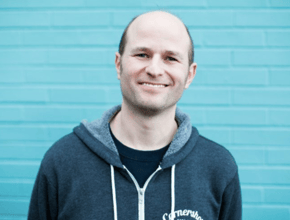 Ira Horowitz
With 15 years' experience, Ira is an expert in nonprofit online communications and online fundraising. His work has resulted in increased funds and resounding supporter engagement for hundreds of organizations. Ira oversees our project management team and works with clients to provide our clients with the best possible final product. He also manages all of our strategic engagements and helps guide nonprofits to determine their long-term strategy goals for online communications.