Whether you're focused on environmental defense, providing shelter for the homeless, or advocating for political change, you need a powerful base of support to push your nonprofit's mission forward. A good way to acquire and retain that support is to spend time marketing your cause and sharing powerful messages that inspire people to get involved.
There's a lot of opportunity to connect with larger audiences in the online world, especially when compared to traditional direct mail and face-to-face outreach. However, a lot of other worthwhile causes realize this, too, and you'll need to know a few best practices if you want to stand out across your online and offline efforts.
With plenty of time to test out different strategies, marketing experts have done a ton of research on what strategies perform well versus which tend to fall short. In this guide, we'll share some of these insights so that you can connect with existing supporters and engage prospective ones more easily.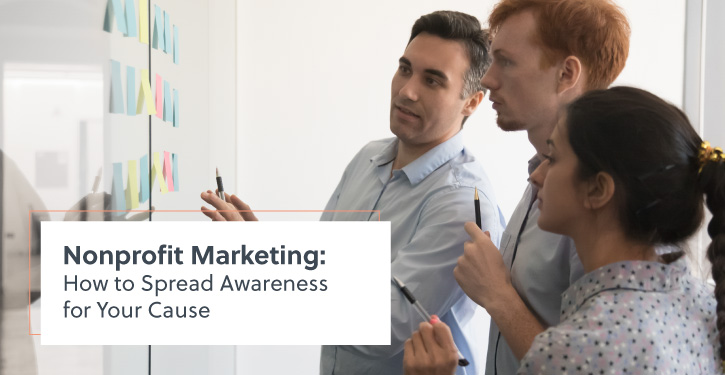 Here's what we'll cover:
As we head into the new year, now's the perfect time to rethink your marketing strategies. Spend time understanding what works well for other nonprofits as well as for your organization. Every organization has a unique audience, even if it's pursuing a similar cause as others. Let's dive in, so you can start making the most of every dollar you spend on promotion.
Optimize Your Website
Your website is the first place people go when they want to learn more about your cause. Whether they are searching the web for a mission like yours or land on your website after seeing a social media post your nonprofit shared, your site needs to help users emotionally connect to your cause and inspire them to get involved. Whether you just need to make some tweaks or completely overhaul your site, here are some strategies to focus on:
Tell your organization's story.

Facts and numbers can help people weigh the pros and cons of supporting your work, but what about the reason behind your mission? Each page on your site is an opportunity to tell your story. For instance, use your blog to share firsthand accounts from those you serve and people who work directly with them. You can also create a page specifically devoted to sharing your cause.


Use impactful imagery. Words alone won't inspire people to get involved. Use images to help tell your story and help users associate real faces with your cause. What's more, don't just use stock photos — use pictures of real people. This means using pictures of the population you serve, volunteers and staff on the ground, and anyone else who represents your cause.


Funnel users to the right pages with strategic CTAs. Ask yourself what your most important pages are. This could be your donation page, volunteer sign-up form, or advocacy forms. Then, place links to them in your website's navigation bar, over buttons on the homepage, at the bottom of relevant blog posts, and anywhere else that makes sense. Be sure to use clear and impactful language that inspires action, like "Become an Advocate" or "Donate Now."
Even once you launch any changes to your site, don't assume that it will continue working perfectly forever. You'll want to update and test everything regularly to make sure it's secure and usable. Cornershop Creative's guide to nonprofit website maintenance explains that "it's a lot easier and a lot less stressful to perform regular maintenance than it is to deal with outages, site slowness, hacking, or site errors."
At least a few times a year, double-check that everything is working properly, including forms, links to important pages, and any multimedia. Update any plugins and your HTTPS certificate to ensure the site's fully secure, so you can protect your supporters' data. You'll also want to make sure any information is updated and accurate, including contact information, campaign status, and engagement opportunities. All of these updates will help ensure your website prioritizes the user experience and continues educating users about your cause.
Sell Branded Merchandise
Merchandise fundraising is a classic marketing and fundraising idea rolled into one. The reason why causes still use this method even after several years is because it works.
Think about it: how often do you see someone wearing a t-shirt for a race they participated in, or drinking from a mug with the logo of an organization they support?
Especially with apparel, branded merchandise opens up the opportunity for new people to come into contact with your cause, even if they don't have a prior connection to it. Even passersby who don't feel compelled to ask the person about the cause can quickly do a quick Google search on their phones. If you've already optimized your website, they can easily get involved from there!
Venturing into the world of merchandise marketing isn't all that intimidating. You don't need to be a design expert either! Here are a few methods you can leverage to help spread the word about your cause:
Determine what merchandise you'll sell. Survey your supporters to see what they'd be interested in buying. Apparel (like t-shirts, hoodies, and hats) tends to sell the best since people are always looking for comfy additions to their wardrobes, but there are plenty of other everyday items that they might like, too. Think mugs for their daily cup of coffee, water bottles to stay hydrated, and tote bags to carry their groceries.


Have your supporters sell your merchandise. Try a peer-to-peer approach to get your products in front of a wider audience. Encourage supporters to design their own merchandise if your fundraising platform allows it, and then have them market it to their friends and family. Not only will this cut down on the amount of staff time you'll need to use on this project, but people will be much more likely to buy something for your cause if someone they trust is advocating for it.


Make limited edition merchandise. When putting your online store together, basic designs with just your logo are great staples to include, but make sure to keep supporters coming back to see your new merchandise. Add new designs throughout the year and offer them for a limited time. Great examples include event apparel (which can also help boost registration numbers), holiday merch (which make great gifts for loved ones), and campaign-specific designs (which are great for gaining momentum and boosting awareness). This can create a sense of urgency, inspiring people to buy it before time runs out.
No matter how you go about it, just make sure any merchandise you put up for sale is branded to your organization with its colors, logo, and any other recognizable elements. Remember, the reason so many nonprofits turn to this strategy is because it's a great marketing tool. You'll miss out on this benefit if no one knows your organization is behind the design.
Be sure to spend time finding the right t-shirt fundraising platform, too! A platform like Bonfire that doesn't charge inventory or upfront costs will help ensure you take home every dollar that you earn.
Take Advantage of Google Ad Grants
It can be frustrating to spend a significant amount of time developing fantastic content that gets buried underneath ads on Google. Paying for ads online can be costly, and it's a luxury that most nonprofits can't afford. That's why Google developed a program to help nonprofits stretch every marketing dollar they spend.
Available in more than 50 countries, Google Ad Grants help you share your message with more people searching for causes like yours. Eligible nonprofits gain access to up to $10,000 per month in search ads on Google's search engine results pages — there's no catch!
This program is great for increasing conversions like donations, event registrations, newsletter signups, and advocacy campaign participation and connecting with a much larger audience than ever before.
Not a lot of organizations are aware of this great marketing opportunity, which means they're missing out on an incredibly valuable (and completely free) promotional strategy. If you're one of those many organizations, here's a rundown of how Google Ad Grants work:
Create a Google for Nonprofits account. If you haven't already, register your organization with

TechSoup.org

once you start the request for a Google for Nonprofits account. They'll provide a Validation Token that Google will use to verify eligibility.


Activate Ad Grants. Once your account has been confirmed, sign into Google for Nonprofits. Then, navigate to "Activate Products" and click "Get Started" under Google Ad Grants. Fill out the assessment by clicking the eligibility form link. Submit your organization for review by clicking "Activate."


Launch your Ad Grants campaign. After your activation request is approved, you'll be ready to set up your first campaign! A large part of this is determining which pages and keywords are most valuable to your organization and meaningful to the mission. Google offers a how-to video series to help you get up and running with your first campaign.
Of course, there's more to it than simply picking what keywords will help you get in front of the right audience. Make sure you understand how to set your Google Ad Grants campaign up for success and continue properly managing your account. So long as you comply with the program's guidelines, you'll continue to receive the $10,000 grant each month.
---
Don't let your marketing efforts fall short in 2022. Start the year off right by optimizing your marketing efforts. Between improving your online efforts and selling quality merchandise, you'll start increasing awareness among your current supporters and connecting with brand new ones in no time at all.
Kevin Penny
Kevin Penney has been working in digital media for over ten years. He's the CMO and co-founder of Bonfire, an online platform that's reinventing the way people create, sell and purchase custom apparel. He enjoys strategizing, working closely with his team, and hockey, exactly in that order.