Advocacy campaigns drive society to consistently progress toward a better, more livable world. They bring attention to issues that hold us back and empower supporters to take specific actions that are aimed at addressing and resolving those problems. From reducing greenhouse gas emissions to creating more livable home environments for at-risk youth, and everything in between, advocacy campaigns have the potential to drive real progress for your cause.
However, there's more to advocacy campaigns than just choosing something you want to change. You first need to define exactly what it is you want to achieve, find others who share that belief, and then mobilize them to pursue that change with the right tools and resources.
If you're new to advocacy, all of that can seem daunting as you get started, especially in a digital-first and socially-isolated environment. However, numerous organizations have been in your shoes before — brand new to the concept and not knowing where to start. Those who were once beginners are now seasoned professionals. Now, their organizations have found success in these campaigns, and there are plenty of examples that you can draw from to maximize the potential success of your campaign.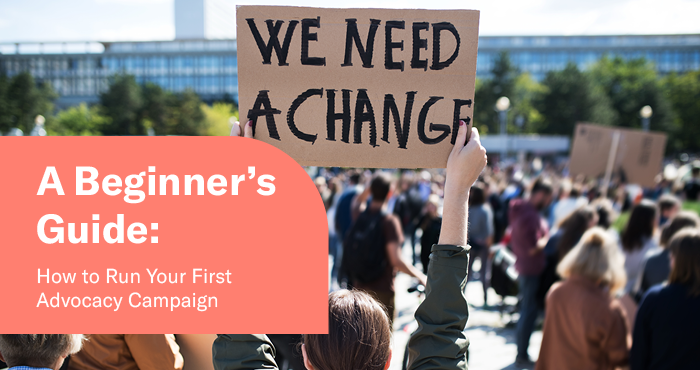 Whether this will be your first advocacy campaign or you just want to brush up on the basics, this beginner's guide will help you set the foundation for your campaign. Here's what we'll cover:
Taking these key steps will position your organization to host a campaign that not only inspires change in your community but also deepens others' passion for the cause you're pursuing. If you're ready to explore the world of nonprofit advocacy, let's jump in!
1. Define your goal and identify key players.
Before you invest in software for your advocacy campaign and start reaching out to people, you have to understand the ultimate end goal of your campaign. Advocates need a common goal to rally behind and work toward, and it's important that you're able to communicate this upfront. Otherwise, you'll have a hard time getting people on board.
You'll need to be specific about what you want to achieve. For instance, it's not enough to say, "We want to pass the climate action bill." Instead, you might say, "We want to inspire 10 members of Congress to vote in favor of the greenhouse gas tax during the next congressional session." That type of goal lends itself to very specific actions that you can perform and metrics you can use to assess performance.
This also allows you to set smaller goals along the way and define specific actions that will ultimately help you achieve your overall objective. Knowing this early on will help you communicate to advocates what exact steps you need them to take in order to affect change, which we'll discuss in the next section.
From here, you'll be able to identify the people who are in a position to make the change you're pursuing. Salsa's guide to advocacy campaign planning explains that could mean targeting a group of people, such as getting the majority of state senators to pass a bill through. Another example of targeting a group would be reaching out to citizens. It could also be a specific individual, such as getting the owner of a local business to stop using plastic straws or styrofoam containers for takeout orders.
In the first example, getting 10 members of Congress might require a mini-campaign to convince each of the members, and each of those campaigns might have its messaging and volunteers based in a specific geographical area.
2. Choose activities that align with your goal.
Regardless of whether you're fighting against gun violence or working to reduce tobacco use among youth, every activity you choose plays an important role in achieving the goal you set at the start of your campaign.
From fundraising to protesting, the actions you ask your supporters to take will ultimately define your success. Tasks that don't have a clear impact on your campaign will ultimately work against you by wasting advocates' time and devaluing their commitment to the cause. To help you choose which activities make the most sense for your campaign, let's review a few common actions that advocacy campaign leaders typically ask people to take:
Signing petitions.

A petition

includes a formal request or statement on a specific topic and a form where people can provide their signatures to express their agreement.
Performing social media outreach. Social advocacy relies on people using social media platforms to spread awareness, whether through posting or direct messaging people. This might include sharing links, videos, graphics, and more.
Phone banking. Often used in political circumstances, phone banking is when people call other community members, typically intending to sway public opinion about a politician or issue.
Texting. While

nonprofit texting

is most often discussed as a way to communicate with supporters, it can also be used by your supporters to promote your cause. Advocates can send SMS and MMS messages to get the word out. They might initiate one-on-one conversations by sending links to people or encouraging them to donate using mobile giving forms.
Registering for events. Events are a great way to bring your community together to rally behind your cause or to simply educate them on how to make a difference. You might encourage people to register for in-person or online training, conference calls, webinars, protests, or any other events.
Using click to call. This is often a feature included in advocacy software that enables supporters to click a button on your campaign landing page and instantly connect with elected officials. You provide them with a script, and they follow those directions when interacting with their representative.
Engaging in online fundraising. You might ask your advocates to donate or have them solicit donations from their networks to support your cause.
These are just a few of the many activities you can have advocates engage in to reach your goal. As we'll explore later, dedicated advocacy software empowers you to streamline many of these activities, bringing your efforts to the expansive digital world and enabling you to make large-scale efforts.
Whether your advocates will collect petition signatures, write letters to local lawmakers, or even organize a protest, make sure it puts you on the path to achieving your ultimate objective.
3. Recruit advocates among existing constituents.
Knowing what change you want to make and how you'll accomplish that is only half the battle. The other half deals with recruiting the right people to conduct outreach and then empowering them with the tools to incite that change.
Those who are already familiar with your organization will often be the most passionate and motivated to help your campaign succeed.
Looking at your nonprofit's customer relationship management system, look for those who have demonstrated a commitment to your cause. This might include donors, volunteers, event attendees, board members, and past advocates.
EveryAction's guide to nonprofit CRMs explains that you should be able to store key information about constituents that indicates their level of commitment to your work. This makes it easy to identify groups (or segments) of people to whom you might appeal for help. For instance, you can look at their gift history, volunteer work, advocacy involvement (including issues they care about and their preferred methods for taking action), or even use custom notes to call out important information shared during one-on-one conversations.
However, don't limit yourself only to existing supporters. You can also tap into their networks through peer-to-peer outreach. Ask supporters to join your movement and invite their friends to do so, too. This can be as simple as including a share button on your petition or asking them to share a social media post from your organization.
You can also use a distributed event tool to create events in support of your campaign and let friends tap into their own networks to force multiply your outreach. This strategy allows you to connect with like-minded individuals who share the same values as people who already believe in your mission.
From here, amplify your outreach by posting opportunities to volunteer feeds where people are actively looking for opportunities they're passionate about. By taking a multifaceted approach to recruitment, you'll connect with people who are motivated to make your advocacy campaign succeed in no time.
4. Leverage relationships with community leaders and lawmakers.
Effective advocacy campaigns stem from strong relationships with your local community leaders and lawmakers at the local, state, and federal levels. Especially when you inspire a large pool of advocates, your campaigns' participants will likely be well-connected in their communities.
Existing relationships provide the opportunity for an open, more natural conversation, and you can leverage the trust that your advocates have already built to push change forward. Whether they're communicating with lawmakers or local business owners, ask your constituents about any connections they might have.
If your constituents don't have connections, forge new ones by doing the following:
Do your homework. Before an advocate reaches out to a community leader, they should research them and make sure they're able to communicate why they need their buy-in. For an elected official, this might mean looking into what issues are important to them, which committees they serve on, what their personal interests are, and even what their profession was before they became a politician. Even if one of your advocates already has a relationship with a relevant decision-maker, it doesn't hurt to learn a little more about them. Your team can provide a list of "need-to-know" information that you pull from the leader's website and other sources.
Attend community events. This could be town hall meetings, district meetings, or any other special events. This helps put a face to a name and provides a natural opportunity for advocates to initiate a conversation with relevant leaders. Then, when they communicate online as part of

your advocacy efforts

, they'll know exactly who they're talking to and be much more likely to listen.
While one-on-one meetings are a great way to develop relationships, they're not always easy to schedule. Legislators among other community leaders often have busy schedules, so you have to be creative when searching for different ways to engage with them.
Remember, local elected officials, like mayors and city council members, often influence elected leaders above them, like congresspeople and senators. Sometimes going through the local leader can have more of an effect than going directly to the target of your campaign. These few strategies will help your advocates start forming connections or deepening the ones they've already made.
5. Mobilize advocates with digital tools.
In today's digital-first world, you can't get by without leveraging advocacy software to power your campaign. Digital tools will help you recruit advocates to join your campaign and enable them to complete the activities that are incremental to your campaign's success. By streamlining backend processes, you'll ultimately help amplify your organization's voice.
Backed by dedicated tools, you'll gain access to helpful features to power your campaign, such as:
Online petitions. Handwritten petitions will severely limit your reach. Going digital allows you to collect signatures online and empower supporters to share the petition with their friends and families.
Click-to-call. Enable supporters to connect with elected officials with the click of a button. You can embed this tool into your webforms and landing pages on

your organization's website

, where you can also provide scripts and specific actions that you want advocates to take.
Custom targets. Enable advocates to message and tweet policymakers, brands, CEOs, and other decision-makers. Your supporters will be able to take the same actions that target the right individuals.
Email and social advocacy. Enable supporters to tweet or email custom targets with just a few clicks. After filling out a form with their contact information, your tools should prompt them to send custom or templated messages or tweets.
Fundraising. You'll need funds to power your work, so be sure you can leverage integrated fundraising and

donor management tools

to collect donations, drive donor engagement, and store donor data to stay connected after the fact.
Event management. Coordinate protests, marches, and other events to bring your community together to rally behind your cause. Your advocacy software should enable you to create event registration forms, communicate with attendees, and even empower supporters to host their own events on your behalf.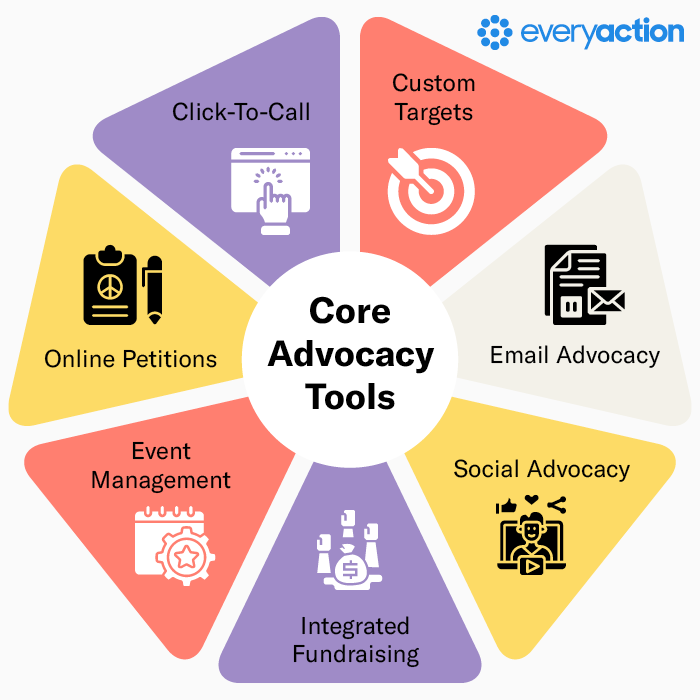 This is just a glimpse into the numerous advocacy tools that will empower your campaign team. Create your campaign, keep your supporters in the loop, and reach your goals when you leverage tools that will enable you to do so quickly and easily.
---
Winning your campaign requires clear goals, targets, and activities that support your objective combined with an empowered base of support and the technology that will support your efforts. While daunting when looked at as a whole, running your first advocacy campaign doesn't have to be overly complicated. Use these powerful tips as your foundation and build on them as you start to craft your strategy.
At this stage, we hope you feel much more empowered and confident to start your first nonprofit advocacy campaign. Now, get out there, call attention to an issue you feel passionate about, and make the world a better place!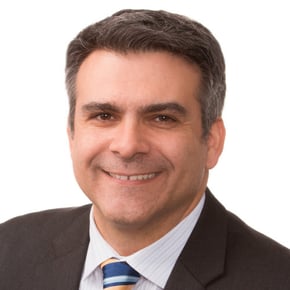 Craig Grella
Craig Grella is a Content Marketer at Bonterra. Craig focuses on digital strategy using email marketing, online advertising campaigns, SMS campaigns, CRM management, reporting/analytics for KPIs, and more. He's also the founder of Think Big Campaigns, a full-service consulting firm that specializes in political consulting, digital organizing, and issue advocacy.