Let's discuss the crowded social media landscape for nonprofits trying to spread the word about an engagement opportunity, specifically turning to Facebook:
93% of non-governmental nonprofit organizations have a Facebook page and 25% of those post on a daily basis.
Those Facebook posts only reach about 4% of the fans of the posting nonprofit's page, with an Engagement Score (defined as the number of users engaged by the post divided by the page's total fans) of only about 0.31%.
34% of nonprofit organizations worldwide have paid for social media advertisements.
These statistics paint a clear picture, and it's not necessarily a pretty one: for the modern nonprofit, connecting with supporters through Facebook is a challenge when it comes to actually being seen.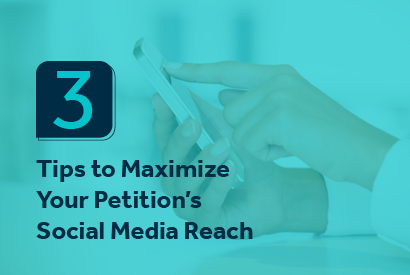 What does that mean for your nonprofit's advocacy efforts, specifically when it comes to securing much-needed signatures on petitions? Does it mean that you should stop dedicating time and resources to sharing these petitions on social networks?
No, it just means it's time to adjust your social media strategy to ensure your petitions have maximum success through Facebook. After all, we have all heard the stories of social media campaigns that have made it big in the social good sector— the ALS Ice Bucket Challenge is just one of many awareness campaigns that have experienced exponential growth by leveraging social media platforms.
At GoodUnited, we work with nonprofit organizations to understand, inspire, and grow their relationships with the next generation of social media supporters. We've found that the key to success isn't necessarily reaching the maximum number of users— something that many nonprofits struggle with, considering the statistics above— but instead connecting with and building a lifelong relationship with each supporter you do reach on the platform. We're going to cover the following four tips to maximize engagement with your petitions on Facebook:
Optimize your posts for maximum engagement.
Make the most of every touchpoint.
Use Facebook groups to increase visibility and community.
Social media can supercharge advocacy efforts due to its unlimited reach and cross-generational audience, but only if you're designing an outreach strategy with engagement and relationship-building in mind.
With these tips, you won't be shouting into the void of a busy social landscape but connecting with individual users about your petition and mission. Let's dive in.
Optimize your posts for maximum engagement.
The first vehicle of social sharing that comes to mind when you consider gaining traction for your petition is posting and doing so often. However, too many nonprofits fall into the trap of posting with their needs and schedule in mind, rather than thinking of the user on the other end viewing the information.
Challenge your social team to post in a way that's useful, engaging, and timely for supporters. This will make posts about your petition stand out in your supporters' timelines. To create the most engaging and effective posts, here are a few tips to keep in mind:
Use hashtags. Just as you should for any

digital fundraising efforts

, designate a unique hashtag for your specific petition that's unlikely to be used by another organization. So for example, a petition about saving a historic building from demolition would be better named #SignAndSaveTheRosemont rather than simply #SaveHistoricBuildings. This empowers others to share information about your specific petition and all related posts to be congregated within one page via the hashtag.
Post regularly. Aim to share your petition multiple times a day, for multiple days until you hit your ultimate goal. Of course, don't share the exact same post every time you do so— make your posts interesting by sharing new facts, testimonials, and more about why signing your petition is so impactful.
Focus on your messaging. Just as sharing the impact of donations can

make your nonprofit's fundraising efforts stand out

, sharing the impact of your petition will motivate users to sign it. If you hit your goal number of signatures, what specific change or action will occur? If you don't hit your goal, how will that negatively impact your mission? Tell your supporters about these possible outcomes to show the difference that they can make in the community.
Use straightforward calls to action. It should be as easy as possible for users to support your petition. In your posts, provide a link to the petition and describe the information they need to provide to sign it and any next steps (such as calling representatives) that they can take to further the cause.
Post at ideal times. Between 12 p.m. and 3 p.m. is the ideal time to post on social media for maximum engagement. Focus the majority of your posts about the petition within those hours, but you can also share it once or twice outside of that period to reach other audiences.
With these tips, not only will users be more likely to see your posts regarding your petition, but they'll also be more inspired to engage and informed about how to do so. But, is posting on your nonprofit's page the only avenue for sharing your petition with supporters on socials?
Not quite— let's explore a few additional channels within the world of Facebook that you can use to share this opportunity.
Make the most of every touchpoint.
The greatest benefit of social media is that it presents the opportunity to interact with your audience. However, too many nonprofits consider this interaction as a way to interact en masse— as in, with all of their social supporters at once. What if you started using socials to connect with each individual supporter, one-on-one?
Consider the following contrasting scenarios to see why this approach is so powerful:
You're scrolling through Facebook and you encounter a post about signing a petition to save a historical building. The post is enticing, but you're actively scrolling and quickly get distracted by a family members' update about their new baby.


You receive a personal message over Messenger from a nonprofit on Facebook, acknowledging your past support of their mission and expressing how grateful they are for you. They tell you about a petition to save a historical building and invite you to sign it personally.
In which instance are you most likely to respond? We'd guess the second one. This personal, individual connection is why one-on-one communications are so powerful. And these connections all start by building the foundation of impactful relationships.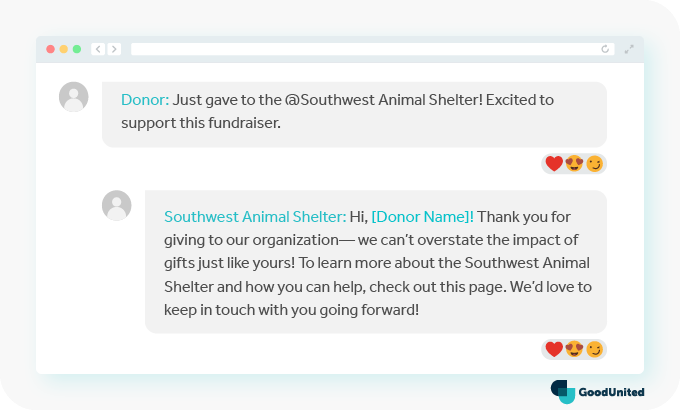 To start making these personal relationships, you'll need to make an effort to maximize every touchpoint you have with individual users. For example:
When a user starts a Facebook fundraiser, you should thank them for their efforts. Navigate to the Fundraisers tab of your nonprofit's Facebook page and a thank-you note on the fundraisers that users have started on your behalf. When commenting, include next steps such as a link to your petition and encouragement to sign.
When a user tags you in a post, acknowledge the tag. Thank them for thinking of you, and invite them to engage further with additional opportunities such as signing your petition. Check out the example below, pulled from

GoodUnited's guide to thanking donors on Facebook

, to see how responding to tags can be used to share additional opportunities.
When a user raises funds or tags your organization, connect with them through Facebook Messenger. Did you know that you can chat one-on-one with your nonprofit's supporters on Facebook to continue engaging with them after they've given or otherwise encountered your organization on the platform? Connecting with users through ongoing personal messaging is a powerful tool to grow your relationships with ardent supporters,

engage lapsed social supporters

, and share new opportunities— such as your petition.
The idea here is that users who are engaging with your nonprofit individually and publicly on social media are likely to be avid supporters of your cause. It naturally follows that they may be interested in signing your petition, so you should share it with them while your organization is front-of-mind to make the most of their interest.
Use Facebook groups to increase visibility
and
community.
At the beginning of this article, we mentioned that nonprofits are too often focused on increasing visibility rather than developing quality relationships. While increasing visibility shouldn't be your entire goal on social media platforms, it's still an important part of your strategy
With that in mind, did you know that posts made in Facebook groups, rather than those made to individual profiles, are favored in the platform's algorithm? So, if you make two identical posts— one on your nonprofit's main profile and one within a group made for your supporters— users are more likely to see the second post.
Use this to your advantage to increase the visibility of and engagement with your nonprofit's petition. For example, create a Facebook group for your supporters on Facebook who are interested in advocacy efforts.
In this group, post about your petition using the tips from the first section of this guide. However, also encourage users in the group to champion your cause themselves, sharing the petition far and wide, starting with their personal social network. Not only will your petition meet the eyes of those who follow your nonprofit on social platforms, but the extended networks of those supporters.
While this guide discusses virtual peer-to-peer fundraising, it does have a few prescient ideas as to why groups are so powerful for spreading the word: "Creating a community allows participants to connect with one another, connect with your nonprofit, discuss their efforts, and share encouragement."
Perhaps more than most efforts, signing a petition can seem like an individualized activity— each person signs their own name, independently of your nonprofit's other supporters. However, the big picture— the mass of names on the document— is what actually enacts change for your cause. Groups draw on this idea of impact through unity as well, and the community you create can be a powerful tool for supporter retention going forward.
---
To wrap up, simply broadcasting your petition across social media networks isn't going to result in maximized engagement, increased signatures, and impactful change for your cause. But, sharing your petition with engagement and relationship-building in mind, will.
By optimizing your posts, making the most of every one-on-one touchpoint with users, and using Facebook groups to create a community for advocates, you'll be able to secure more signatures for your upcoming petition. But, even better, you can start raising your relationships with the next generation of social supporters for years to come.
If the tips in this guide, specifically turning to one-on-one conversational messaging and managing large Facebook groups, seems out of reach for your staff's current capacity, remember that you can always work with a provider of social fundraising solutions to grow these relationships at scale. Good luck!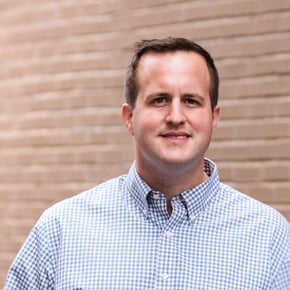 Nick Black
Nick is the Founder and CEO of GoodUnited, a venture backed Software as a Service (SaaS) startup that helps nonprofits like Wounded Warrior Project, American Cancer Society, World Wildlife Fund create 1:1 relationships with their donors through the combination of data science and human judgement delivered in conversational messaging platforms. Nick's work with GoodUnited resulted in being named The University of North Carolina at Chapel Hill's 2017 Distinguished Young Alumnus. Nick has been an innovator and leader at the intersection of business and social impact for over ten years. The concept for GoodUnited came through Nick's work co-founding and leading Stop Soldier Suicide, a 501c3 that grew from startup to national leader in reducing veteran suicide to the national average in ten years. Stop Soldier Suicide's growth and impact resulted in Nick being selected as a Presidential Leadership Scholar and a Leadership North Carolina Fellow. Nick co-founded Stop Soldier Suicide stemming from his experiences leading Paratroopers as a Ranger qualified Army Officer with the 173rd Airborne during 27 months deployed to combat zones in Afghanistan. During Nick's six years of service he was awarded two Bronze Stars, an Army Commendation Medal for Valor and as a Field Artillery Officer, was repeatedly ranked 1st among 50 peer Officers in a premier Infantry Battalion. Nick received a BA from The Johns Hopkins University. At Johns Hopkins, Nick was a four-year member of the Varsity football team, the first two-time President of Alpha Delta Phi Fraternity and a four-year scholarship winner of the Army ROTC program. Nick received an MBA from Kenan-Flagler Business School at the University of North Carolina. At Kenan-Flagler, Nick was awarded the Rollie Tillman Award for Leadership, selected as a Kenan Institute Leadership.