After over a year of public health restrictions, organizations worldwide have had to adapt and evolve to keep operations running remotely through new digital strategies. Restrictions helped spark innovations, and many nonprofits turned to new virtual ways to keep their volunteer programs going even when they couldn't take place in person.
There are many great benefits that arose out of these virtual volunteering programs, including fostering more meaningful connections with volunteers throughout a difficult time.
The
2021 Volunteer Management Progress Report
from Volpro indicates that in 2020, 52% of volunteer organizations offered more virtual volunteer opportunities. This shows there are plenty of organizations investing in virtual volunteers, and there are plenty of benefits to providing these opportunities to both the organization and volunteer.

While it is clear that virtual volunteering is a great way to bring in more volunteers, it does require adjusted engagement techniques to keep volunteers connected and motivated, the first of which is great communication. Let's jump in!
This article will offer four great tips to keep your virtual volunteers engaged and connected from anywhere: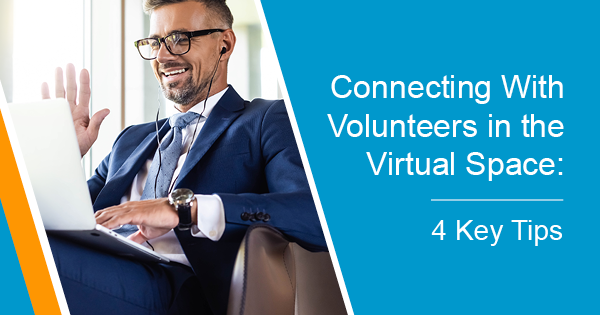 1. Ensure ample communication.
Communicating with your volunteers is critical, whether they're in-person or virtual. However, with volunteers working remotely, it is even more important to invest time in innovative and routine communications to ensure they don't feel alone as they work towards your cause.
Here are a few types of communications that can help you better connect with your virtual volunteers:
A routine email newsletter- Keep your volunteers informed about all the great work done and the progress that has been made toward your organization's cause. The more information about the positive impact they are contributing to, the more motivated they will be.


Monthly or bi-weekly virtual social gatherings- Foster a team environment by hosting virtual social events over video conferencing platforms to bring your volunteers together. Consider playing games or participating in other interactive activities to encourage engagement and foster a sense of community among your volunteers.


Periodic one-on-one check-ins- Make sure to schedule personal check-in calls with your volunteers to make sure they have everything they need to do their very best work for your organization.
With tools like email marketing, text, and more, you can easily stay in touch with remote volunteers and provide them with the information they need to know.
2. Provide a range of volunteer opportunities.
One of the greatest benefits of virtual volunteer opportunities is that a wide range of volunteers can participate from all over the world with varying skill levels and qualifications. In order to attract and harness the full potential of online volunteers, it's important to offer a wide variety of volunteer opportunities (such as offering digital marketing assistance or promoting an online petition) that your supporters can choose from based on their interests, skills, and personal schedule.
To get started, simply create these volunteer opportunities in your volunteer management system and share them through your social media, website, and email channels. Then, volunteers can easily review and sign up for the opportunities that work best for them.
This empowers volunteers to make the best decisions for themselves while reducing the administrative workload of your volunteer manager—offering a truly win-win scenario for everyone.
3. Share online training resources.
Since your virtual volunteer will be working remotely, and likely on their own, it's critically important to ensure that they have access to all the training and resources they need to do their best work. Luckily, many great online learning management systems are available to ensure that all you volunteers are trained and ready to work.
For the best results, create online training courses and video content catered to each type of virtual volunteer role. In addition, you'll likely want a general training course that everyone is required to complete.
However you decide you want to train your volunteers, it's important to ensure that they are prepared and comfortable doing the task they signed up to do remotely.
4. Show your appreciation.
Our final tip to ensure that your virtual volunteers feel connected to and valued by your organization is to show appreciation or gratitude for all their hard work. Volunteers donate their time and skills, after all, so taking the time to create a volunteer appreciation strategy is important to retain those individuals. Your virtual volunteers are no different!
When creating your appreciation strategy, consider the following ideas:
Send a quick thank you email or message to every volunteer after each shift or upon registration.


Send frequent impact communications that demonstrate your organization appreciates the concrete difference their work has made.


Organize special appreciation events like lunches or games nights to thank your volunteers and bring them together.
No matter what volunteer appreciation activities your organization chooses to invest in, the goal is to make your volunteers feel valued. This will ultimately help your organization retain more volunteers in the long term.
---
Now is the time for your organization to review how you can implement some new virtual volunteer programs. Staying connected with your volunteer team and keeping them motivated doesn't take too much time.
All you need to do is make sure to follow the four steps in this article, and you will be well on your way to retaining and engaging with your virtual volunteers in meaningful ways. Good luck!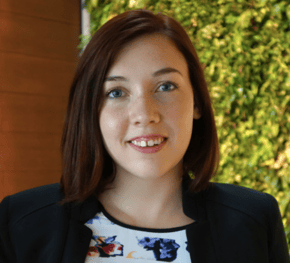 Cassandra Smallman
Cassandra is a passionate content creator dedicated to fostering positive impact through thought leadership in both the Nonprofit sector and live events industry. You can find her work at www.initlive.com or on Linkedin and Twitter.