As SXSWi showcases the breakout apps and products for 2012, I wanted to highlight three social apps that I think are worth checking out and could be helpful to the nonprofit community.
Snoball
Snoball.com allows people to create momentum around donations for their favorite nonprofit organizations. Here's how it works. When a user creates a Snoball account, they can donate donate to over 1.6 million charities, with all of their giving managed in one central location. Using the platform, users can create a parameter for giving known as the 'Snoball' effect. Snoballs define a specific condition of a donation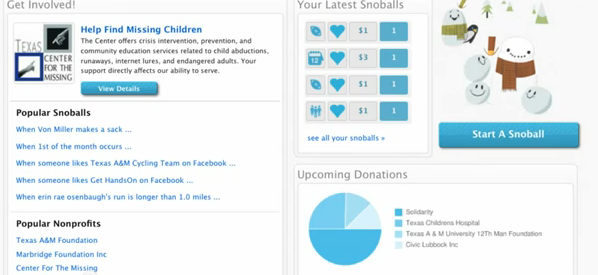 and can be tied to a user's interests.
For example, a Snoball may be defined as: "Every time I go the gym, I will donate $1 to the National Wildlife Federation," or "When I check-in at my favorite restaurant using Foursquare, I will donate $2 to the DC Central Kitchen." The specific event, donation amount and time interval are defined by the user.
Reward Volunteers
Reward Volunteers www.RewardVolunteers.coop is a new mobile and web app that supports volunteers and the organizations they work w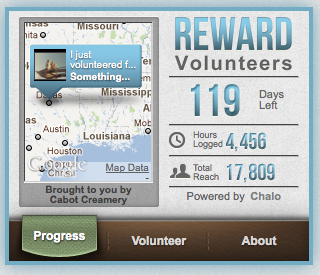 ith. You can use the app to track volunteer activity and share it through social networks like Facbook and tag the organization they serve through Facebook updates, photos, and more. The more hours logged, the greater the chances of winning prizes -- both for the volunteers and the organizations they serve.
This past week, Reward Volunteers had their first of five prize drawings (prizes ranging from books to Cabot cheese baskets and cash prizes).
You can read more about the inspiration behind Reward Volunteers over on Care2.com's Cause Channel.
Sprout Social
If your organization is struggling to connect all of its social media profiles like Twitter, Facebook, LinkedIn and even Google Analytics you should check out Sprout Social. Sprout Social has a great dashboard that allows multiple people on your staff to manage your social media accounts and you don't even need to share your passwords them.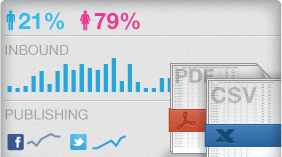 Sprout Social also allows organizations to track your organization's "engagement" and "influence" through scores. For example, the engagement score measures how much of your outbound messaging is broadcast (talking to no one in particular) vs. conversation (engaging with your audience). And the influence score measures how engaged your audience is, how well your audience is growing and the potential reach of your messages.
Now, I'm not a huge fan of proprietary, secret algorithms that supposedly measure "influence", so take it with a grain of salt. Nonetheless, Sprout Social is a decent dashboard and is worth looking at.

Allyson Kapin
Allyson has been named one of "Top Tech Titans" by the Washingtonian, one of the Most Influential Women In Tech by Fast Company, and one of the top 30 women entrepreneurs to follow on Twitter by Forbes for her leadership role in technology and social media. As Founding Partner of Rad Campaign, she leads the firm's client and online strategic services. For over a decade Allyson has helped non-profit organizations and political campaigns create dynamic and award-winning websites and online marketing and recruitment campaigns. She works side-by-side with her clients to meet their web needs and maximize their online effectiveness to create real world impact.