The Digital Strategy Summit (May 3 – 7) is five incredible days of content for charities, nonprofit organizations, and action groups.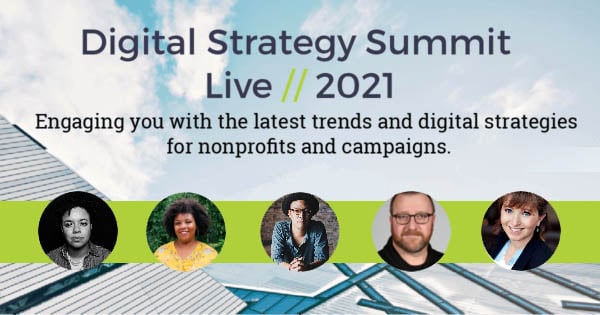 This is an inspirational line-up of expert speakers with actionable advice for every nonprofit professional or activist who wants to further their mission online in 2021.
Give yourself a valuable professional development experience you can apply directly to your organization's upcoming campaigns.
The Digital Strategy Summit schedule includes:
How to improve your email communications with Gabby Greenberg at Blue State.


How to take advantage of trends in digital advertising from Ryanne Brown of Do Big Things.


How to retain donors and re-active lost supporters from Eric Rardin of Care2.


How to use data to mobilize communities with the Jon Ossoff For US Senate Campaign team.


How to use digital movements to drive policy change with Alicia Cepeda Maule of The Innocence Project.


How to design effective digital first content with Victor Nguyen-Long of Lockwood Strategy.


... And, there's so much more to explore:
Text messaging. Integrated digital campaigns. Managing social communities. The use of online video! (That's just a start.)

Don't miss the opportunity to learn about all these topics together in one place.

We're proud to offer you an exclusive Care2 registration code: care2-21
Use code care2-21 for 20% off registration today.
The Digital Strategy Summit 2021 is the best curated conference of the year. We'll see you there!