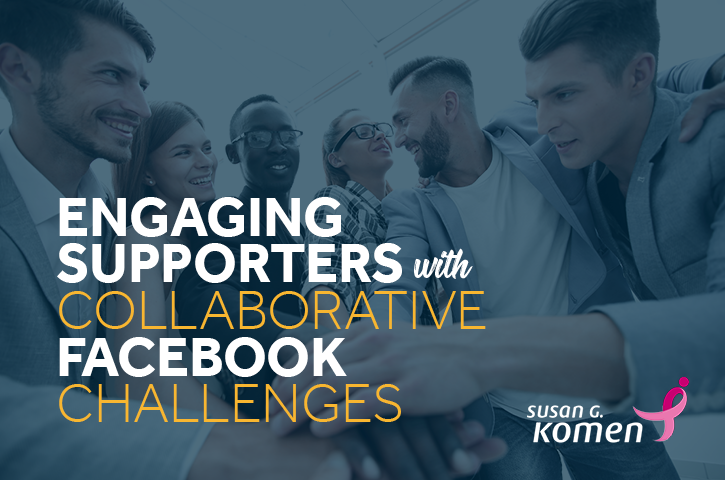 When the pandemic first hit, a clear trend emerged. Fundraising for coronavirus-related relief, such as philanthropic initiatives related to first responders and food insecurity, rightfully surged. However, for causes not directly related to COVID-19, fundraising declined.
This trend wasn't surprising. But, the decrease in funding didn't mean that the need behind those non-pandemic-related nonprofits ceased to exist. Susan G. Komen, the world's leading breast cancer organization, experienced this firsthand. While fundraising declined, breast cancer didn't stop during the pandemic.
Susan G. Komen found that many of its traditional peer-to-peer fundraiser participants were hesitant to ask their friends and family members for donations during a time when so many experienced negative financial implications due to the pandemic. So, they needed to find new ways to engage supporters and expand their fundraisers to new audiences. That's where Facebook Challenges came in.
Susan G. Komen partnered with GoodUnited to host these virtual peer-to-peer fundraising challenges and to great success! Together, we're breaking down the process for you here today. This guide will cover the ins and outs of using Facebook Challenges to engage social supporters by discussing the answers to the following questions:
The success that Susan G. Komen had with Facebook Challenges can be replicated for your cause as well. But first, you need to understand this new fundraising method through and through. Let's dive in!
What are Facebook Challenges?
Facebook Challenges are time-bound peer-to-peer fundraising efforts conducted on Facebook. During these, participants are challenged to complete a specific task over the course of a defined time period while raising peer-to-peer funds from supportive friends and family.
For example, you could host a Facebook Challenge that asks participants to do the following:
Task: Walk 10,000 steps per day
Duration: One month
Goal: Raise a set amount of donations (often set by the participant)
These Challenges are conducted entirely using tools on Facebook. Participants learn about the Challenge through Facebook Ads, experience community and share progress updates within a Facebook Group, and raise funds toward their goal using a personal Facebook Fundraiser.
These Challenges accomplish a few powerful goals. For one, they amount to an additional fundraising stream that can supplement your nonprofit's other efforts. However, most importantly, they empower you to connect with what is (essentially) an entirely new audience of supporters and begin building relationships with each individual.
Let's break Challenges down in more detail to see how this works in practice.
How do Facebook Challenges work?
To understand Facebook Challenges through-and-through, you need to examine the process from both your nonprofit's and your supporters' perspectives.
For your nonprofit, the process of creating a Facebook Challenge is as follows:
Choose a Challenge activity. Common ideas include walking a certain number of steps (or miles), reading a number of books, or even volunteering a set number of hours. Check out a few virtual fundraising ideas

here to begin brainstorming

.
Create a Facebook Group for participants. Determine a creative name for this group and write a description that ensures participants understand what they're joining. Something like "2021 Challenge Fundraiser for [Nonprofit]" and then a description of the task works well.
Use paid Facebook Ads to spread the word. These ads will

help your fundraiser stand out

from the crowded Facebook landscape. You'll configure these ads to send participants to a form on Facebook, through which they can sign up for the Challenge and learn more.
Thank participants for joining. Once users join, they'll be added to the Facebook Group and create their own personal fundraisers. You'll want to post a comment on each personalized fundraiser, thanking the user for participating.
Engage with users in the Facebook Group. Once participants join the Challenge and the corresponding group, you'll want to monitor the conversations to ensure they're lively, encouraging, and on-brand. You can also share fundraising resources, conversation prompts, and updates about the fundraiser overall to encourage your participants and help them succeed.
Step five continues until the Challenge is completed and users have ideally reached their fundraising goals. However, that doesn't mean your engagement with the individual supporters needs to end there— in fact, it shouldn't!
Within your personalized thank-you notes to each user who joins the fundraiser (step four), include an invitation for that user to connect with your nonprofit via Facebook Messenger. With Messenger, you can then converse with each individual supporter one-on-one, help them reach their Challenge goals, and stay in touch long after the fundraiser is over.
Now, let's walk through this process from the participant perspective. Each participant will:
Encounter an ad encouraging them to join the Facebook Challenge.
Sign up for the Challenge, join the corresponding group, and create a fundraiser.
Receive a personalized thank-you note directly from your nonprofit.
Discover a community of people with similar interests to them within the group and connect with other participants.
Receive encouragement and tips from the Challenge community as well as one-on-one communications from your nonprofit via Messenger.
As you can see, the participant perspective is entirely centralized around creating community and building lasting relationships. Challenges provide a fun opportunity for them to show their support, but it's your job to show appreciation and grow those relationships.
Facebook Challenges empower participants to connect with a group of people who are passionate about the same cause and to work with that group toward a shared goal. And, because all aspects of the Challenge take place on Facebook, a platform that's widely used by participants and their friends and family alike, it's simple and straightforward for supporters to participate.
Why are Facebook Challenges effective for engaging new supporters?
To understand the power of Facebook Challenges, let's walk through Susan G. Komen's experience with this fundraising opportunity.
Komen partnered with GoodUnited to host a month-long Facebook Challenge in February 2021. The goal was to engage current and new supporters despite the challenges of being physically separated. With an initial goal of 6,000 people joining their Challenge and Facebook Group, Komen instead:
Built a community of 13,000 people in the Facebook Group.
Raised more than double the amount of donations expected.
And, beyond this, the vast majority of the participants were new supporters of Susan G. Komen.
This is what makes Facebook Challenges so unique. We've found that approximately 90% of those who participate in Challenges and Facebook Fundraising more generally are new supporters to the nonprofit. For Komen, out of the 13,000 participants in their initial Facebook Challenge group, 10,000 of them were new supporters for their cause.
A supporter's momentum is strongest when they first engage with your nonprofit— this is often when they're most passionate. With Challenges, you can draw new supporters toward your organization via ads and create a positive experience for them using your Challenge group. Then, you can begin building relationships with those individual supporters using Messenger.
"This was a way to build a meaningful Community in the digital world among people touched by a cause or a diagnosis, during a time when we were living apart and unable to connect in-person," said Michelle Strong, Vice President of Marketing Strategy at Susan G. Komen.
Now, Komen is planning four Facebook Challenges for fiscal year 2021 and supporters can easily start a fundraiser for the nonprofit on Facebook. Even as we start to see the shift to hybrid events and more in-person opportunities open up, the virtual experiences from 2020 show that Challenges work and will continue working into the future.
Wrapping Up
Facebook Challenges can expand your nonprofit's portfolio of fundraising opportunities, providing an option with a low barrier to entry and allowing your new supporters to engage with and fundraise for your cause.
However, it's important to acknowledge that some of these tasks— such as monitoring the group and holding a conversation with each individual supporter via Messenger— may quickly outpace the capacity of your team. This is especially true if you choose to hold multiple events, such as one event for each major region your nonprofit works with, and each event brings in thousands of supporters.
In this instance, consider working with a Facebook fundraising solutions provider, as Susan G. Komen did. An effective provider can help with services such as:
Managing Facebook Ad campaigns pertaining to the Challenge.
Monitoring Facebook Groups to ensure the conversations are lively and on-brand.
Creating a custom, automated messaging sequence to connect with individuals via Messenger.
Reporting on the success of the Challenge and conducting analysis for areas of improvement.
This provides you with the team, processes, and technology to connect with new social supporters at scale. If you're preparing to implement Facebook Challenges in your fundraising strategy, consider partnering with an expert in the platform. Good luck!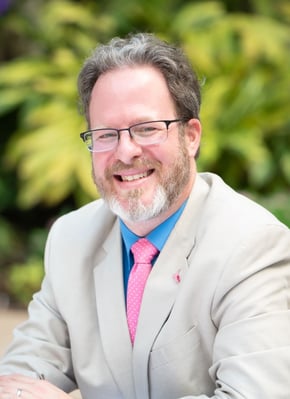 Josh Hirsch
Josh Hirsch is the Social Content Marketing Manager for Susan G. Komen. He has worked in the nonprofit sector since 2006 with a focus on educational philanthropy for both public charter and independent private schools. He has an extensive background in social media, digital communications, and marketing along with experience in grant research and writing, individual giving, special event planning, stewardship, and cultivation of donors. He is the Membership Chair for the Association of Fundraising Professionals First Coast Chapter and Past-President of the Palm Beach County Chapter. Josh is also a member of the AFPeeps, the social media vanguard for the AFP International Conference and other AFP initiatives. He has spoken nationally on digital communications and has had numerous articles published in professional journals. Josh received a Master of Science in Family, Youth and Community Sciences and a Bachelor of Science in Advertising from the University of Florida. He has a Certificate in Strategic Fundraising and Philanthropy from Bay Path University and is a Certified Social Media Strategist by the National Institute for Social Media.