Blackbaud just released the 2011 donorCentrics Internet and Multichannel Giving Benchmarking Report. This report analyzes data from 28 organizations (some of the biggest national nonprofits in the U.S.) and includes transactions for over 15 million donors and $1 billion in revenue.
The study confirms much of what we already know (and why you should care!) about online donors and online acquisition. It also highlights the interesting opportunities and challenges posed by multi-channel giving. Here are some key findings.
Online-acquired donors are

younger

.

Online donors tend to have

higher household incomes

Online-acquired donors

tend to give much larger gifts

and to

give more in total revenue

Online donors become

multi-channel donors

.
That said there is a catch. According to the study, it's challenging to retain donors online, particularly if you don't have a direct mail program in place.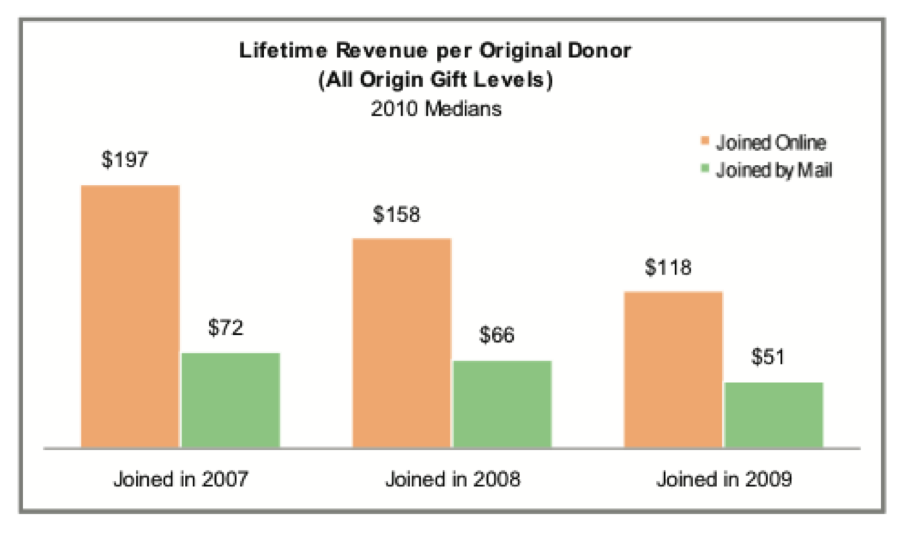 "Robust direct mail programs drive up the retention and long-term value of new donors acquired online. Without the ability to become multichannel givers by renewing their support via direct mail, this group of donors would be worth far less. Other than monthly recurring giving programs, established direct mail programs are the best method for gaining repeat gifts from online-acquired donors."
We've seen this multi-channel challenge/opportunity with several of our clients at Care2. Namely, after working with hundreds of nonprofits, we've learned that the only way to significantly improve your fundraising success is to "fire on all cylinders" vs. keeping donors in channel silos.

For example, check out this recent case study we did with Human Rights Campaign, an organization that works for lesbian, gay, bisexual and transgender equal rights. You'll notice that by employing a multi-channel fundraising approach, which included email, telephone and mail, they were able to significantly increase the lifetime value of Care2 leads to $11 per email!
Don't have a true multi-channel giving strategy in place? Get one now. This may mean enhancing cross-department communication and dealing with database integration issues.
To learn more and read other observations on this report, download it now and read the posts below.
P.S. Thanks to Marc Rovner at Sea Change Strategies for talking through this research with me!
Resources:
Welcome to the silo: The sad dearth of multichannel marketing by Katya Andresen
Online Ghost Haunts All Fundraisers by Roger Craver
2011 donorCentrics Internet and Multichannel Giving Benchmarking Report by Steve MacLaughlin