Many of Frogloop's readers are professional nonprofit fundraisers who watch trends like a hawk -- at least when those trends affect fundraising results across sectors and channels.
Of the different trend-spotting and benchmarking resources, few are as important and authoritative as the "donorCentrics Index of National Fundraising Performance" published quarterly by Target Analytics, a division of Blackbaud.
Yesterday in Washington, DC, Target's senior fundraising analyst Paige Grainger gave a terrific "state of the nonprofit industry" talk, which summarized key findings from Target's latest, 2011 Index. The full report is here. Paige spoke at a luncheon that Care2 sponsored of the Direct Marketing Association of Washington (DMAW).
Target's data this year was drawn from 80 different nonprofit organizations, 38 million donors, 79 million gifts and $2.5 billion worth of donations revenue (although it excluded any donations worth $10,000 or more). Channels covered included online, direct mail, telemarketing and canvassing.
So what was the big picture "headline?" A sobering one, overall. But with a few very bright spots.
"The Increase in Revenue Per Donor Is Still Not Compensating for the Declining Quantity of Donors," Paige told us is the headline from the survey.
More key findings...
Overall revenue from nonprofits in Target's index declined again in 2011. The median drop was 2.1 percent. There were many exceptions, though. In fact, 39 percent of nonprofits in the index actually had year-over-year revenue INCREASES last year.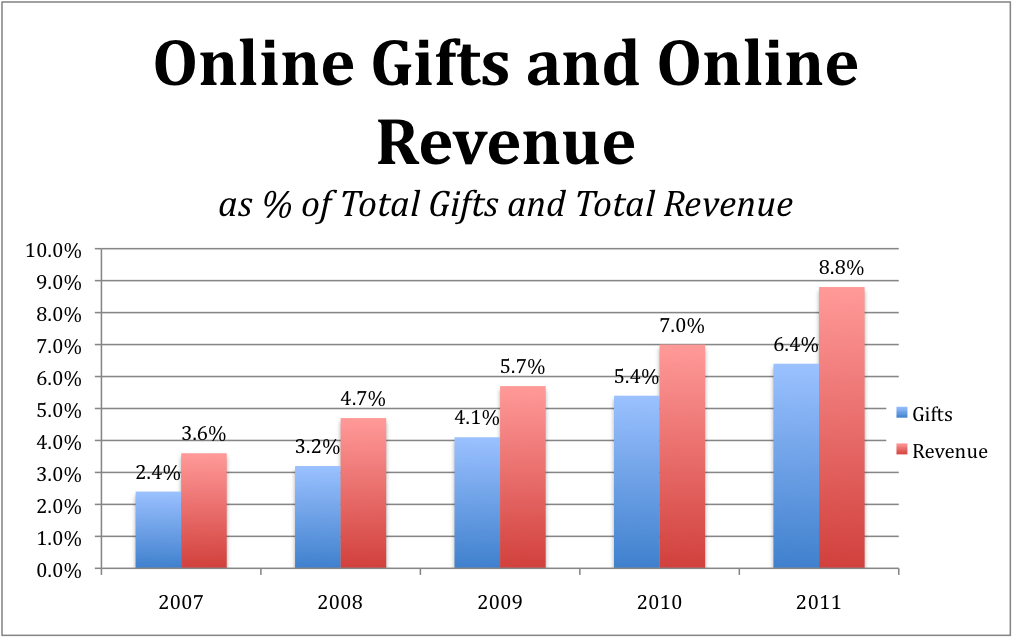 Human Services and "Social Benefit" nonprofits performed the best -- including in acquisition of new donors (Note, the "Social Benefit" category included Human Rights Campaign, ACLU, Public Citizen and other nonprofits that engage in lots of advocacy.) While just about all the other surveyed nonprofits saw drops in new donors acquired, Social Benefit nonprofits were experiencing increases in new donors acquired.
[When I asked Paige about this phenomenon, she generally agreed with me that fundraisers at the advocacy-driven Social Benefit organizations did so well because they've gotten good at using online petitions and other online actions to recruit new multichannel donors, such as Care2 delivers for our nonprofit clients. Of course, it also "helps" that the very polarized political atmosphere in the USA right now has greatly boosted the impact of these campaigns, making them more urgent and grabbing even more attention. We've all had LOTS to argue about and advocate in recent years!]
Animal Welfare groups, Health groups and International Relief nonprofits showed declines in revenue. Paige noted that the drop in revenue for International Relief organizations is very understandable, considering the outsized impact of the Haiti earthquake in 2010, which drove a major spike in donations that was not repeated in 2011.
Overall the number of donors for ALL nonprofits has declined over the last six years by 5.3 percent. Why? Mostly it's due to the shrinking number of new donors being acquired (i.e. to replace lapsed and dying donors). The overall number of New Donors acquired per year has declined 14.6 percent over the last six years (!) And this decline seems to be accelerating; from negative 3.1 percent in 2010 to a negative 4.3 percent in 2011.
Across channels, 81 percent of all gifts last year came in via Direct Mail, vs. 6.4 percent coming Online, and 3 percent coming via Telemarketing. But growth in Online giving keeps astonishing. The number of online gifts is growing 22 percent per year, and the dollar value of these gifts is growing 20 percent per year. The chart above illustrates this "Energizer Bunny" growth of the Online channel.
Some sectors get much more than 6.4 percent of their gifts online. Social Benefit nonprofits get 10 percent of gifts online, and Environmental groups get 12 percent of gifts online. But the online champions are the International Relief organizations, who get a whopping 21 percent of their gifts online.
Online gifts are also much bigger than donations made via Direct Mail or Telemarketing. The average online gift last year was $63, compared to $38 for Direct Mail and $39 for Telemarketing.
One item missing from this year's report was a status update on the performance of Direct Mail as a new donor acquisition channel. In past years the index has shown a deep and seemingly inexorable decline over the past six years in the number of new donors acquired via Direct Mail -- plus an accompanying increase in the average age of the donors being acquired via the mail. This has fueled growth in services like ours at Care2, which are an alternative source of new multichannel donors, acquired online -- because we deliver not only email addresses but also postal addresses to enable cultivation and conversion of donor leads via Direct Mail. For more information about these and other Care2 services to help nonprofits find new donors, make sure to check out the information here.
Kudos to Paige Grainger and her teammates at Target Analytics for again providing very useful benchmarking data to help nonprofit fundraisers!