Twitter rolled out a new
feature
that lets users make donations directly through the platform. Much like
Facebook Fundraising
, the service is relatively new and only available to a limited number of charities. However, they may soon be going public and that's definitely good news for the nonprofit community. We know from useful
case studies
that companies using services like Apple Pay experience 2x faster checkout conversion rates. With an easy way to checkout online (up to 60% faster), people are much more likely to follow through with their intention to donate.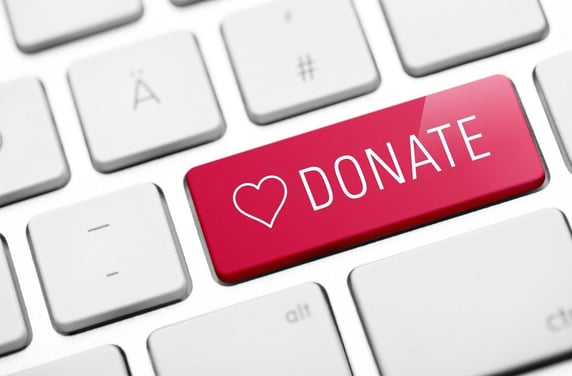 We've done some research about the new Twitter update, and we've compiled some key things your nonprofit needs to know to make the most out of the service:
1. What charities can participate?
In order for Twitter to make this service public, they need to partner with a nonprofit database that can verify each organization. Apple Pay has partnered with Benevity but there are a host to choose from including GuideStar USA and Network for Good. Both GuideStar USA and Network For Good are US-based, meaning they wouldn't support any international charities. If Twitter wanted to go global, they would need to rely on Benevity or GlobalGiving, which are the most comprehensive for international organizations. As of now, only a few charities are able to use the service, but we'll know more once Twitter announces the service publicly.
2. So how does it work?

Donors can now give directly through Twitter by following some simple steps. Check out Twitter's
donor instructions
below:
Tap the "Donate" button within the Tweet.

You'll be brought to an expanded description of the donation campaign.

Choose your donation amount by tapping on it.

Enter your payment information.

Tap "Donate [amount]."

That's it! The charity will receive your donation and reach out directly with your confirmation.
3. Is it easy to use?

Yes. Once people click on the "Donate" button, they will be asked to enter their Credit Card information. After entering their information, it will be stored on Twitter, making future donations even easier. Once Twitter has the saved info, donors can contribute to causes with two clicks. Check out
@Water
as an example: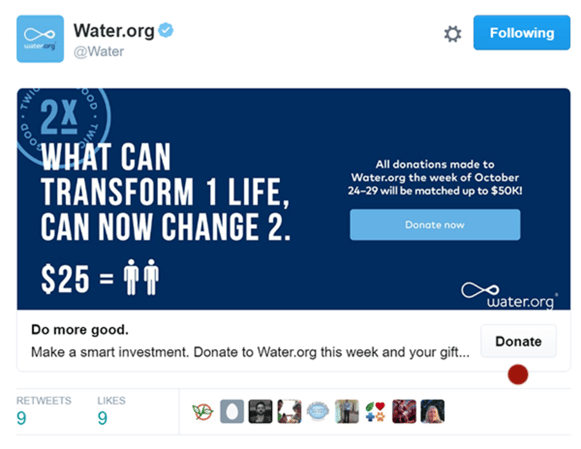 4. What currencies are accepted?

Right now people can only donate in US Dollars. People donating from foreign countries may be subject to additional fees, so keep this in mind when reaching out to your donors outside the US. All of this may be subject to change if Twitter decides to expand the service globally.


5. How can you reach out to people who donated?

Nonprofits are provided with donors' email addresses. You can and
should
reach out to your donors to thank them for their contribution. It's an important way to make sure your supporters understand the importance of your mission and to make sure they continue to back you in the future.
While this service isn't open to all charities just yet, it's good for you to start familiarizing yourself with the new features so you can make the most of it when the time comes.

Allyson Kapin
Allyson has been named one of "Top Tech Titans" by the Washingtonian, one of the Most Influential Women In Tech by Fast Company, and one of the top 30 women entrepreneurs to follow on Twitter by Forbes for her leadership role in technology and social media. As Founding Partner of Rad Campaign, she leads the firm's client and online strategic services. For over a decade Allyson has helped non-profit organizations and political campaigns create dynamic and award-winning websites and online marketing and recruitment campaigns. She works side-by-side with her clients to meet their web needs and maximize their online effectiveness to create real world impact.