Facebook just launched a way for your nonprofit to raise money directly on the social network platform: Facebook Fundraising. This launch raises so many questions: will this work for year-end fundraising? Will this work at all? What are the benefits to using Facebook Fundraising? What are the downfalls? How do you know if this is right for your organization at all?
We did some research for you, and have information that you'll want to consider as you really get started with year-end fundraising.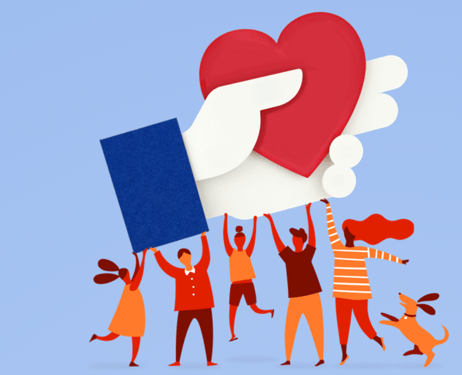 5 things you need to know about Facebook Fundraising:
Fundraisers are currently only available for individual profiles, or people. Public figures with verified profiles can create fundraisers. What does this mean for you? Your supporters, advisory council, staff, and board members can create fundraisers to raise money for your cause.
...but beware! Donors have to opt-in to sharing their information when they give to your cause. What does this mean for you? You're not guaranteed to get the email addresses of anyone who donates to your fundraiser. You don't even get email addresses for the people who start fundraising campaigns for your nonprofit!
All fundraisers will be public, and will be visible to your Facebook fans, their friends, etc. What does this mean for you? You've got a built-in network. You've likely been doing legwork to build your constituency on Facebook already, and if you're going to try and move social media fans up the ladder of engagement, this is the place to test it.
The money raised does not need to go toward a specific project, if you don't want. What does this mean for you? Charities have full discretion on how to use the funds to further its mission. Though, keep in mind that people are more likely to give when they know that their money is going to something tangible and will have an impact.
There are fees. 3% of your contribution will go to credit card processing, and 2% will be used to cover a portion of the costs to evaluate the nonprofit, payment support, operational costs, security, and fraud protection for your donation. What does this mean for you? 95% of the donations made through Facebook will go to your nonprofit, but you will pay 5% in fees. This could be worth it depending on the amount of money you're generating on Facebook, but it could be more cost effective for your constituents to give directly through your donation platform. Plus other crowdfunding platforms can charge less fees.
While Facebook Fundraising is something you might want to consider testing, do not put all of your eggs in one basket. Continue fundraising through multiple channels, and test what works best for you, and for your constituents.
Right now my biggest hesitation with Facebook crowdfunding is your inability to easily collect donor information. Regardless of whether you decide to opt-in to Facebook Fundraiser, you should have a Facebook Donate button on your Facebook page - that's something that's effortless and provides one more place for people to give.
Have you signed up for Facebook Fundraising yet? We'd love to hear your experiences.

Allyson Kapin
Allyson has been named one of "Top Tech Titans" by the Washingtonian, one of the Most Influential Women In Tech by Fast Company, and one of the top 30 women entrepreneurs to follow on Twitter by Forbes for her leadership role in technology and social media. As Founding Partner of Rad Campaign, she leads the firm's client and online strategic services. For over a decade Allyson has helped non-profit organizations and political campaigns create dynamic and award-winning websites and online marketing and recruitment campaigns. She works side-by-side with her clients to meet their web needs and maximize their online effectiveness to create real world impact.