If you work at a nonprofit, serve on a board of a nonprofit, or have nonprofit clients, you need to hear about this. Next year, the Internet is opening up to allow for thousands of new Internet extensions. Companies, individuals and organizations can register almost anything behind the primary Internet address. (Think .cocacola, .party, .anything).
The one that is most important to the nonprofit community is the .ngo domain, short for non-governmental organization. It is critical that the right organization be chosen to run this new domain.
Public Interest Registry (PIR) is the nonprofit organization that currently manages .org, the domain which has served the nonprofit community for more than 25 years. And it would be beneficial to the nonpr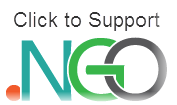 ofit community if this nonprofit managed the .ngo domain rather then a corporate entity.

But time is running out. Applications are due January 11, 2012, and PIR is up against venture capital and other for-profit groups that would like to gain control of the .ngo domain.
However, the nonprofit community can make sure that doesn't happen by signing a petition supporting PIR's bid. Note: Only nonprofits should sign this form. Any one employee for any one nonprofit can sign, you don't have to be the executive director.
By signing the petition, it doesn't mean that you're committing to buy the .ngo domain once it's out; you're simply showing support for the fact that this particular domain should be used exclusively by nonprofits and should be administered by a nonprofit.
Why Keeping .NGO is Important for Nonprofits
Under the management of PIR, the .ngo domain will only be available to nonprofit organizations. This means that organizations that invest in the domain will have instant credibility, which is critical for fundraising and advocacy.
It should also help cut down on fraud - sites that claim that they are a nonprofit but aren't registered as a 501c3/501c4 or have accrediation from Charity Navigator or GuideStar. In addition, it will be much harder for non-legitimate entities to hijack your URL for nefarious purposes and sweep up popular names, since they will have to prove they are a legitimate charity to get them. And organizations who now have to fight with corporate interests for their legitimate name will have a more even-handed chance of getting their name back.
So if you work for a nonprofit organization, sign this quick and easy online letter of support and pass it on to other nonprofits in the community. If you don't work for a nonprofit but with one, ask them to sign it and pass it on. The .NGO domain should be preserved for nonprofits.



Allyson Kapin
Allyson has been named one of "Top Tech Titans" by the Washingtonian, one of the Most Influential Women In Tech by Fast Company, and one of the top 30 women entrepreneurs to follow on Twitter by Forbes for her leadership role in technology and social media. As Founding Partner of Rad Campaign, she leads the firm's client and online strategic services. For over a decade Allyson has helped non-profit organizations and political campaigns create dynamic and award-winning websites and online marketing and recruitment campaigns. She works side-by-side with her clients to meet their web needs and maximize their online effectiveness to create real world impact.