The 2012 eNonprofit Benchmark study comes out April 5th and is packed with great data that highlights key online fundraising and advocacy response rates as well as social media metrics. Can't wait to get your hands on the data? Not to worry, you can get a sneak peak at some of they key benchmarks in this terrific infographic that illustrates:
Fundraising
Online fundraising grew 20% in 2011. 35% of online fundraising came from emails and 65% came from other online sources like nonprofit's own websites, social fundraising, etc.

Online Advocacy
Online advocacy response rates were up 28%. Who says email's dead?
Social Media
For every 1000 email subscribers, organizations have 103 facebook fans and 23 followers on Twitter.
Mobile
For everyone 1000 email subscribers, nonprofits only have 12 mobile subscribers. Some maybe surprised by this stat given how prevalent mobile is today. However, many nonprofits still don't even have a basic mobile strategy or a mobile friendly website.
For those organization that are ramping up it's mobile program, the average mobile list size in 19K, about 1.2% of its email list size.
Check out the full infographic below.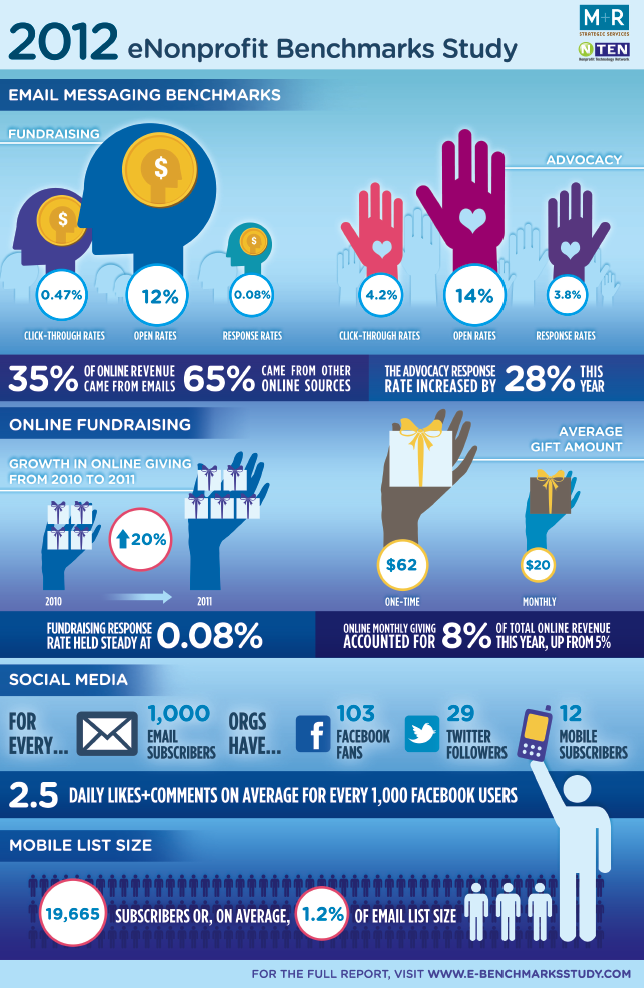 Allyson Kapin
Allyson has been named one of "Top Tech Titans" by the Washingtonian, one of the Most Influential Women In Tech by Fast Company, and one of the top 30 women entrepreneurs to follow on Twitter by Forbes for her leadership role in technology and social media. As Founding Partner of Rad Campaign, she leads the firm's client and online strategic services. For over a decade Allyson has helped non-profit organizations and political campaigns create dynamic and award-winning websites and online marketing and recruitment campaigns. She works side-by-side with her clients to meet their web needs and maximize their online effectiveness to create real world impact.