Voting for the 6th annual DoGooder Nonprofit Video Awards is now open to the public. The Nonprofit Video Awards, which is designed to recognize nonprofits that produce creative and effective videos to highlight their mission and social justice around the world, will provide $14,000 in cash prizes and products to winners.
In addition to the prizes, the four winners will be featured on YouTube's homepage and receive free registrations to NTEN's, Nonprofit Technology Conference. Furthermore, the Case Foundation will be awarding $10,000 in grants to those videos from this year's contest that demonstrated innovation and risk-taking to advance important messages or big ideas.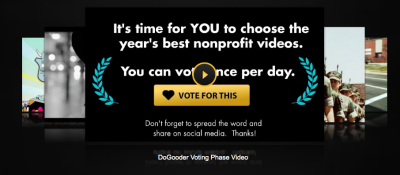 "As nonprofits, we want to do more than simply tell people what we do, we want to show the impact it makes on our communities. Nothing lets us do that like video," says Holly Ross, Executive Director of NTEN.
There were some incredible and thought-provoking videos submitted to the Do-Gooder Awards this year by a wide range of nonprofits so be sure and check them out for some inspiration for your own video campaigns. And don't forget to vote for your favorite ones. Voting closes on Wednesday, March 28th.