Say Hermione wants to raise funds for the Society for the Promotion of Elfish Welfare, or SPEW.
Her initial attempt was to go round the Gryffindor common room shaking her SPEW badge box at people to make them join. It was, unsurprisingly, very ineffective.
Let's say her treasurer Ron secures her some funds to build up her supporter base. Should she continue to pester folks around her to fund the mission?
If SPEW were a client of Frontier, the digital-first marketing fundraising company I founded and lead strategy for, I'd suggest Hermione get out of the common room and focus on finding people as passionate about the welfare of elves as she is. While there are many ways to achieve this, one effective approach that's growing in popularity is through advocacy campaigns.
Digital Advocacy Campaigns
Frontier works with Care2 to build advocacy campaigns in the form of pledges or petitions that help nonprofits find and connect with their target audience – people who share their interests, values, and passions. To date, we've helped clients sign up over 37,000 new subscribers to donor lists. Of these, we've seen a consistent pattern of converting 1.25% to donors.
Advocacy campaigns are a top of the funnel tactic that meet people where they're at, both literally and metaphorically. They inspire action around an issue aligned with your mission and, using targeted ads and lead magnets, attract people who care about the same things as you.
On a psychological level, they touch on the human needs for community and belonging. They offer a path to self-actualization by inviting subscribers to partner with you in becoming part of the solution to an issue of shared concern.
The bottom line? They're a powerful way to generate a list of valued-aligned subscribers to your organization, and because you already know they care about your mission, they're well-positioned to become donors.
Advocacy Campaign Benefits
Now that you know what an advocacy campaign is, let's dive deeper into what makes them so effective:
Owning the List: Rather than renting, you own the list of supporters your campaign generates, along with their names and email addresses. While this requires a higher up-front investment, you benefit in being able to re-engage your list any time in the future – including those who don't give right away.
Everyone meets your organization at a different stage, and some take longer to trust you with their dollars than others. An owned list allows you to cultivate subscribers over months or years, increasing your ROI in the long term.
Targeted Ads & Messaging: Your campaign appeals to your ideal audiences' persona and demographics through targeted ads and messaging. We look at indicators like age, gender, and education and focus on those who've pledged for causes like yours in the past.
Ease of Use: Signing a pledge is a low-barrier entry point for people to connect with your cause. Advocacy campaigns are easy to create, shareable across digital platforms, and provide a user-friendly experience if your content is optimized for mobile use. While critics argue they encourage "slacktivism," a campaign backed with a strategic plan can deliver great results.
Broad Reach: They help you reach a large audience, unrestricted by geographical boundaries. With Care2, our clients can find like-minded subscribers not only locally, but also provincially and nationally, according to their desired reach.
Casting a wide net helps to generate a lot of leads in a relatively short amount of time. In fact, you can choose how many prospects you want on your list and by when – all depending on your investment.
Cutting through the Noise
As you can see, advocacy campaigns offer many advantages and are a popular donor acquisition tactic for charities. But not all campaigns are created equal. Effective campaigns focus on a specific issue, have a compelling message, and encourage positive action. They must also provide value to entice folks to give up their contact information, especially in today's increasingly crowded digital space.
Grade A advocacy campaigns cut through the noise by:
Offering value to those who sign the pledge. Lead magnets with a quality offer – like educational videos, ebooks, or even downloadable coloring pages for kids – encourage people to jot down their email addresses. Delivering high-quality content also builds trust and helps establish your organization as a sector leader.
Focusing on a specific issue that aligns with the goals of your organization. Aim for tangible problems that are timely, urgent, and solvable.
Sharing a clear call to action and a desired outcome. By signing the pledge, you give subscribers the opportunity to be part of the solution.
Inspiring positive action toward a common goal. At Frontier, we encourage clients to use pledges, as opposed to petitions, which can imply antagonistic action against something.



You've got the list, now what?


A successful advocacy campaign generates a list of people who care about your cause. Although you might be tempted, don't ask for a gift yet. As a "top-funnel" tactic, most of your pledge signatories won't be familiar with your nonprofit and are less likely to donate in the early days of your relationship.

Converting subscribers into donors is more effective when you take time to connect, build trust, and create common bonds with your leads. Welcome campaigns are a great way to accomplish this.

The Welcome Advantage

A welcome campaign is an automated series of anywhere from 3 to 5 emails or more that moves your subscribers from advocacy to greater awareness of your nonprofit, and finally, to action through a well-timed appeal.

Your first email thanks subscribers for being a mensch and reinforces their identity as do-gooders.

The middle of the series focuses on nurturing the common bonds between you and your subscribers. By offering videos, resources, and stories of impact, you welcome them into your community and create awareness of your organization.

Done well, the welcome series is a slow, steady build to the final step when you ask your new friends to join you in solving the issue of mutual concern – with a gift to your nonprofit.

For those who don't donate, remember, the list is yours for keeps. Consider continuing to cultivate these folks for future appeals, or offering non-monetary calls to action, like attending events, signing up for educational offerings, or volunteer engagement.

A Winning Approach

If you're anything like the charities I talk to, you're always looking for effective ways to find new donors. A failing strategy approaches everyone and asks them to give, but as we've learned, there's a better way.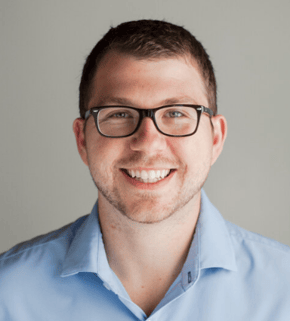 Benjamin Johnson
Benjamin Johnson is a leader and strategist within the cause world. Ben founded Frontier Marketing in 2010 shortly after finishing his CMA designation (now called CPA), and having his first of two kids. Since the late 2000's Ben has been an advocate for integrated marketing and strategy-led, results-oriented fundraising. Frontier's mission is to bring efficient and effective direct-response fundraising to charities across Canada. For the last decade, Frontier has partnered with charities across Canada to raise over $10M in annual fundraising revenue through both email and mail.