We've said it before, and we'll say it again: social media and the Internet should be like a cocktail party - you should be mingling and engaging with your guests. Be welcoming, courteous, and fun.
How can you engage online genuinely, and really captivate your followers? Let's take a look at a recent study on #BrandLove to see how other organizations are rocking it, or failing pretty hard in the social sphere.
Between May 7th and July 3rd of 2015, Curtis Silver, a Forbes Contributor, sent out 959 tweets to brands that said: "I love you [brand Twitter handle] #brandlove".
Silver chose to tweet adoration rather than disgruntlement in hopes of garnering even more responses from the orgs. The tweets were divided up equally for each weekday, scheduled between 9-5 EST. In the end, Silver got 212 responses (22%).
Here are some key findings from this study:
44 brands replied in less than 5 minutes.

22% of replies occurred within 15-60 minutes.

83% of all replies came in the first 4 hours.

If brands with 500K+ followers didn't reply after the first 4 hours, they didn't reply at all.

Brands with less than 100K followers mostly replied in less than 15 minutes.

8% of the brands that replied didn't react for at least 24 hours.

78% of brands replied after noon Eastern Standard.

The best reply that Silver identifed was from Pocketgems: "This is all moving so fast #brandletstakeitslow"

.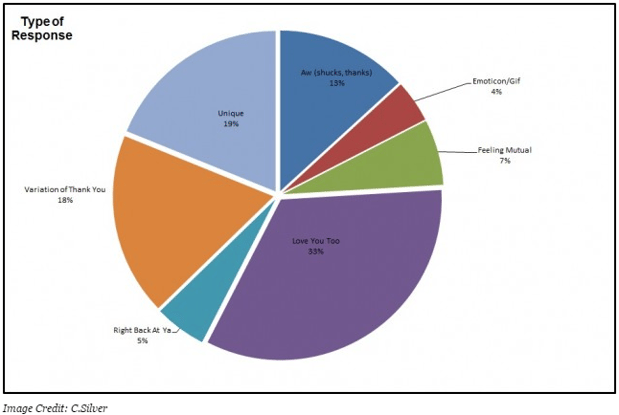 Here are 5 ways you should engage with your followers:
Actually engage. If someone tweets at you, writes to you on Facebook, comments on your blog, etc., make an intentional effort to respond (unless they're a troll). And don't only respond to the influencers in your community; even the lesser known voices matter. When you're responding make sure that you don't sound robotic - it's important to remember that you're both humans on either side of the screen.
Listen, and don't be afraid to ask. Many nonprofits assume that they know what their constituents want from them, but they never actually ask. Ask your followers what they want from you on each social network that they're on. You can do this as simply as sending a poll out to your audiences in your next email update, or even generating a Twitter or Facebook poll right on the native platform. Also, criticism isn't necessarily a bad thing - it can be really helpful feedback, so really listen to what your audience is saying, and follow up if something isn't clear.
Don't be lazy. It's really easy to get lost in all of the noise online, and it is so much easier to just Like a Facebook or LinkedIn comment, or Favorite a tweet. Just a Like or a Favorite doesn't show that you actually care about what your community has to say.
Keep in touch on a regular basis. You can't just show up online when you have something to annouce, or tickets to sell. Manuevering the social sphere in this way can be socially catastrophic, not to mention lonely. If you spend time engaging with your community online on a regular basis, they will know that you care about them all the time, and not just when you want something from them.
Spice things up! Don't just share the same ole content constantly. Make an effort to spice things up, and give your followers a reason to check in with you. Similarly to how some restaurants have roving specials that you only learn about on their social networks, nonprofits can have roving discounts, facts, or contests. Make sure your content isn't getting stale.

Allyson Kapin
Allyson has been named one of "Top Tech Titans" by the Washingtonian, one of the Most Influential Women In Tech by Fast Company, and one of the top 30 women entrepreneurs to follow on Twitter by Forbes for her leadership role in technology and social media. As Founding Partner of Rad Campaign, she leads the firm's client and online strategic services. For over a decade Allyson has helped non-profit organizations and political campaigns create dynamic and award-winning websites and online marketing and recruitment campaigns. She works side-by-side with her clients to meet their web needs and maximize their online effectiveness to create real world impact.