The American Red Cross recently updated their Social Media and Online Communications Guide for their staff and it's packed with some great tips that any organization can adapt. Check out some of their great suggestions below.
Be a Good Social and Mobile Citizen
BE ACCURATE:
"Your network depends on you to tell the truth. Have fun, but make sure any news you report has been verified. If you're retweeting, sharing, or otherwise linking to someone else's content, give him/her credit," said the Red Cross.
I'd like to add check the links before you RT a post. Sometimes, the link can be one character off and lead your followers to a different article you did not mean to share. I speak from personal experience. :)
BE RELEVANT:
"Post content that invites responses – then stay engaged. Find others who have shared interests, cite them and ask them questions," said the Red Cross.
I wholeheartedly agree with staying engaged, especially when you invite responses. Sometimes I see organizations ask questions but then they never to respond to their constituent's answers or comments. That is just bad manners.
BE CONSIDERATE:
"Encourage healthy debate but don't inflame others," said the Red Cross.
A healthy debate can be a wonderful way to spark discussions with your community. However, nonprofits must be prepared to deal with the tough questions in a public space and develop a plan well in advance about handling conversations that get out of control or hostile.
BE TRANSPARENT:
"If you make a mistake, admit it. Be upfront and be quick with your correction," said the Red Cross.
Remember the Komen VS Planned Parenthood? Don't ever let that happen to your organization by burying your head in the sand and think "things will just blow over."
BE HUMAN:
"The social web is like a dinner party. Be yourself, but with good manners," said the Red Cross.
I think the social web is more like a cocktail party. It's a place to be social, see friends, meet new people, network, etc. But don't be the party pooper who ruins the cocktail party by being the obnoxious drunk.
Balancing Your Professional and Personal Life
As social media becomes increasingly part of our daily lives professionally and personally, it can be a challenge to navigate these new waters. Check out the chart blogger Allison fine created that discusses the Old Professional (pre social media) and the New Professional (in the age of social media).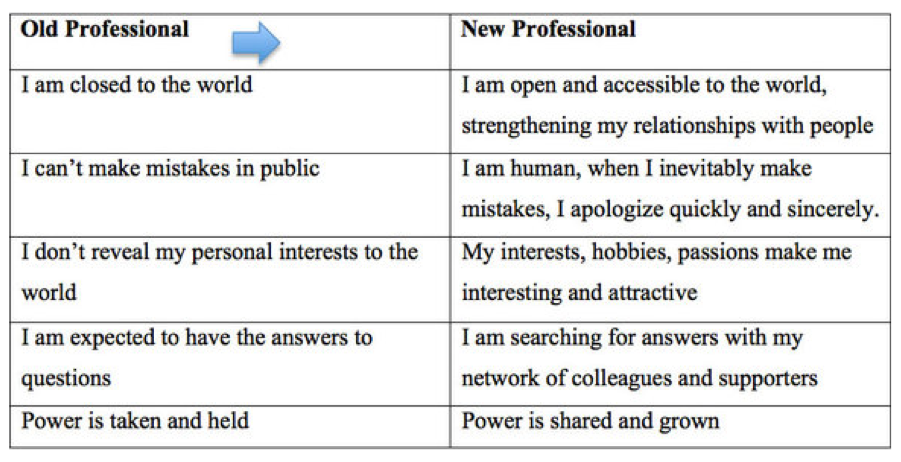 Allyson Kapin
Allyson has been named one of "Top Tech Titans" by the Washingtonian, one of the Most Influential Women In Tech by Fast Company, and one of the top 30 women entrepreneurs to follow on Twitter by Forbes for her leadership role in technology and social media. As Founding Partner of Rad Campaign, she leads the firm's client and online strategic services. For over a decade Allyson has helped non-profit organizations and political campaigns create dynamic and award-winning websites and online marketing and recruitment campaigns. She works side-by-side with her clients to meet their web needs and maximize their online effectiveness to create real world impact.