Is your nonprofit an environmentally-focused organization that uses vibrant green hues, forest imagery, and a serious tone in your branding? Or, does your brand feature primary colors and round, playful fonts to represent your child-friendly mission?
You've likely put a lot of thought into how you chose design elements to create a brand that represents your organization's mission. Your ultimate goal involves using these elements to promote awareness of your mission and support for your initiatives, such as your fundraising efforts. But if your brand isn't aligned across your various digital marketing platforms. In that case, you won't be able to effectively introduce virtual audiences to your nonprofit, let alone acquire their long-term support.
In this post, we'll explore the steps of creating a unified digital brand with the following points:
DNL OmniMedia's nonprofit branding guide points out that your organization's brand is more than just a visual identity. It creates an emotional connection between your supporters and mission, represents the populations you serve, and provides a unifying force for your nonprofit staff to rally around. When your digital brand elements are aligned, you'll be able to reinforce these benefits across your marketing platforms. Let's dive in!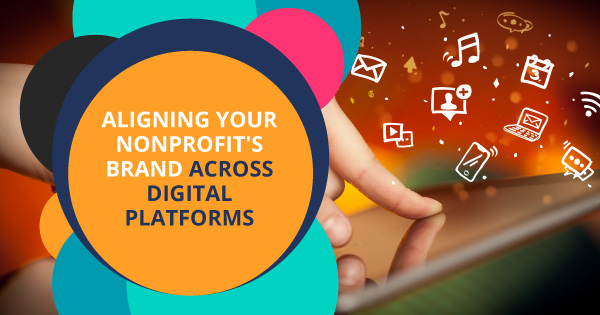 The Benefits of a Unified Digital Brand
Your digital marketing platforms are impactful channels for making meaningful connections with your nonprofit's supporters, from your donors to your volunteers and other advocates.
Your brand provides a visual representation of everything your organization stands for. Ensuring your branding is consistent across all platforms:
Increases mission awareness and loyalty among your supporter base. Supporters will be able to recognize your organization no matter where they encounter your content. Use your branding to offer a uniform, professional experience for audience members who are connecting with your organization for the first time, providing a good first impression.
Boosts your organization's credibility and trustworthiness in donors' eyes. Nonprofit supporters associate uniform branding with trust and legitimacy. Consistent branding evokes a strong sense of professionalism. This helps your organization's major supporters, from your corporate sponsors to your major and planned donors, feel confident that their contributions to your

online fundraising campaigns

will be put to good use.
Provides clear guidelines for team members to follow. Help your organization's marketing team save time. They won't have to deliberate about every design choice — they can simply reference your digital brand style guide and create marketing campaigns based on your predetermined requirements.
When your brand is aligned across digital platforms, you can present all audience members with a seamless, professional image. Standardizing your branding is an easy step you can take to boost your organization's trustworthiness and credibility.
Digital Brand Elements to Align
Your brand isn't just your logo or font choices — it's a combination of a variety of components that work in harmony to tell your nonprofit's story.
Carefully consider how you can unify each of your brand elements and standardize them. Here are the brand elements to consider:
Colors: Think about your brand's color palette. Whether you've chosen an arrangement of shades of blue or contrasting colors of green and purple, make sure to standardize your use of color across platforms. For instance, ensure any colors used in your social media or email newsletter graphics match the colors represented on your website. Include the exact hex codes for each of your colors in your branding guidelines so they can be easily replicated going forward.
Logo: Your organization likely has one standard logo along with several logo variations. Ensure your logo variations aren't vastly different from your standard logo so that audience members can still recognize your symbols even when viewing them on different platforms. For instance, make sure the vertical version of your logo isn't unrecognizable compared to the horizontal version and that your logo incorporates familiar brand colors.
Fonts: You may choose one font for paragraph text and one for headlines, but don't bring in any additional fonts to the mix. No matter what font you choose, keep it consistent across all platforms, from your social media graphics to your website.
Tone: Your tone is your nonprofit's brand voice. Keep it consistent by using the same phrasing, word choices, and personality across all platforms. For example, if you've adopted a lighthearted, friendly tone for your website, you don't want to confuse audience members by striking a serious tone in your email newsletter.
Imagery and graphics:

Double the Donation's nonprofit web design best practices

recommend creating standards for image look, formatting, and sourcing. You should also create guidelines for crafting original graphics or charts so that they're uniform across channels.
Aligning these brand elements ensures your organization is instantly recognizable whether a supporter encounters you in their Facebook feed, email inbox, or through a Google search.
Best Practices for Digital Brand Alignment
Now that you have a clear idea of the types of brand components to standardize, you can start creating a plan to successfully present your digital brand. Here are a few best practices to get you started on the right path:
Adapt your brand elements to match each unique platform.
Each digital communication platform is unique, so the way you use your brand elements on each channel should be tailored to fit the circumstances. Let's take a closer look at each platform:
Social media: Each social media platform has best practice guidelines for elements such as image sizes, post lengths, and tone. For instance, Instagram posts typically have a more fun, friendly tone, while LinkedIn posts are more formal and professional. Keep in mind the

recommended image sizes

for each platform. This allows you to optimize your brand's visuals for

maximum social media reach

.
Email: Any emails you send, whether fundraising requests or recurring newsletters, should feature your brand guidelines. Consider how you might have to adapt certain elements, such as your logo and image sizes, to optimize these elements for email. Adjust your tone based on the circumstances. For instance, a donation request may have a slightly more urgent, serious tone than a monthly informational newsletter.
App: Many nonprofits are turning to

advocacy apps

to engage supporters on a device they use constantly: their mobile phones. Choose an app creator that allows you to customize your advocacy app according to your brand guidelines. This helps reassure supporters that your app is useful for them to have on their phones.
Website

: Your website can be highly customizable depending on your content management system or theme. This means your website is an effective platform for showcasing your brand exactly how you want it to be presented. Your website can also act as a visual reference on which to base your other digital outreach materials.
Consider how you'll present your brand elements on each digital platform your organization uses. For instance, can you put your logo as your profile photo on LinkedIn and Facebook? Can you brand your weekly newsletter using the same color palette and font choices as your website's blog? All of these actions help reinforce your brand across virtual channels.
Use a digital brand style guide to keep team members on the same page.
You likely have a brand style guide that you follow to create marketing materials. Include a digital-focused section in that style guide to give staff members guidelines for incorporating your brand on virtual platforms.
Your digital section should include information guidelines for:
Social media image sizes and post lengths for each platform.
Email subject line lengths.
Digital graphic design specifications.
The tone you use in digital materials.
Your color palette (including hex codes for each color) and typography.
Share these updates with your team members and ask for their feedback to ensure your digital brand guidelines accurately reflect your brand story.
Get creative.
An effective nonprofit branding strategy isn't completely set in stone. Of course, as soon as you determine your digital brand guidelines, use them uniformly for a period of time.
Then, once you've established a strong sense of brand awareness, determine where you can bend the rules to get creative and offer audience members something they haven't seen before. For instance, perhaps you might incorporate videos and gifs into your multimedia toolkit, or create sub-brands for certain events or fundraising campaigns. This keeps audience members engaged in your offerings and shows them that your organization is flexible and ever-evolving.
Work with a nonprofit strategy consultant as needed.
If it's time to revamp your organization's brand or take a more strategic approach to digital branding, a nonprofit marketing strategy consultant can set you on the right path. These professionals offer digital strategy services such as:
Auditing your digital strategy and technology platforms to ensure you're using the right tools and strategies.
Recommending opportunities to enhance your digital strategy with new technologies or strategies.
Supporting your organization as you implement their recommendations and train your team on best practices.
A consultant can carry out your strategy to align your nonprofit's brand across digital platforms and ensure you're using your technology platforms effectively to support this effort.
---
With the rise of online fundraising and virtual events, your nonprofit's digital platforms are more important than ever. When you unify your brand elements across platforms, you can increase your audience's engagement and trust in your organization to help your campaigns succeed. Good luck!
Carl Diesing
Carl Diesing is Managing Director of DNL OmniMedia. Carl co-founded DNL OmniMedia in 2006 and has grown the team to accommodate clients with on-going web development projects. Together DNL OmniMedia has worked with over 100 organizations to assist them with accomplishing their online goals. As Managing Director of DNL OmniMedia, Carl works with nonprofits and their technology to foster fundraising, create awareness, cure disease, and solve social issues. Carl lives in the Hudson Valley with his wife Sarah and their two children Charlie and Evelyn.