Social media! I seriously think it's "the" buzz word of 2009. According to Omniture, over 200 million searches are conducted every single day and 78% of people trust recommendations by peers. But how should nonprofits track their social media? What tools should they use?
Understand What You Want to Track.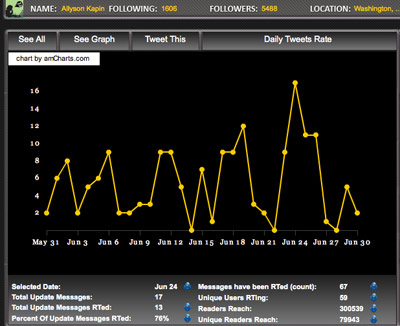 Do you want to track how many people are clicking and sharing your links or updates?
Do you want to track how many people are signing your petitions after visiting your site?
Are you interested in trends relating to specific topics your nonprofit works on such as health care reform or human rights?
Each objective requires different tools to track your nonprofits social media progress and return on investment. However, it's important to note that none of them are 100% at measuring results. Lets dig in.
Eight social media tracking tools:
Act.ly: New tool to launch petitions on Twitter. It also tracks if the target responds to your petition. http://www.Act.ly
Bit.ly: A URL shortener that tracks information such as number of clicks, traffic sources, and at what time the clicks occur. http://www.Bit.ly
HootSuite: Allows you to manage multiple twitter accounts in one place. The interface is clean and it's easy to use. http://www.hootsuite.com
Scoopler: Aggregator that organizes content being shared on the internet as it happens via blogs and major social networks. Think of it like eye-witness reports of breaking news, photos and videos from big events, and links to the hottest memes of the day. http://www.scoopler.com/
SocialToo: Creates surveys and tracks social media stats. It also will also notifying you of your new follows and unfollows on Twitter. According to ReadWriteWeb, they will soon be providing a related API for Twitter, Facebook, and FriendFeed to integrate, retrieve, and provide further statistics for each user's Facebook profile. http://socialtoo.com/
Twopular: Tracks the most popular trends on twitter including who is the top people tweeting specific trends (aka trendsetters) and a bar chart listing the hours a topic trended. One of the down sides of Twopular is that if your issue/hashtag is not in the top 10 trends, you won't see stats in the bar graph. http://twopular.com
TwitterAnalyzer: What's not to love about this tool that analyzes your influence on twitter filled with comprehensive stats that calculates daily tweets, users who are retweeting your messages, and their unique reach. http://twitteranalyzer.com
Xinureturns: Provides an overview of your website presence on popular search engines and social networks. The reports are filled with listings on Technorati, Google, Diggs, and links back to your website. http://www.xinureturns.com/
What are some of your favorite social media tracking tools?

Allyson Kapin
Allyson has been named one of "Top Tech Titans" by the Washingtonian, one of the Most Influential Women In Tech by Fast Company, and one of the top 30 women entrepreneurs to follow on Twitter by Forbes for her leadership role in technology and social media. As Founding Partner of Rad Campaign, she leads the firm's client and online strategic services. For over a decade Allyson has helped non-profit organizations and political campaigns create dynamic and award-winning websites and online marketing and recruitment campaigns. She works side-by-side with her clients to meet their web needs and maximize their online effectiveness to create real world impact.