The struggling economy hit nonprofits hard in the first quarter of 2009. According to the latest Target Analytics Index of National Fundraising Performance, the number of new donors dropped by almost 13%, as compared to 2008. The study analyzed 79 nonprofit organizations and their fundraising campaigns via direct mail, online fundraising, telemarketing and canvassing.
The study also showed that for the first time since Target Analytics released its initial study in 2002, overall revenue per donor declined by 2.1%. Prior to this study, the Index of the National Fundraising Performance had only been showing a gradual decline in donor numbers since the U.S. Gulf Coast hurricanes of 2005. However, things rapidly changed from Q4 in 2008 to Q1 in 2009.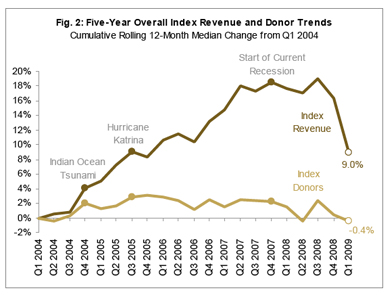 The decline in donors accelerated even faster due to the recession and a 13% decrease in new donors.
While these numbers may seem alarming, it's common to see a decrease in donations and donors in Q1, since it's the slowest fundraising period in a calendar year. In addition, nonprofits are competing for donors' attention in a dismal economy, which many fundraisers have not had to face before. Furthermore, this is the first time in eight years that we have a Democrat in the White House who is very supportive of major progressive causes such as health care reform, ending the war in Iraq, etc. So fundraising asks are not as "fight the right" focused as they were during the Bush administration. By the way, if you have not checked out Frogloop's recent article on converting new activists into donors, now would be a good time to do so, since it's packed with great tips and resources.
Other key metrics from the study include:
The median average gift was $38 in Q1 2009.

The median revenue per donor was $47.

The median average gift decreased by 2.4%

Retention rates decreased by a median 1%.

Reactivation rates fell by 6.5% compared to Q1 2008.

Animal Welfare organizations experienced an increase in donors between Q1 2008 and Q1 2009 by approximately 1.3%.
"Revenue per donor has generally increased for the past five years, with some slowdown in growth in 2008. In the past, revenue per donor increases usually made up for donor decreases, allowing overall revenue to continue to grow," said Target Analytics. But obviously the struggling economy is impacting fundraising.
However, nonprofits can battle the economic slowdown by staying focused on growing their online fundraising programs and lists (taking churn rates into account), and of course by utilizing a multi-channel approach to integrate offline and online fundraising campaigns.

Allyson Kapin
Allyson has been named one of "Top Tech Titans" by the Washingtonian, one of the Most Influential Women In Tech by Fast Company, and one of the top 30 women entrepreneurs to follow on Twitter by Forbes for her leadership role in technology and social media. As Founding Partner of Rad Campaign, she leads the firm's client and online strategic services. For over a decade Allyson has helped non-profit organizations and political campaigns create dynamic and award-winning websites and online marketing and recruitment campaigns. She works side-by-side with her clients to meet their web needs and maximize their online effectiveness to create real world impact.