My Facebook stream has been filled with nonprofits and businesses asking me to "like" photos, political statements, new products, petitions, etc. You name it, they have asked me to "like" it. And it's not just nonprofits or small business with limited resources relying on this lame strategy, it's big organizations and major corporations who have invested significant money, resources, and staff in social media. Check out this update from Walmart who thought the best way to engage their 25 million Facebook likers was to say "We know you like to be the first to comment. Now, we want to see who can be the LAST to comment. Ready, set, GO!"
Walmart received over 28K comments such as: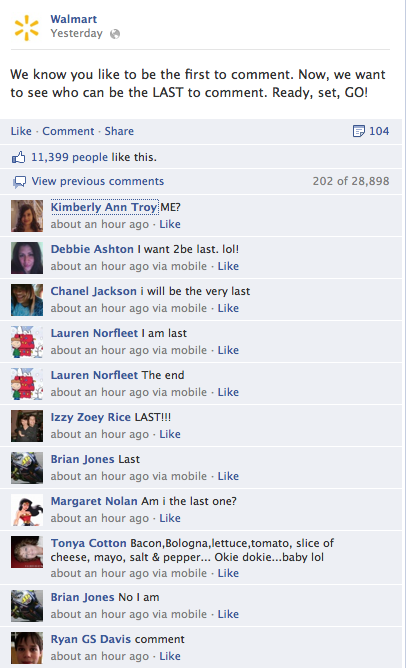 What a mind-blowing discussion around their brand, don't you think?
When I look at other organizations that are using the "like this" or RT tactic with their community, the comments by the community are often along the lines of: Thanks for sharing this. Agreed. Yeah. Nice work.
You maybe asking what's wrong with asking people to "like" something on Facebook or retweet on Twitter? The issue is when you ask people to passively "like" or RT content, it's the equivalent of them saying "hey, thumbs up dude," and then they move onto to the next item in their stream.
Sometimes I see constituents ask questions on organizations Facebook pages, which is a great opportunity for real engagement, but sadly many organizations don't bother to respond within 24 hours. And often they don't respond at all. #Fail.
Social media, which started out with the best intentions and as a way to foster community transparently, has evolved into a space of laziness among marketers and social media campaigners. Constantly asking your constituents to "like" a photo, political statement or commenting just for the heck of it and to increase your organization's EdgeRank is not real engagement and certainly not making any sort of real impact on any social issues or businesses bottom line.
Social business strategist, Amber Naslund, recently expressed similar frustration. "Please stop with the "please like my page" pandering. "If you're begging for people to like stuff and calling that success, you might want to re-evaluate those "marketing" skills of yours."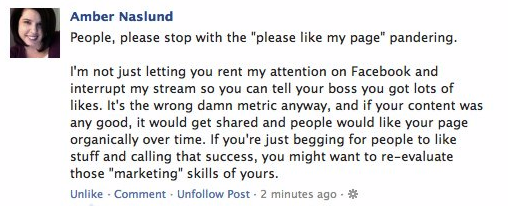 In the race to figure how to increase EdgeRank scores and generate the most Facebook "likers", followers on Twitter, and "likes" on updates, many organizations have lost sight of what their social media strategy should be. So tomorrow morning, I want you to march into your bosses office and tell them you are done striving for and measuring bogus social media metrics. Instead you are going to focus on building your inspiring movement (or business) by sharing powerful stories that move people or help motivate people to do something like sign up to volunteer, participate in a local lobby day, or be a part of the year-end matching gift campaign. Tell your boss that you are going to focus on connecting with people to have a real dialogue. And finally let your boss know that you are going to use social media to do constituent or customer support. When they have questions or raise concerns, you or another staff member will quickly respond and help them out.

And if you are looking for some inspiration check out this great example by author Nicole Daedone.
Nicole who has over 6K likes on her Facebook page, typically receives a handful of comments when she posts. But on November 25th, Nicole received over 8k personal and heartfelt comments after she shared a touching picture and story of a daughter and her aging mother saying goodbye to each other for the last time at the airport. Note, Nicole did not witness this. It's something that has been shared online previously and Nicole simply re-shared it with her community because she was moved by it.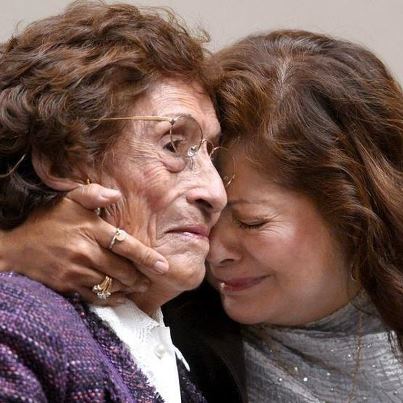 "At an airport I overheard a mother and daughter in their last moments together. They had announced her plane's departure and standing near the door, she said to her daughter, "I love you, I wish you enough."
She said, "Mom, our life together has been more than enough. Your love is all I ever needed. I wish you enough, too, Mom."
They kissed good-bye and she left.
She walked over toward the window where I was seated. Standing there I could see she wanted and needed to cry. I tried not to intrude on his privacy, but she welcomed me in by asking, "Did you ever say good-bye to someone knowing it would be forever?"
"Yes, I have," I replied. Saying that brought back memories I had of expressing my love and appreciation for all my Mom had done for me. Recognizing that her days were limited, I took the time to tell her face to face how much she meant to me.
So I knew what this woman was experiencing.
"Forgive me for asking, but why is this a forever good-bye?" I asked.
"I am old and she lives much too far away. I have challenges ahead and the reality is, her next trip back will be for my funeral," she said.
"When you were saying good-bye I heard you say, 'I wish you enough.' May I ask what that means?" She began to smile. "That's a wish that has been handed down from other generations. My parents used to say it to everyone."
She paused for a moment and looking up as if trying to remember it in detail, she smiled even more. "When we said 'I wish you enough,' we were wanting the other person to have a life filled with enough good things to sustain them," she continued and then turning toward me she shared the following as if she were reciting it from memory."
I shared this example, because it shows how telling a great story can emotionally connect with people (even strangers) and motivate them to do something. In this case, some people were moved enough to share their own stories about their mom and dad passing. Others commented that they were reminded how life can be too short and made a commitment to spend more time with their family.
As nonprofits we have access to the best stories to share. Let's start using social media to share them and to start fostering real community.


Allyson Kapin
Allyson has been named one of "Top Tech Titans" by the Washingtonian, one of the Most Influential Women In Tech by Fast Company, and one of the top 30 women entrepreneurs to follow on Twitter by Forbes for her leadership role in technology and social media. As Founding Partner of Rad Campaign, she leads the firm's client and online strategic services. For over a decade Allyson has helped non-profit organizations and political campaigns create dynamic and award-winning websites and online marketing and recruitment campaigns. She works side-by-side with her clients to meet their web needs and maximize their online effectiveness to create real world impact.