Now that we're settling into the new year, it's time to reassess your goals you set for the year. If you are a regular Care2 Frogloop reader, I know that digital was a key part of your plans. Right? Ok, even if it wasn't, we've got some news for you. Care2, hjc, and NTEN just released data they collected from 473 nonprofit professionals to bring you the 2015 Digital Outlook Report.
The report notes that while not every organization's approach to digital strategy is the same, this research identifies an outlook with definite trends and paths to success. This success becomes visible when connecting digital strategy (in its many forms) to broader themes in nonprofit marketing, communications, and fundraising. Though, it's critical to remember that even though cross-sector benchmarks are incredibly valuable, what works for some organizations may not work for yours so you always need to be testing to see what sticks.
With that in mind, here are some of the highlights of the 2015 Digital Outlook Report: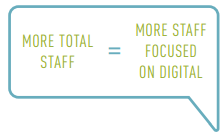 Dedicated Digital staff. It's a full time job. Unfortunately, more than half (56.81%) of respondents noted not having any staff dedicated to digital strategy.
Focus on Visual Storytelling. 68.4% of survey respondents plan on using more video this year than last. About 63% plan on focusing more on images, and 58% plan on doing more infographics. Data visualizations can provide appealing hooks for press, and infographics frequently generate an impressive amount of media and blog coverage for the organization releasing them.
Get to Know your Donors.Charities who had created personas of their ideal donors were more successful in converting leads to donors and first-time donors to second-time donors. Of those creating personas, 62% (compared to 55%) of respondents converted leads to donors within the first three months.
Develop a Digital Content Strategy. We know there are lots of reasons that you might not have a fully fleshed out digital plan, but nearly 65% of respondents cited budget constraints as the primary restriction for planning new digital strategies.
The report dives even deeper into digital strategy for 2015, so read the full report here for even more suggestions and insight into what nonprofits will be taking on. What are your goals for digital strategy this year?

Allyson Kapin
Allyson has been named one of "Top Tech Titans" by the Washingtonian, one of the Most Influential Women In Tech by Fast Company, and one of the top 30 women entrepreneurs to follow on Twitter by Forbes for her leadership role in technology and social media. As Founding Partner of Rad Campaign, she leads the firm's client and online strategic services. For over a decade Allyson has helped non-profit organizations and political campaigns create dynamic and award-winning websites and online marketing and recruitment campaigns. She works side-by-side with her clients to meet their web needs and maximize their online effectiveness to create real world impact.