Good fundraising can make or break any nonprofit, but what makes truly good fundraising? One of the most important factors for success is a highly engaged community who is extremely passionate about your mission. Humans of New York (HONY) is an amazing example of how building an engaged community inspires people to rally together and raise money for an issue they are moved by.
Humans of New York is the project of Brandon Stanton, a photographer who brings the world daily doses of the beautiful, scary, infinite, and intimate realities of people across New York City, and occasionally, the world. On Facebook alone, HONY has close to 12M Likes. Each of HONY's posts receive 2K to 10K+ comments and shares.
A week ago, Stanton profiled a student from the Mott Hall Bridges Academy, a middle school in Brooklyn, with the highest crime rate in New York City.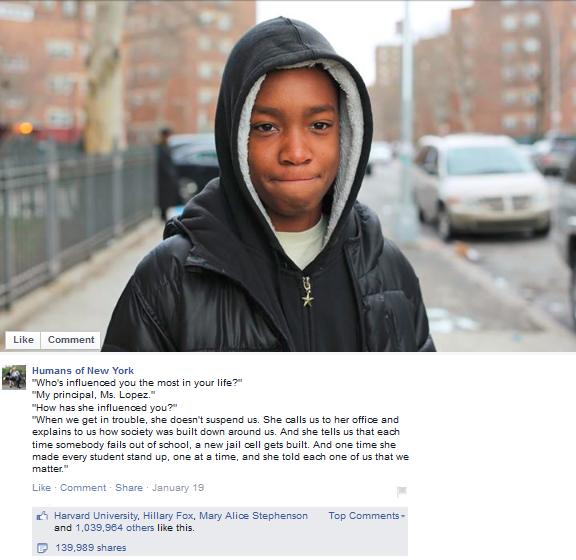 The student gushed to Stanton about his principal:
When we get in trouble, she doesn't suspend us. She calls us to her office and explains to us how society was built down around us. And she tells us that each time somebody fails out of school, a new jail cell gets built. And one time she made every student stand up, one at a time, and she told each one of us that we matter.
Shortly after, the principal (Nadia Lopez) was profiled, and the story inspired an incredible crowdfunding campaign on Indiegogo for her school, led by Stanton. To date, the campaign has raised over $1 million, which is $900,000 more than his original fundraising goal.
Originally the fundraising campaign was going to fund a 6th grade class trip to Harvard. Since many of the students have never left New York, she wanted them to know what it felt like to stand on the campus of one of the world's top schools, and know that they belonged.
The campaign immediately resonated with the HONY community and it took off.
Check out these stats:
It only took 45 minutes to raise the initial goal of $100,000.
The average donationto Humans of New York's fundraiser for Mott Hall Bridges Academy is $27, much less than other for-good fundraisers.
Over $890,000 has been raised in 6 DAYS. As a comparison, HONY print sales have raised nearly $500,000 for charity, which is also a significant accomplishment.
After the campaign surpassed its fundraising goal, Stanton announced that all funds raised beyond $700,000 will be reserved for a scholarship fund available to the graduates of Mott Hall Bridges Academy.
It's an incredible fundraising story and demonstrates the real power of building an engaged community and the type of impact they can have in crowdfunding campaigns. But make no mistake, crowdfunding campaigns are not easy to pull off. Many don't reach their fundraising goals. If your nonprofit wants to test crowdfuding campaigns, you'll want to incorporate these 7 key crowdunding tips.
For HONY, the success did not happen overnight. It took years of building a community and engaging them in the simple everyday life of New Yorkers from all walks of life.
So how does HONY's crowdfunding campaign compare to other nonprofit crowdfunding campaigns? The average donation to the HONY crowdfunding campaign is about $27. That's significantly lower than the $88 average donation to nonprofit crowdfunding campaigns, according to Rad Campaign, my web agency's research on behalf of Craig Newmark, of craigconnects, where we looked at the effects of crowdfunding. You can see the dataset here in this infographic.
Over the course of our research, we spoke with prominent crowdfunding platforms such as Causes, Causevox, FirstGiving, StayClassy, Razoo. Other key findings were:
On average, more than 28% of crowdfunding donors will donate again.
Fundraisers who receive their first donation during the first 3 days of the campaign are more likely to hit their goal than those who don't.
Over $9,000 on average is raised on nonprofit campaign crowdfunding pages, significantly less than HONY.
What has inspired you the most about Humans of New York, and this incredible fundraiser?

Allyson Kapin
Allyson has been named one of "Top Tech Titans" by the Washingtonian, one of the Most Influential Women In Tech by Fast Company, and one of the top 30 women entrepreneurs to follow on Twitter by Forbes for her leadership role in technology and social media. As Founding Partner of Rad Campaign, she leads the firm's client and online strategic services. For over a decade Allyson has helped non-profit organizations and political campaigns create dynamic and award-winning websites and online marketing and recruitment campaigns. She works side-by-side with her clients to meet their web needs and maximize their online effectiveness to create real world impact.