I have been waiting to get my hands on the latest 2012 Social Networking Benchmark Report because it's one of the only comprehensive surveys that provides a good overview of how nonprofits are utilizing social media to brand themselves online, connect with new supporters, and raise money.
Between January 24, 2012 and February 21, 2012, over 3500 nonprofit practitioners representing a variety of verticals and operating budgets responded to an online survey about their use of online social networks.
Check out some of the social media survey results below.
The majority of nonprofits (

66%) use Facebook advertising for branding and awareness.

In 2012, respondents accumulated an average of 8,317 members on Facebook, which is about an 81% increase from 2011.

Over on Twitter nonprofits had an average of 3,290 followers on Twitter, which is about a 30% increase in community size.

93% of nonprofits have a presence on the top commercial social networks. This remains unchanged from 2011.

Nonprofits run an average 2.1 Facebook pages.

The average cost of a Facebook like is $3.50 and $2.05 for a follower on Twitter. BTW, if you are looking to recruit Facebook "Likes", consider Care2's Facebook Like campaigns, which are more competitive in pricing for acquisition.

Are Nonprofits Raising Money Via Social Media?
The majority of nonprofit are still not raising a dime on social networks like Facebook. 46% said that they were fundraising, with the top category (33% of all responders) prioritizing Individual Giving – soliciting Facebook supporters for individual donations (e.g. one-time gifts, memberships, and monthly gifts).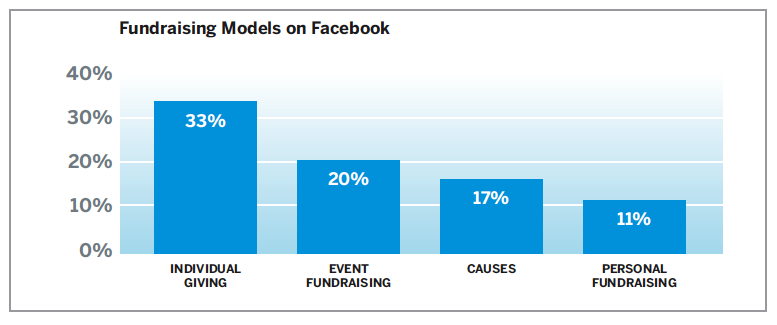 I was particularly interested to hear that nonprofits said that the average value of a Facebook "Like" over 12 months following acquisition was about $214.81. This includes money raised from both online and offline channels such as revenue from individual donations, membership, events, merchandise, etc.
Event fundraising was the second highest category with 20% of all responders. Causes was third with 17%, and Personal Fundraising (e.g. peer-to-peer fundraising linked to a mission-focused theme rather than a face-to-face event) was fourth with 11%.
Social Networking Staffing

42% of respondents indicate that they will increase their staffing for commercial social networks in 2012, 55% say they will keep staffing the same, and just 3% indicate they will reduce staffing. These statistics are almost identical to the survey results from 2011.
Now that you have a sense of how other nonprofits are utilizing social media, how do these survey findings correlate to your nonprofit?

Allyson Kapin
Allyson has been named one of "Top Tech Titans" by the Washingtonian, one of the Most Influential Women In Tech by Fast Company, and one of the top 30 women entrepreneurs to follow on Twitter by Forbes for her leadership role in technology and social media. As Founding Partner of Rad Campaign, she leads the firm's client and online strategic services. For over a decade Allyson has helped non-profit organizations and political campaigns create dynamic and award-winning websites and online marketing and recruitment campaigns. She works side-by-side with her clients to meet their web needs and maximize their online effectiveness to create real world impact.