Kickstarter's founder Perry Chen, who resigned from his position at the crowdfunding platform, recently launched the nonprofit Dollar A Day to raise money for charities. Chen helped spark a movement that raised over $1 billion dollars for individual projects that has led to startups, social change initiatives, etc. via Kickstarter. Can he replicate this for nonprofits?
Chen told the media that one of the inspirations behind Dollar A Day was to make it easy for people to discover nonprofits that they might not be familiar with.

Here's How It Works.
Every member who joins Dollar A Day, commits to donating $1 each day, which goes to a different nonprofit that gets featured daily on the site. Members sign up by providing their credit card numbers and are billed $30 a month. They can cancel their donation subscription at any time.
Members receive follow up emails about featured nonprofits so that they can learn more about the organizations that their donations are supporting. To date about 800 people have signed up via the Dollar A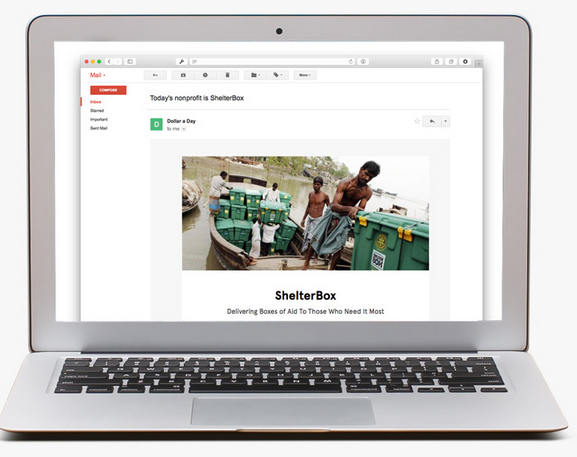 Day website. This translates into over $800 being donated to a featured charity daily. While $800 may not be buckets of money, could this be a new venue for nonprofits to reach new audiences, especially if Chen and team use their savvy marketing skills to expand the website's reach? Sure, but only if Chen's new platform provides an easy way for donors to opt-in to nonprofits email list.
Unfortunately, "donations are processed anonymously by Network For Good. Your name, address, and email are NOT shared with nonprofits. [People] can always sign up for more info on any nonprofit's website," according to the Dollar a Day Website.
Dollar A Day says this policy protects donors privacy and prevents their members from getting bombarded by emails from several charities. However, by not empowering donors to quickly opt-in to share their information with charities they are interested in supporting, it prevents donors from building long lasting relationships with nonprofits. This is also quite problematic as donors are the lifeblood of nonprofits.

How Does A Nonprofit Get Selected For Dollar A Day?
According to the website, they select innovative and high impact nonprofits with responsible track records in six key areas: Education, Health, Economic Development, Arts and Culture, Environment, and Human Rights.
The featured nonprofits for the next 60 days can be found here.
If your nonprofit is interested in being a recipient of Dollar A Day, consider setting up a unique landing page that focuses on conversions for these particular donors who are coming to your website via Dollar A Day. Of course your homepage should be optimized for conversions and feature a story about Dollar a Day around the time they highlight your nonprofit to their members.
Chen says, Dollar A Day is "really about trying to finding a way to support and shine a light on nonprofits already doing great work and getting people to directly engage with them."
I think the platform has potential. But will it raise a significant amount of money for nonprofits and bring in new donors? That will really depend on how the platform evolves especially after hearing feedback from the community.

Allyson Kapin
Allyson has been named one of "Top Tech Titans" by the Washingtonian, one of the Most Influential Women In Tech by Fast Company, and one of the top 30 women entrepreneurs to follow on Twitter by Forbes for her leadership role in technology and social media. As Founding Partner of Rad Campaign, she leads the firm's client and online strategic services. For over a decade Allyson has helped non-profit organizations and political campaigns create dynamic and award-winning websites and online marketing and recruitment campaigns. She works side-by-side with her clients to meet their web needs and maximize their online effectiveness to create real world impact.