Remember the days when college-age cool kids dominated Facebook? As Facebook evolved, its audience changed too. Take a look at the most recent demographic stats compiled by iStrategyLabs after reviewing Facebook's ad data.
Between January 4, 2009 and July 7, 2009 users between the ages of: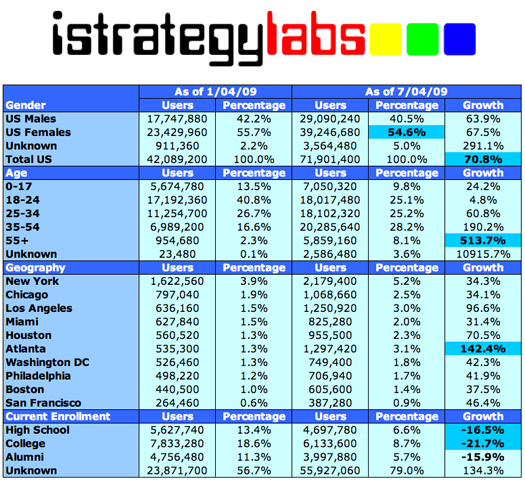 25-34 has grown by 60% from 11.2 million users to 18.1 million users
35-54 has grown by 190.2% from 6.9 million to 20.2 million users
55+ has grown over 500% from 954,000 to 5.8 million users
While the 18-24 year-olds still have a solid presence on Facebook at 18 million users, they have only grown by 4.8%, which indicates a much slower growth rate as compared to older demographics. In addition, the number of people who identify themselves as high school and college students has declined by -16.5% and -21.7%.

Allyson Kapin
Allyson has been named one of "Top Tech Titans" by the Washingtonian, one of the Most Influential Women In Tech by Fast Company, and one of the top 30 women entrepreneurs to follow on Twitter by Forbes for her leadership role in technology and social media. As Founding Partner of Rad Campaign, she leads the firm's client and online strategic services. For over a decade Allyson has helped non-profit organizations and political campaigns create dynamic and award-winning websites and online marketing and recruitment campaigns. She works side-by-side with her clients to meet their web needs and maximize their online effectiveness to create real world impact.