With year-end fundraising season upon us, it's time to pull out the best tools from our toolbox to raise the most money. Year-end fundraising is one of the most important times for nonprofits because it brings in the most amount of money.
Do you have all of your year-end fundraising campaigns geared up and ready to go? If not, you need to start planning ASAP. Check out some of the great data from the Abila 2015 Fundraising Advisor Benchmark Report. You can download the whole report here and check out the highlights below. Plus we have added our own tips based on industry best practices. The data will arm you with the information you need to develop successful year-end campaigns.
How are nonprofits reaching constituents?
Email – 86%
Website – 72%
In-person events – 71%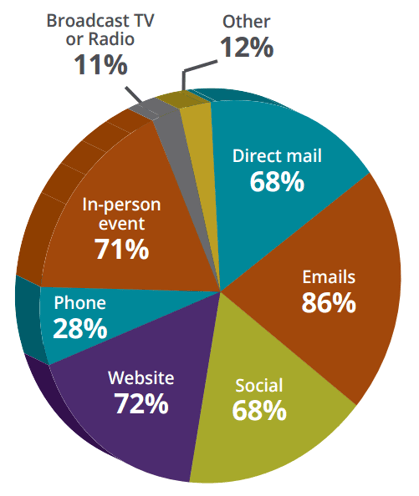 How's doing nothing working for you?
Nearly 16% of nonprofit professionals claim to do no fundraising online.
A whopping 29% of nonprofits hold zero fundraising events.
While the majority of funds raised still come from direct mail, your nonprofit should have a robust online fundraising program to reinforce giving across multiple channels. Many first time donors give online. Online fundraising can also help increase fundraising results in conjunction with direct mail. For example, in your direct mail pieces, you can give people an opportunity to give online and collect their email address using an incentive/premium. By collecting their email address, you are able to communicate with your donors through email and mail. Once you collect their email addresses test sending donors an email right before the direct mail piece hits their mailboxes. Then follow up on email after the direct mail piece arrives. This may give your fundraising a boost in response rates.
Social Channels Out the Wazoo – Sometimes it feels like every time we turn around, there's another social network. Are you tracking which platforms your constituents are using? Are you on the channels they're posting on and listening on? Most nonprofits (68%) communicate with their donors on 4+ channels.
Speaking of donor communication, that brings up the age old question:
How often should you be communicating with your donors?
You don't want to bombard donors 5x per week. That's one of the fastest ways to burn out your list. Your donors are busy and their inboxes are full. Be respectful of their time, and they'll be more likely to engage with your communication.
82% of nonprofits communicate with their donors 1-2x per month, or occasionally
5% communicate weekly
6% don't communicate at all (please – we're begging you not to fall into this category!)
HOWEVER, during year-end fundraising you can send the list more emails. For example, we've seen a lot of success with nonprofits sending at least 5 emails to their list in December. We highly recommend that you segment your list though. For example, if someone donated on December 2nd, don't send them another fundraising ask on December 5th.
But wait, there's more…
Are you showing your donors the love?
(Perhaps it's time you read Dearest Donors: A Love Letter)
It is absolutely critical, as we say time and time again, to thank your donors. A simple, custom thank you goes a long way. But a lot of nonprofits want to know when the right time is to send donors a thank you. Here's the thing: this isn't some high school dating game – you don't need to be coy. Thank your donors immediately. You want to give them a personalized thank you, and they really need to know that you are very grateful for their gift.
A whopping 73% of nonprofits thank their donors more than 72 hours after their donations. That is shocking, and feels disorganized. You want your donors to know that you're on top of things.
So, if your nonprofit is struggling to prep for year-end fundraising, use these strategies we shared to help inform your campaign plans.

Allyson Kapin
Allyson has been named one of "Top Tech Titans" by the Washingtonian, one of the Most Influential Women In Tech by Fast Company, and one of the top 30 women entrepreneurs to follow on Twitter by Forbes for her leadership role in technology and social media. As Founding Partner of Rad Campaign, she leads the firm's client and online strategic services. For over a decade Allyson has helped non-profit organizations and political campaigns create dynamic and award-winning websites and online marketing and recruitment campaigns. She works side-by-side with her clients to meet their web needs and maximize their online effectiveness to create real world impact.