Tweet Chats can be a useful engagement tool for nonprofits to discuss campaigns, wins, losses, and controversies within the community.
Just this week, when the Supreme Court ruled the Defense of Marriage Act (DOMA) and California's Proposition 8 unconstitutional, multiple nonprofits held Tweet Chats to discuss what's next. Activists, progressive nonprofits, same-sex couples, and the LGBTQ community rejoiced nationwide, and were given an opportunity to continue the conversation online. Think Progress, for example, said #RIPDOMA and the sentiment of Peace in RIP was not taken kindly by Think Progress' supporters, and they started providing alternatives to #RIP, as a constructive way to share their opinions.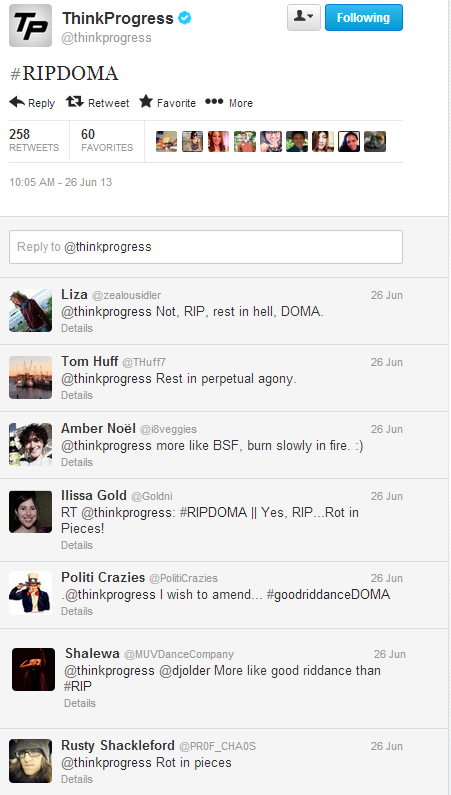 DOMA was first signed into law in 1996 by Bill Clinton, and it stated that marriage is a union between a man and a woman. Proposition 8 took away California same-sex couple's right to marry, and invalidated 18,000 marriages in 2008. The Courage Campaign, a progressive grassroots advocacy organization based in California, created a compelling video campaign for Prop 8 to be repealed. The video, "Fidelity, Don't Divorce Us" featured same-sex couples who were married before the passage of Proposition 8, asking the state of CA to not divorce them. To this day, it's still one of my favorite videos by a nonprofit.
The celebration of the repeal of DOMA and Prop 8 was very much online in this social media world. Many organizations, individuals, and celebrities tweeted about their anticipation and excitement.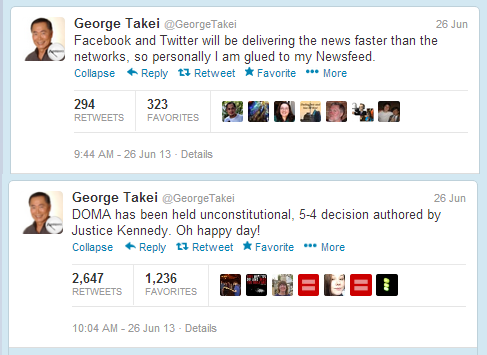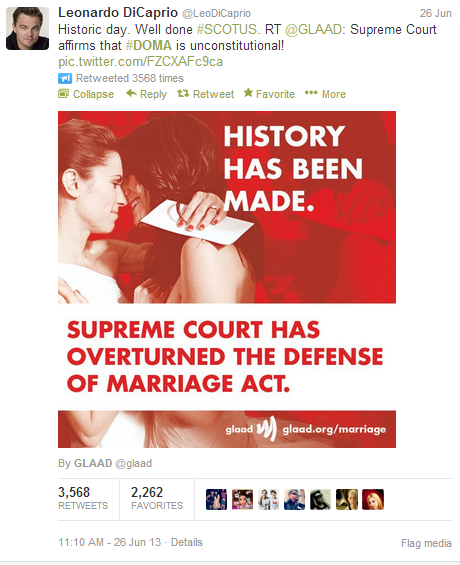 And a few nonprofits decided to host Tweet Chats following SCOTUS' decisions. One Tweet Chat hosted by the Center for American Progress' #Out4Citizenship committee discussed what the repeal of DOMA means for binational same-sex couples.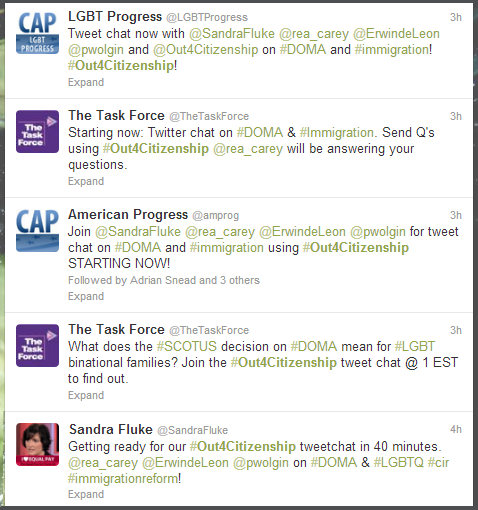 Another group of nonprofits, including Choice USA, Transgender Law Center, and the National Latina Institute for Reproductive Health, among others, held a Tweet Chat using hashtag, #MoreThanMarriage.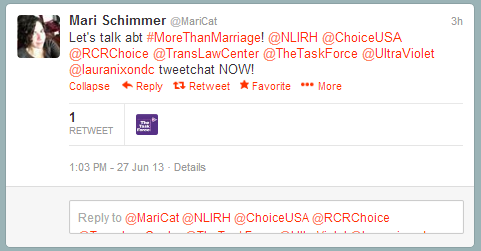 A Twitter Chat is one of the best tools that nonprofits can use to communicate in realtime with your constituency.
What's going on with TweetChat.com?
On June 11, 2013, TweetChat.com confirmed that the service would shut down due to Twitter's API changes. Though, loyal TweetChat fans, do not fear: the platform was just purchased by Internet Media Labs.
The application was shut down, and the community is currently being migrated to oneQube #SmartStream, a social relationship management and engagement platform.
In the Meantime, Give Twubs a Try:
Twubs is a 5 years old hashtag platform that aggregates tweets, photos, and videos, and recently debuted a free, Twitter API-compliant chat tool.
It's very reminicent of the TweetChat tool that was recently purchased by Internet Media Labs; Twubs streams tweets from hashtag chats, allowing the host to efficiently moderate the conversation.
Nonprofits are able to create public-branded homepages to present your brand. This can help foster a more trustworthy relationship with your followers.
It's easy to follow along, even if you're a late-joiner. There's a separate area above the tweet stream that identifies the chat's host and can explain what the Tweet Chat is about.
Have you hosted a Tweet Chat before? What tools have you had the best experience on? What are your best tips for hosting a Tweet Chat after a big win, like the repeal of DOMA and Prop 8?

Allyson Kapin
Allyson has been named one of "Top Tech Titans" by the Washingtonian, one of the Most Influential Women In Tech by Fast Company, and one of the top 30 women entrepreneurs to follow on Twitter by Forbes for her leadership role in technology and social media. As Founding Partner of Rad Campaign, she leads the firm's client and online strategic services. For over a decade Allyson has helped non-profit organizations and political campaigns create dynamic and award-winning websites and online marketing and recruitment campaigns. She works side-by-side with her clients to meet their web needs and maximize their online effectiveness to create real world impact.