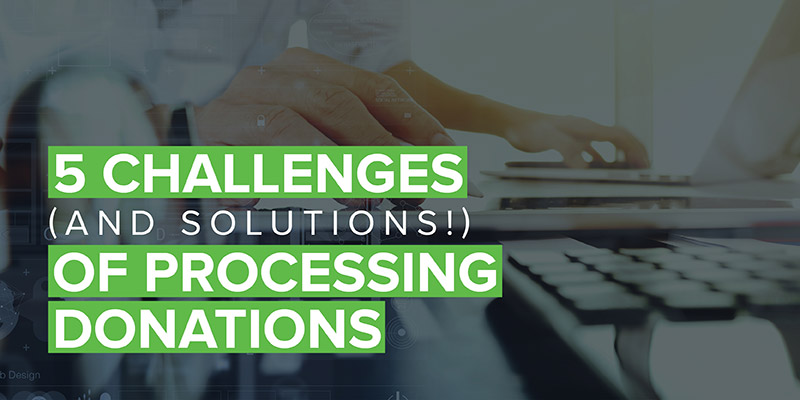 Fundraising can be challenging for any nonprofit, but it's the backbone of any healthy organization.
The causes your nonprofit advocates for should be shared with the world and deserve to be supported by your community. So do what you can to help them help you!
Implementing some small tips will help solve the 5 greatest challenges nonprofit organizations face with processing donations.
Your fundraising ideas are great, but improve these ideas even further by avoiding the common challenges. These challenges include:
Understanding the terms.

Getting the most out of your donations.

What to do without a computer.

How to make it work for you.

Keep up with donors after the donation.
Let's dive in to see how you can solve some of these common challenges!

1. Understanding the terms.
When nonprofits and software providers talk about processing payments, it is important to keep in mind exactly what this term means. In particular, it is important to remember what it means compared to a giving tool.
Payment processing is essentially how a donation is transferred from a donor to your nonprofit. The handling of the donor's financial information, whether online, cash, check, etc, should be handled with care.
Generally, payment processing with credit or debit cards requires a payment processor, which is a company that handles all the financial information of the donor for the processing.
Online giving tools are usually a third-party site. This site often provides the tools to create a donation form in order to help collect donations. An online giving tool provider may work in partnership with a payment processor to get the money processed.
Some of the biggest differences to keep in mind between these two terms are:
Online giving tools offer assistance in the actual collection process by providing tools for donation forms, text-to-give platforms, crowdfunding capabilities, and other fundraisers. This is a function that a payment processing tool would not offer.

Online giving tools are used almost exclusively for donations, while payment processing tools can be used for donations or for-profit causes alike.
Payment processing for nonprofits, especially small to mid-sized nonprofits, is done best through an online giving tool because it offers so many options to help with collection, the first step in payment processing.
Many online giving tools are different, so make sure to do the research and find the ones with the functionality your nonprofit needs.
Understanding the terminology is the first step to ensuring the financial information of your donors is secure and to making sure your fundraising efforts are the best and safest as possible.

2. Getting the most out of your donations.
Online donations have become an increasingly popular and frequent method of giving for nonprofit organizations everywhere. And with this method of online giving comes more payment processing, but also more opportunity to fundraise.
Make the most of these online donation opportunities to reach your fundraising goal!
Digital fundraising opens up the opportunity to collect money through methods such as:
Online donation pages

Peer-to-peer fundraising

Crowdfunding

Text-to-give options

Recurring donations
Many online donation tools offer these fundraising opportunities for nonprofits in a single suite of features. For example, in a list of top online donation tools, Qgiv is recognized for offering peer-to-peer fundraising, recurring gifts, mobile giving, donations pages, and more.
Taking advantage of the increased number of giving methods is just one step to increasing online donations.
Online tools also provide the opportunity to increase your donation size.
Matching gifts programs are one way that you can increase donation size. While matching gifts programs are also available for donations that are not made online, they are easier to find using the internet.
What are matching gifts exactly? These are programs set up by companies as a part of a corporate philanthropy program. The company will match a portion of a gift (or the entire thing!) when their employee donates to a nonprofit organization.
The problem is that many donors don't realize these programs exist! You can provide a matching gifts database for your donors to easily look up their company and boost their impact on your nonprofit without giving an extra penny.
The availability to use a credit or debit card online to make donations has changed the world of fundraising. There are now more donations processed online, and with online fundraisers and matching gifts, those donations are even larger.

3. What to do without a computer.
Online giving has become one of the most popular types of giving for nonprofit organizations. However, what happened when that technology became even more advanced?
We started carrying phones with all the functionality of our typical computer! Mobile giving has become the next big trend for nonprofit donations.
Most people are rarely further than an arm's length away from their smartphones and the majority of people in the United States now have one.
Therefore, making it easy for people to donate from their smartphones will increase the number of donation channels and the overall number of potential donations available.
There are a few different ways to make sure your organization is accessible to your donors who are not using a computer:
Mobile optimize your website.

This means your site will reformat when it is accessed from a smaller screen. The images might need to be resized and the text will compress so that the user does not need to scroll sideways to see it.

Start a crowdfunding campaign.

Crowdfunding campaigns empower organizations to raise small amounts of money from a large crowd. Share this campaign page on

social media

, which is mainly accessed from your phone. This gives easy access to your mobile-optimized fundraising page!

Try a text-to-give campaign.
Being away from a desktop computer doesn't mean you're out of luck! These mobile options will keep the donations pouring in from many different devices.

4. How to make it work for you.
Your organization is unique. You all have a mission, community, and a brand that is all your own. Take advantage of what makes you unique!
A strong brand recognition of your organization with your donors makes your organization appear more professional.
Use your brand to make your donation page and other fundraising pages appear consistent and on-brand.
Your donation page is the last point of contact with your donor before they donate to your organization. Therefore, you need to ensure that you make a great impression on this page.
Some techniques you may use to brand this page are:
Use the same colors you use in your logo and on your website.

Include your logo right on the donation page.

Use consistent fonts from your website to the donation page.
You can read more about these tips and others from SalsaLabs' post on donation page design.
Don't forget to use your branding techniques on social media, especially when you link to your donation page.
To expand your brand further, try taking photos for social media and your website. These photos add a human element to the page and help people relate to the content.

5. Keeping up with donors after the donation.
After receiving a donation, many nonprofits consider their job to be done. But this is not the case at all. Your organization can stand out in the crowd by keeping up with donors after the fact.
Keeping up with donors helps you to build a relationship with them. These relationships can lead to increased volunteer or financial support in the long run.
Donor databases will store the information of your donors to help you build this relationship. Collect information such as their name, gender, age, date of gift, contact information, and location.
Once you have collected this information, you have the ability to:
Send segmented emails.

These emails send messages to groups of people with something in common. For instance, send a message directly to those who live within 25 miles of an event.

Thank donors after they give

. With a donor's contact information, your organization can send automatic

thank you

messages to your donors as soon as they have made a gift.

Keep donors updated with upcoming events.

Tell your donors about upcoming fundraising events and opportunities for them to donate again. This keeps them in the know about your organization and increases chances of continued support.
Build a relationship with your donors to encourage their continued involvement in your organization, boosting your donor retention rate.
Storing the information about each of your donors is a great way to appeal to their particular interests and build your relationship.
Your nonprofit can overcome some of the most common challenges that other nonprofits face in regard to donations. These 5 simple solutions will bring your nonprofit to the next level!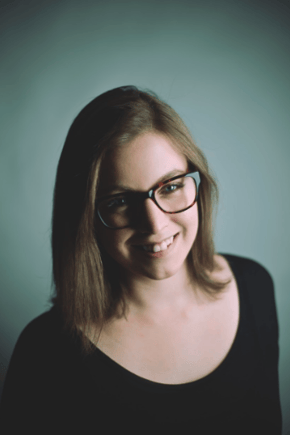 Abby Jarvis
Abby Jarvis is a blogger, marketer, and communications coordinator for Qgiv, an online fundraising service provider. Qgiv offers industry-leading online giving and peer to peer fundraising tools for nonprofit, faith-based, and political organizations of all sizes. When she's not working at Qgiv, Abby can usually be found writing for local magazines, catching up on her favorite blogs, or binge-watching sci-fi shows on Netflix.