Snapchat is a messaging app that has become increasingly popular with Generation Z, Millennials and Gen Xers and, while 92% of NGOs worldwide have a Facebook page, most organizations are still not taking advantage of Snapchat.
There are more than 300 million monthly Snapchat users. About 30% of Millennials in the US use Snapchat daily. Based on research conducted on Millennials, we know that, as a group, they are socially aware and willing to donate to causes they care about. This is just one of the reasons why learning how to use Snapchat can be beneficial to your organization.Here's five nonprofits that are leveraging Snapchat really well.
charity:water brings safe, clean water for communities around the world. On Snapchat they post compelling images on the platform that communicate what they do and showcases how important their mission is. They also post backstage photos and videos of their organization, which keeps people connected to the work being done and legitimizes their operation. Follow @charitywater on Snapchat.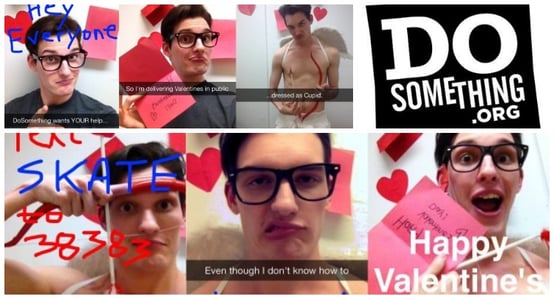 DoSomething.org empowers youth to donate to a variety of causes. As part of their Snapchat strategy, they post engaging videos that capture their viewers' attentions. Many of the videos they upload are funny and whimsical and are meant to showcase the causes they support in a lighthearted way. For nonprofits, this is a particularly great way to engage younger audiences and get people to share their content. Follow @DoSomething on Snapchat.
Ocean Conservancy advocates to protect the ocean and the marine life that lives in it, and uses Snapchat to educate their audiences on the different issues affecting marine life. Through their clever use of stickers, emojis and photos, they create a presence that is both educational and entertaining. Follow @OceanConservancy on Snapchat.
Human Rights Campaign is the largest LGBTQ+ civil rights organization. They use Snapchat to communicate messages of strength, engage with their followers and inspire potential supporters to continue fighting for human rights. W Hotels also partnered with artist Baron Von Fancy to donate $1 to the HRC every time a certain Snapchat filter was used. Creating filters, uploading uplifting messages and creating a sense of community is a great strategy for nonprofits to maximize their use of Snapchat. Follow @WeAreHRC on Snapchat.
Greenpeace USA promotes climate change awareness. They use their platform on Snapchat to give helpful tips on how to build greener habits. They also use the app to promote their projects around the world and inspire their supporters to fight to protect the environment. Follow @Greenpeace on Snapchat.

If even a quarter of your audience is comprised of millenials, your nonprofit should have a presence on Snapchat.

Allyson Kapin
Allyson has been named one of "Top Tech Titans" by the Washingtonian, one of the Most Influential Women In Tech by Fast Company, and one of the top 30 women entrepreneurs to follow on Twitter by Forbes for her leadership role in technology and social media. As Founding Partner of Rad Campaign, she leads the firm's client and online strategic services. For over a decade Allyson has helped non-profit organizations and political campaigns create dynamic and award-winning websites and online marketing and recruitment campaigns. She works side-by-side with her clients to meet their web needs and maximize their online effectiveness to create real world impact.