A couple of weeks ago, we talked about why millennials are one of your best audiences. Today we are digging a little deeper into some of the great research from The Millennial Impact Project about how to better connect with millennials.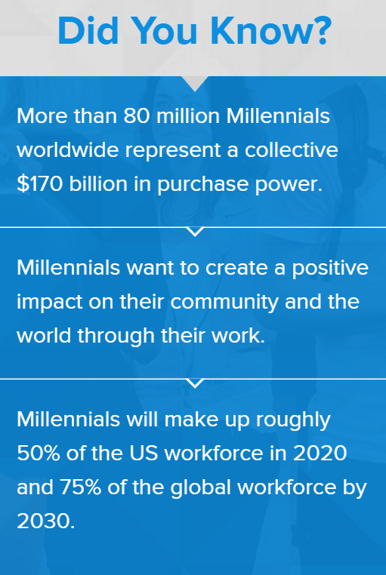 The Millennial Impact Project released their Top 100 data points based on 6 years of millennial cause and workplace engagement research. This data will help your nonprofit better involve the next generation in your fundraising campaigns, volunteer projects, cause initiatives, and programming. Here's a highlight of the top findings:
Are you connecting with and inspiring your audience? Organizations that inspire Millennials to volunteer mirror those that inspire them to give financially: 52% said they are most likely to volunteer in support of education, 50% for human services, 35% for religious causes and 33% for arts and culture. (2011)
Ask for what you need and for what you want.

45% of non-volunteers said they simply weren't asked to volunteer. (2011)
Nearly 62% of respondents said they are not involved in board service due to lack of time, but 40% said they simply have never been asked. (2012)

Be transparent and efficient. Millennial respondents' biggest pet peeves were not having much to do while volunteering and having their time wasted (69%), in addition to not knowing exactly what they'll be doing when they volunteer (60%). (2013)
Make sure you're accessible, but it's not just about you. Make sure all staff are accessible at one point or another. This is about appreciating your volunteers and the people who support your org. As one survey participant put it, "I would volunteer a lot more if it meant I was able to connect with higher up staff members in the organization. Often, though, you don't meet anyone except the volunteer coordinator." (2013)
Millennials want to give when inspired. When asked to choose the phrase that best describes their giving preferences, 42% of respondents chose, "I give to whatever inspires me at the moment." Regardless of how they gave, many of the surveyed Millennials can be expected to act quickly when moved. (2012)
Don't focus on one-time donations, focus on the long-run. 52% of respondents said they'd be interested in monthly giving. (2013)
Make sure that you're trustworthy, and keep up the trust. 90% said they would stop giving if they do not trust an organization. (2011)
What motivates Millennials to give? (2011)

85% - a compelling mission or cause
56% - a personal connection or trust in the leadership of the organization.
2% - celebrity endorsements.
"When I donate, I want it to be about being part of something rather than just feeling sorry for someone." (2013)
Create space for your employees to volunteer and help out more. The number one cause-related program Millennial employees wanted to see more of is company-wide volunteer opportunities. (2014)
Keep your mission statement up-to-date and engaging. When the surveyed Millennials go to nonprofit websites, nearly 9 out of 10 of them will go first to the page that describes the mission of the organization. (2012)
Is your website updated? The biggest turnoff for close to 75% of respondents was when website info wasn't regularly updated. (2013)
What are the most frequent, specific action Millennials are taking on websites?

51% - connecting via social media (Twitter, Facebook, blogs, RSS feeds).
46% - donating.
46% - reading blog post. (2013)
What are Millennials' most significant frustrations with nonprofits' websites?

76% - trying to navigate non-mobile-friendly sites.
65% - finding some information missing or not available.
52% - not being able to find the details they want—contact information, for example—quickly and easily. (2013)
We've said it before and we'll say it again, email isn't dead! Email is Millennial donors' most preferred communication method, with 93% of respondents favoring it for receiving information from orgs. (2010)
Don't engage once and drop the ball. Once they've connected with an organization, Millennials want regular communications. But how often is just right?

43% want to hear from you monthly.
32% would prefer quarterly contact. (2011)
"Be transparent with [how you're using all the money] you are collecting. You say you don't need money for operating expenses, but then say you use part of the money for raising awareness, which to me means marketing. Just be transparent about where all the money goes." (2013)
"Stop trying to figure out Millennials and just include them." (2012)
How are you including Millennials? If you are a Millennial, how can your favorite nonprofit better engage you?