One of the more exciting developments in the cause space is the rise of middleware platforms to enhance nonprofits fundraising capabilities on mainstream social networks. Middleware solutions leverage people's inherent networks in Facebook and Twitter and add new functionality to them usually for grassroots organizing. There are several notable ones in the space, including Causes and Jumo. The Edward Norton backed Crowdrise is starting to separate from the pack as the early market leader.
Tapping a veteran startup team of cofounders and Hollywood power, Crowdrise is a for profit start-up that empowers end-users to create their own fundraising pages for free without necessarily ever engaging with the 501c3. It is a truly empowering platform that puts the end-users in charge of social media, and completely embraces the free agent concept. Nonprofits do not have access to users' data.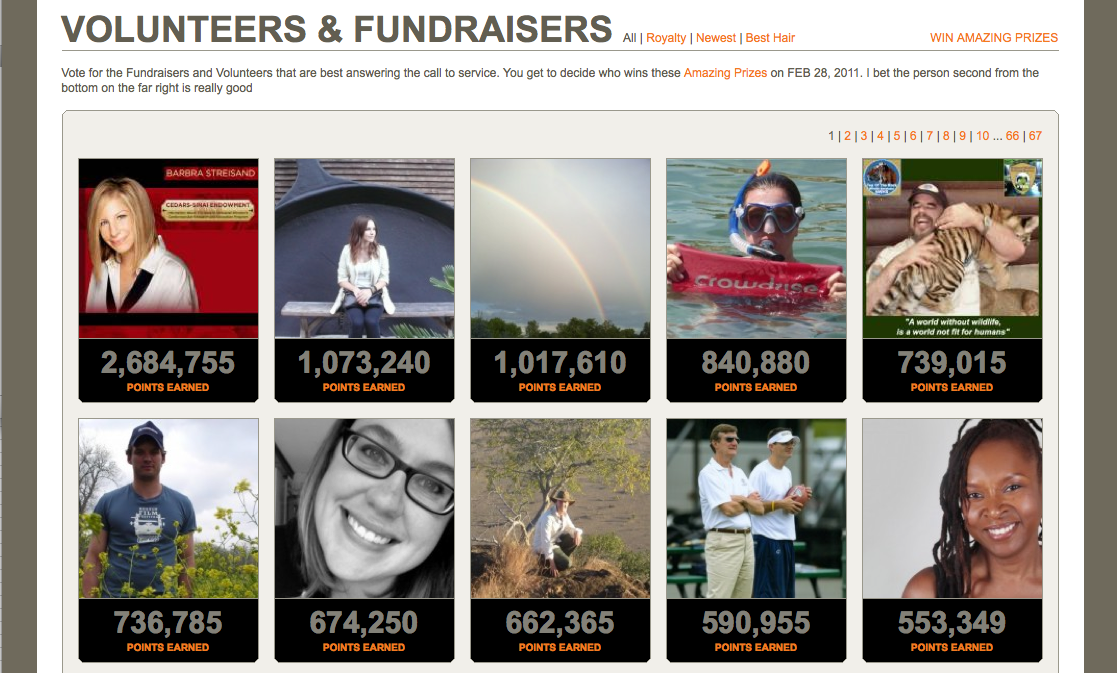 What's making Crowdrise take off is its fantastic user interface and fun tone. It applies gaming theory well with a leaderboard, and a social network interaction and voting process for users and turns the usually dry save the world conversation into an incredibly fun experience.
There are a couple of downsides to Crowdrise, too. It has an incredibly high take on donations. For example, quoting its page, Crowdrise deducts 5% on donations made through our site and a $1 transaction fee for donations under $25 or a $2.50 transaction fee for donations $25 and over. On a $100 donation that would take 7.5%.
Other nitpicks include the actual social network portability. Crowdrise leverages Twitter and Facebook for promotion and posting, but unlike its siblings it is more respectful of privacy and does not port in network contacts. While auto porting is a very questionable practice, it would be great to find and contact your friends already on the network. Also a friend noted some coding weaknesses in Crowdrise.
How It Works for a Cause: Wiser Earth's Experience
Does it make sense to encourage use of Crowdrise for grassroots funding given the high percentage of money they take and the inability to grow the house file? It depends on a nonprofits resources and faith in its web staff. While causes and Foundations like LIVESTRONG have their own grassroots platforms, it's hard to compete with Crowdrise's fun factor and user interface. For some causes it may make more sense to simply leverage what's out there, via an existing Middleware platform, and if needed, put pressure on the platform to evolve.
Green social network Wiser Earth just ran its end of year fundraising campaign on Crowdrise. Its goal was to raise $25,000. The cause reached $25,477, which was matched by a foundation to $25,000, bring the total to $50,477. Donations ranged from $10 to $5,000.
"It was our biggest fundraiser ever," said Wiser Earth Executive Director Peggy Duvette. "It was a great experience. Designing the page was easy (no bolding or hyperlinks, unfortunately, but we did some creative formatting), and we had very low complaint levels about using the site to donate.
"Crowdrise was also interesting in that you can see a scrolling ticker of who has donated, and if people create Crowdrise profiles, you can also see faces and interact with your donors," Duvette added. "You can even leave status messages or comments of thanks! Other nice features were the multiple pictures we could include, the progress bar and percentage, and the ability to have members of WiserEarth create individual project pages to raise personal goals and funnel their funds into the larger project. Also, the sense of humor was refreshing!"
Ms. Duvette noted that Wiser Earth's search for a grassroots platform was wide and included mainstays like GlobalGiving, ChipIn, and Ammado. She indicated that the ease of use and visibility provided through Crowdrise was a trade off for the funding cut, but that when larger donations of $500 or greater became evident, Wiser Earth requested a check.
Conclusion:
Causes can't afford to ignore Crowdrise. It's important to acknowledge that free agents are using Crowdrise, and support them. It can be a great place to support grassroots fundraising, too, but because of Crowdrise's high percentage cut on donations, large donors should be cultivated elsewhere if at all possible.