Can you spare one minute to help promote transparent and sustainable businesses?
Please vote for this SXSW session about B Corporations! This is the only panel on B Corporations proposed for SXSW, so if you can please take a moment to cast a vote, I'd appreciate it!
If approved, one of its panelists will be Care2 founder Randy Paynter – who is a champion and pioneer of the B Corp movement – alongside some other great speakers from fellow B Corps: Singlebrook Technology, Call2Action, and B Revolution.
Please vote today! The deadline for voting is Friday.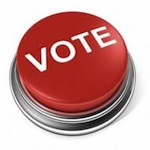 Voting takes less than a minute. Just do the following:
1. Sign up for a SXSW voting account
2. Click on the "Confirm my account" link in the SXSW automated email you receive
3. Go to our voting page and click the "vote up" button:

so it looks like this:

And that's it! You're done! Thanks for helping us champion the B Corp movement!
Want to learn more about B Corps? Check out the B Corporations website, as well as our B Corp press conference from our archives.