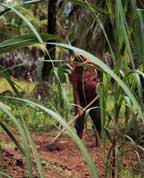 Farmer in Brazil Hand-cultivating his Crops: Photo by Justin Perkins
Best-selling author, marketing guru, and entrepreneur Seth Godin put on a great presentation, but made some rather chilling warnings to the nonprofit communications and fundraising folks in the audience at this year's GetActive GetTogether last Thursday in Baltimore. For one, he warned of the danger of "over-hunting" your mailing list.
Using the example of CDNow.com, which was doing great in the 1990's until they went public and their demand for growth inspired them to unwisely overfish their email list, Godin compared current nonprofit campaigns to hunters and gatherers in danger of over-harvesting local animal populations. He contrasted this with the metaphor of farmers who have to be more patient and cultivate their harvest over time with remarkable activities and messaging--without overdoing it to the point of UNSUBSCRIBE.
Besides his recurring message of authenticity--making sure message and action and every aspect of your dealings with customers or constituents are honest and truthful and permission-based--he hit home the idea that in a world of deafening messaging and noise from all angles, you have to be "remarkable" (in other words, worthy of talking about). And you have to package your message in a way that, in itself, is as powerful as the message. I interpreted this reminder as being along the same lines as the adage from Marshall McCluhan: "the medium is the message."
And if you're looking for an easy way to boost your Google rankings and possibly generate some donations, check out Squidoo, Seth Godin's new web-2.0-user-generated-microcosm-of-the-internet -wisdom-of-the-crowds-citizen-encylopedia-affiliate-ads-charity-lead-generator-taggregator-blog-lens- -citizen-expert-lensmaster-thingy very cool website. You can create a "lens" on any topic you like and become a "lensmaster" expert on a hand-cultivated landing page. Also check out Seth's new book Small is the New Big, a compilation of essays and favorite blogs he's written, through our Books we Like page. Or read the title essay.