Marketing guru Seth Godin is a very smart guy – obviously. But one of his recent posts about nonprofits ("The Problem with Non") is pretty far off base and might lead nonprofits into some wrongheaded actions.
Godin's post starts out on solid ground when he notes that most nonprofits are averse to change. That's undeniable, though certainly not a problem that's limited to nonprofits. Senior Management typically fears unknown territory, particularly when it comes to communications and fundraising via technology. Whether managing a fundraising department for a nonprofit or an online marketing campaign for a Fortune 500 company, Senior Management tends to be comfortable with routines, formulas, metrics and what they know works.
Then Godin goes a step further and says that fear of taking risks is holding nonprofits back from growing their base and achieving their mission. I was actually still with him at this point, and I eagerly forged ahead into his piece. But then Godin started slamming nonprofits for their lack of success at using social media. That's when it hit me, that Godin is wrong about how he defines success. Here's why.
Godin asks, why aren't nonprofits listed in the top 100 most followed on Twitter, especially since social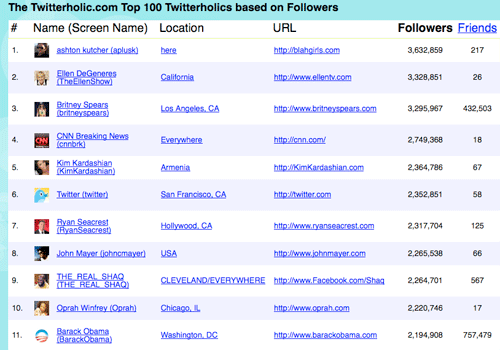 networks don't cost a dime? Is Godin really suggesting that nonprofits should try to compete against major celebrities on Twitter like Oprah who reaches millions of viewers every day with her talk show, magazine and website? Or compete against Ashton Kutcher, who graces the covers of major magazines and had his own TV show on MTV? Let's not even discuss Ashton's adoring fans all over the world.
In addition to competing against A-list celebrities and brands like CNN or Time Magazine that make up the top 100 people/brands on Twitter, is Twitter (or Facebook for that matter) even the right social network for every nonprofit? It's shocking to hear, I know. But Geoff Livingston, who heads up Social Media at CRT/tanaka, agrees. In his "Gear up for Giving" series, Livingston said that nonprofits should not always take a traditional social media approach and jump on the Facebook and Twitter bandwagon -- or what he calls the "McDonalds" of social media -- but rather they should be more strategic, given their resources.
The very first question nonprofits need to answer is what are you trying to communicate about your mission? What are your goals? Depending on your audience, your members or potential members could be more active on niche communities that people have set up on Ning or other social networks, said Livingston. Furthermore, there is a lot of noise on Twitter and Facebook, which can make it even more challenging for a nonprofit with limited resources to truly get their message out. In short, using Twitter's top 100 followers as a metric for success just sets up nonprofits for failure and frustration.
Consider also that, whereas social networks are technically free to join, staff time equals money. Most nonprofits don't have the luxury of hiring social media staff or consultants to manage their online brand and social networking. Since nonprofit staffs have limited resources and wear many hats, I advise organizations to select a couple of social networks to have a presence on, then listen, follow and engage.
Finally Godin mentions great organizations like Charity:Water as an example of a nonprofit that has raised millions of dollars and helped many people by embracing social media. But it's actually not that simple, as I learned by checking Charity:Water's website and annual report. For example, while it's true that Charity:Water raised $5.5 million dollars in contributions last year, it was not raised via social media. Rather, Charity:Water's Founder, Scott Harrison, has tirelessly used his savvy marketing background in the entertainment and fashion industry to connect with celebrities such as Adrian Grenier of Entourage and Model Jessica Stam to participate in high profile fundraisers sponsored by Elle and Nautica, and to launch strong cause marketing campaigns. According to Charity:Water's press kit, in 2008, Sax Fifth Avenue raised $540K during an in-store event, and retailer Brighton raised $740K through a jewelry line, employee and customer donations.
Harrison has also used his organization's own email list to encourage people to donate their birthday money as part of their September Campaign and/or by holding friend-raising drives (using the nifty friend-raising tool that Charity:Water had built) outside of Facebook. Last year, Charity Water's September Campaign raised over $1 million dollars. This year they have raised $300K+ to date, according to their website.
In 2009, Charity:Water has raised over $650K via social media, said Harrison. Approximately $250K was raised through the groundbreaking Twestival event conceived by fans of the organization, which brought together Twitter communities from all over the world for fun parties in February 2009. Charity:Water has probably been the most successful organization to raise money via social media this year but they are certainly not raising millions from it.
While nonprofits definitely need to embrace change and adapt to the ever-changing world of tech and communications if they want to continue to grow and dare I say exist in ten years, they need to do it strategically. They also need to set realistic benchmarks, measure data and have tangible outcomes. Just touting millions of fans on Facebook or Twitter doesn't mean you are changing the world.
You should follow Frogloop on Twitter here


Allyson Kapin
Allyson has been named one of "Top Tech Titans" by the Washingtonian, one of the Most Influential Women In Tech by Fast Company, and one of the top 30 women entrepreneurs to follow on Twitter by Forbes for her leadership role in technology and social media. As Founding Partner of Rad Campaign, she leads the firm's client and online strategic services. For over a decade Allyson has helped non-profit organizations and political campaigns create dynamic and award-winning websites and online marketing and recruitment campaigns. She works side-by-side with her clients to meet their web needs and maximize their online effectiveness to create real world impact.