Care2 held a terrific webinar on Multi-Channel Fundraising. During the webinar Jocelyn Harmon, Director of Nonprofit Services for Care2 posed the question "is fundraising via multiple channels magic or myth?" Panelists Allison Van Diest of Blackbaud and Karla Capers of Union of Concerned Scientists agreed that integrating multi-channel fundraising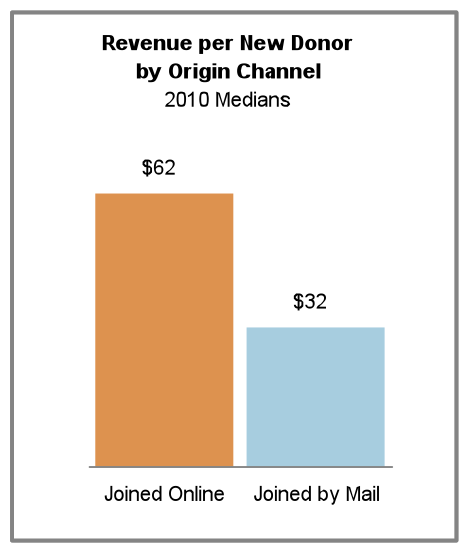 raises more money than single donation channels.

Fundraising Statistics You Need To Know

Online giving in 2010 was more then $20 billion.

Online giving grew 34.5% in 2010.

88% of nonprofits had at least one online gift of $1,000 or more.

Donors acquired online give larger gifts.


The median donation in 2010 was $62 online VS $32 via direct mail.

While online giving is growing, most gifts are sill coming in via direct mail. According to the Blackbaud study, 79% of all money raised comes through direct mail. 10% comes in through online channels.

Who said Baby Boomers weren't tech savvy? 25% of 55-64 year old donors joined a nonprofit online and 23% joined via direct mail.

12% of 25-34 year old donors joined online as opposed to 3% who came in through direct mail.

According to the Union of Concerned Scientists, almost 40% of their new donors last year gave online. Their average revenue per multi channel donor is $154.
Listen to the webinar here or check out the slides below.


Allyson Kapin
Allyson has been named one of "Top Tech Titans" by the Washingtonian, one of the Most Influential Women In Tech by Fast Company, and one of the top 30 women entrepreneurs to follow on Twitter by Forbes for her leadership role in technology and social media. As Founding Partner of Rad Campaign, she leads the firm's client and online strategic services. For over a decade Allyson has helped non-profit organizations and political campaigns create dynamic and award-winning websites and online marketing and recruitment campaigns. She works side-by-side with her clients to meet their web needs and maximize their online effectiveness to create real world impact.