There was so much great content being shared this week across the blogosphere for nonprofit campaigners. Check out our blog picks of the week. And feel free to tell us your favorite blog posts from this past week in the comments section.
Seven Things Nonprofits Can Talk About on Facebook Besides Themselves
Tracy Sestili over at Social Strand Media has a helpful post on how nonprofits can use Facebook and not just to talk about themselves. Here are a few of her tips.
Industry news on your topic – Don't just regurgitate the news for them, they can set up a Google e-alert for that, but rather, aggregate the news in a way that is engaging by asking them what they think. Don't just post a link to a news article, read it and ask a question about their opinion.
Share pictures – Facebook folks love pictures and it's the perfect place to showcase the people who make the organization run or people that you impact. Don't take yourselves so seriously. It's a social network so have some fun with it (i.e. Goofy Face Friday)
Comment on current news – even if it's not completely related to your organization, showing that there is a human behind the Facebook wall goes a long way with your constituents. And it goes without saying, but I'll say it anyway, always respond to comments to acknowledge that you hear them.
Public opinion – ask your fans what they think about decisions you are struggling with internally. Trying to decide on what date to have something, throw up a poll. Trying to decide on a new template for your newsletter – throw them both up and ask them what they think. They want to help. People like to be heard.
Ed Norton Talks Social Fundraising, Crowdrise, and Hope for Haiti
Over on NextWork, actor and Crowdrise co-founder Ed Norton talks about the power of social fundraising for individuals who want to raise money for their favorite causes and for organizations that want to create a crowdsourced fundraising movement.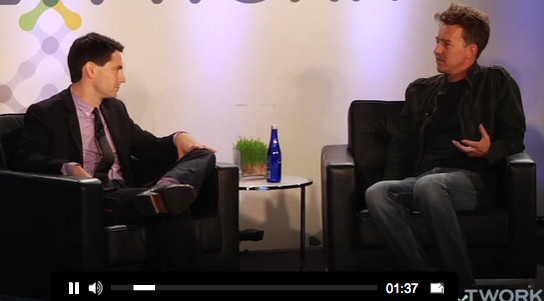 In the video interview, Norton highlights the Hope for Haiti campaign, as an example of a creative campaign that asked their existing supporters to fundraise for their organization. "They took their assets of their organization, in the sense that the experience of going to Haiti is an asset, and we showed them how to leverage that into an exciting and incentivized campaign," said Norton. What was the incentive that helped them raise $176K in less than a month? They offered a trip to Haiti to people who hit a certain fundraising benchmark.
Social Media for Nonprofits Conference Highlights
There has been a terrific series of Social Media for Nonprofits conference's over the summer and Geoff Livingston covered the most recent one in LA on the Razoo blog. Check out some of Geoff' highlights below:
JD Lasica of Socialbrite provided three insights in his presentation (available online): 1) Preparing to tell stories; 2) telling the stories, and then 3) using your community to tell stories. Here are three steps your nonprofit can take to get ready:
Preparation: First, figure out your story. Then understand who your storytellers are internally.
Storytelling: Figure out how you want to tell stories. Personal stories are a big hit in social media. Worry less about viral videos, and focus on creating video and stories that resonate with the right 500 people.
Community: Activists make up 7% of a database, but they take 31% of your actions. Understand who your champions are. Let them spread your message.
Then Joe Bartlett, Director of Marketing for PETA gave a presentation about their success with mobile apps.
In April, they launched an iPhone app that has inspired 280,000 actions. That's an average of 20 actions per user, said Livingston.
From there, PETA moved to texting. PETA sees a 98% read rate with mobile. The organization garners new text list members through its website. PETA mentions victories through text messages, as well as polls people through the platform
They get a 25% result via mobile advocacy.

Allyson Kapin
Allyson has been named one of "Top Tech Titans" by the Washingtonian, one of the Most Influential Women In Tech by Fast Company, and one of the top 30 women entrepreneurs to follow on Twitter by Forbes for her leadership role in technology and social media. As Founding Partner of Rad Campaign, she leads the firm's client and online strategic services. For over a decade Allyson has helped non-profit organizations and political campaigns create dynamic and award-winning websites and online marketing and recruitment campaigns. She works side-by-side with her clients to meet their web needs and maximize their online effectiveness to create real world impact.