Last week Amy Sample Ward and I held a webinar with Care2 on Social Media: You're Probably Doing it Wrong. We had a terrific conversation about some of the themes we discuss in our book Social Change Anytime Everywhere such as how to manage an online crisis and avoid alienating your community. We also discussed how to foster meaningful conversations with your community. Here are three of our favorite tips that we shared.
Don't Rely On Automated Updates
What was the first thing you did after hearing about the shooter that killed 12 people and injured 58 at the Aurora movie theater in Colorado? Perhaps you jumped on to Twitter or Facebook to look at what friends were saying or sharing. Maybe you turned on CNN to watch the story unfold. I bet you did not expect to see these tweets from the NRA.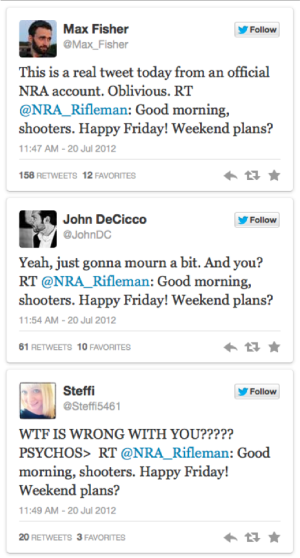 It turns out, that this tweet was sent out via Hootsuite and was posted as an automated tweet by one of the official NRA accounts. It's times like these when you realize how automated tweets can make your organization look insensitive and out of touch to breaking or tragic news that is unfolding. We recommend that if you need to schedule social media posts, you do so sparingly and be prepared to delete them quickly if breaking news is happening.
Don't Insult Your Followers
There is a lot we can learn from branding guru Guy Kawasaki who has over 1M followers on Twitter including how he mishandled constructive feedback about his automated tweets about a German Shepard eating like a human video following the Boston Marathon bombings. After his followers asked him to stop sending out the automated tweets, Guy tweeted back "Loving how people with less than 1,500 followers, are telling me how to tweet..."
It's natural to have moments when we feel annoyed about something someone has said to us on Twitter and Facebook. But as representatives of our organizations it's critical that we not take things so personally and certainly not take it out on our community by insulting them. Instead a better approach would have been for Guy to say "Thanks for the suggestions folks. I hear what you are saying." This situation caused Guy negative publicity, which could have been avoided if he did not lash out and insult his community. While Guy is not an organization, he is a well-respected thought leader, so his personal profile is a significant part of his brand and business.
Apologize When You Mess Up
When the revolution in Cairo was taking place, the marketing folks at Kenneth Cole thought they would send out a "clever" tweet about this historic moment. The tweet said: "Millions are in uproar in Cairo. Rumor has it they heard about our Spring collection."
People were livid with Kenneth Cole because they found it tasteless to hijack this moment for marketing purposes. Things bubbled up very quickly. People began blasting Kenneth Cole publicly on social media. The media also began writing about the tweet and the negative response they were receiving. After the company heard the negative feedback, Kenneth Cole himself issued an apology on Facebook, Twitter, and on their blog.
What are your favorite tips for doing social media right?

Allyson Kapin
Allyson has been named one of "Top Tech Titans" by the Washingtonian, one of the Most Influential Women In Tech by Fast Company, and one of the top 30 women entrepreneurs to follow on Twitter by Forbes for her leadership role in technology and social media. As Founding Partner of Rad Campaign, she leads the firm's client and online strategic services. For over a decade Allyson has helped non-profit organizations and political campaigns create dynamic and award-winning websites and online marketing and recruitment campaigns. She works side-by-side with her clients to meet their web needs and maximize their online effectiveness to create real world impact.