Allyson Kapin, Editor-In-Chief'Tis the season for benchmark studies. In that spirit, Convio released their comprehensive online marketing study today that looked at close to 600 nonprofit organizations' online marketing results and compiled benchmarks for evaluating fundraising, email, advocacy, and marketing success online. Overall, the nonprofit online landscape looks good. Online fundraising, email list growth and website traffic continue to increase. However, in the fourth quarter nonprofits experienced a dip in average gift sizes. While donors continued to donate money, the average gift was smaller. Nonetheless, revenue still grew by 3% in the fourth quarter.
"It's reassuring that despite the economic downturn most of the metrics they looked at, including average gift size, were flat or up compared to 2007," said Robert Weiner, who provides technology consulting to nonprofit organizations. "Of course, things got a lot worse in the fourth quarter, so these trends might not hold up."
The study also showed that while year-over-year growth remains positive, the rate of growth is slowing down, which is inevitable. For example, between 2006 and 2007, online donations grew by 26% but between 2007 and 2008 online donations only grew by 14%. Given the slow down, nonprofits should continue to track their own quarterly results and plan accordingly.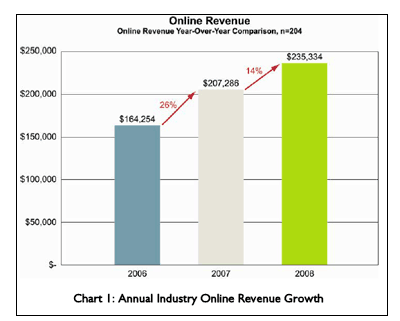 "People are still giving. Charities shouldn't be afraid to keep asking. After all, the number one reason people cite for not donating is that they weren't asked", said Weiner. "On the other hand, I've been seeing that many donors are giving larger gifts but to fewer causes. Charities need to communicate with their constituents about the impact of their work and continue building relationships. Donors hate feeling like cash machines."
As suspected, large organizations with large lists have not been hit as hard as small to medium sizes in this down economy. "It's bad news for small organizations, which have few (if any) reserves to fall back on and fewer supporters who can make up shortfalls, said Weiner.
Despite some debate in the nonprofit tech community about whether email appeals and email newsletters were effectively reaching and engaging online members, Convio's report says email open rates remain strong and above 20% in 2008. Organizations also added 28% more new constituents to their online list, although this stat is 10% lower then in 2007.
What do Convio's latest benchmarks mean for your nonprofit's online program? Kelly O'Neal, online marketing consultant, provides the following recommendations to nonprofits.
Marketing your site through online advertising, earned media, and other channels are essential to driving traffic to your website.
Focus on methods to convert traffic into online supporters by maximizing sign up opportunities across your website.
Effective messaging, segmentation, and personalization help create a stronger relationship with supporters.
Focus on specifics in your communication from content, segmentation, personalization of appeals, and testing each of these elements including subject lines, frequency, and timing.
Be sure and check out Convio's vertical response charts towards the end of the report which compares how different types of nonprofit groups performed in overall email list growth, conversion rates, website traffic, and more.

Allyson Kapin
Allyson has been named one of "Top Tech Titans" by the Washingtonian, one of the Most Influential Women In Tech by Fast Company, and one of the top 30 women entrepreneurs to follow on Twitter by Forbes for her leadership role in technology and social media. As Founding Partner of Rad Campaign, she leads the firm's client and online strategic services. For over a decade Allyson has helped non-profit organizations and political campaigns create dynamic and award-winning websites and online marketing and recruitment campaigns. She works side-by-side with her clients to meet their web needs and maximize their online effectiveness to create real world impact.