This just in! The latest 2013 Charitable Giving Report by Blackbaud analyzed data from more than 4,000 nonprofits to provide the largest analysis in online giving data. According to the report, overall giving grew 4.9% in 2013 compared to 2012.
Even more impressive than overall giving is the 13.5% increase in online giving. Online giving accounted for 6.4% of all charitable giving in 2013. Large organizations fared better from overall giving while small orgs benefitted the most from online giving.
Speaking of online giving, #GivingTuesday made huge strides last year. Online giving on #GivingTuesday in 2013 was up 90%, compared to 2012. The average online gift on Tuesday, December 3, was $142.05, a $40.45 increase from 2012.
Which Sectors are Raising the Most?
"This is the second consecutive year that online giving has experienced double-digit growth rates. Six of the nine sectors in the analysis had year-over-year growth over 10%, with faith-based organizations having the largest increase." International affairs organizations had the greatest increase in overall charitable giving in 2013 (13.2%).

Which Months See the Most Overall Giving?
You may not be surprised to find out that the most overall giving occurs during the last three months of the year. Those are the months that organizations push their year-end giving, host challenges, and release their annual reports. More than one-third of all giving done in 2013 was done between October, November, and December. Both overall giving and online giving reached its absolute highest in December.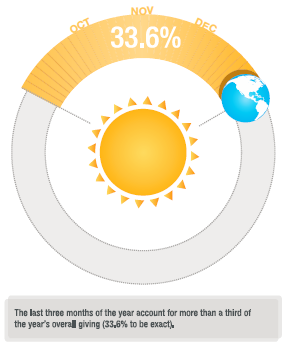 The slowest month for overall giving was February, bringing in just 5.8% of 2013's overall gifts. Perhaps the Hallmark Holiday is sucking people in, and they're spending too much on chocolates and candies.
The slowest month for online giving was January, the first month of 2013, the good news is that there was an incline throughout the rest of the year.
What trends did your nonprofit notice in 2013? Did you receive more online donations than you have in previous years?

Allyson Kapin
Allyson has been named one of "Top Tech Titans" by the Washingtonian, one of the Most Influential Women In Tech by Fast Company, and one of the top 30 women entrepreneurs to follow on Twitter by Forbes for her leadership role in technology and social media. As Founding Partner of Rad Campaign, she leads the firm's client and online strategic services. For over a decade Allyson has helped non-profit organizations and political campaigns create dynamic and award-winning websites and online marketing and recruitment campaigns. She works side-by-side with her clients to meet their web needs and maximize their online effectiveness to create real world impact.