The people who work in online advocacy and fundraising are some of the most creative people I know. In 2009 their campaigns made me laugh or helped me channel my frustration over injustices into action. A couple of them moved me so much that I even teared up. Here's my list of the best websites and online campaigns from 2009.
Don't Divorce Us: Courage Campaign
When Ken Starr and the Prop 8 Legal Defense Fund filed legal briefs defending the constitutionality of Prop 8 and sought to nullify the marriages of 18,000 devoted same-sex couples solemnized before Prop 8 passed, the Courage Campaign had a simple yet powerful idea to engage California constituents and put human faces and personal stories to this issue. They asked members of the Courage Campaign to send in personal photos with a simple message "Don't Divorce Us". The result? The organization was instantly flooded with compelling photos of couples, families, and friends, holding up signs that said such things as "Please don't divorce my mommy and daddy" or "Love Can't Be Voted Away." The photos were edited into a video collage with the soundtrack, Fidelity by Regina Spektor. The video has been viewed over 1 million times and over 370K people have signed the petition telling the state Supreme Court to invalidate Prop 8.
Charity:Water
In 2009 Charity:Water became the super star of the nonprofit world for using social media to brand themselves and raise money online. In 2009, Charity:Water raised over $650K via social media, said Scott Harrison back in late September. Approximately $250K was raised through the groundbreaking Twestival event conceived by Amanda Rose, a major fan of the organization's work. Twestival brought together Twitter communities from all over the world for fun parties in February 2009. Charity:Water also has a strong and active presence on major social networks. On Twitter the organization has over 1 million followers. On Facebook they have over 45K fans and over 70K members on their Cause page. They are one of the few organizations that have raised over $100K via Facebook Causes.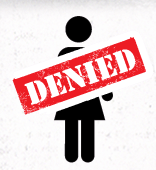 I'm Not A Pre Existing Condition
When several politically engaged women and organization's focusing on health care reform got a hold of a proposed health care bill and saw that the bill did not prohibit insurance companies from gender rating (which permits insurance companies in most states to charge men and women different premiums for the same coverage) and using pregnancy and being a victim of domestic violence as a pre-existing condition, they developed a multi-channel campaign called I'm Not A Pre Existing Condition (adapted from resources from the National Women's Law Center). In the span of a week, bloggers blogged about insurance companies questionable health insurance practices that discriminated against women and women's groups such as National Women's Law Center and Labor groups such as SEIU launched petitions and microsite campaigns urging Members of Congress to demand health care reform that did not discriminate against women. Activists also spread the campaign via Twitter and used the hashtag #ImNotAPreExisitingCondition.
OMG GOP WTF?
Credo's brilliant campaign to raise money for progressive organizations who are fighting against the GOP's right wing agenda is a great example of how an organization can use fun polls to not only engage people but to raise money online. Here's how it works. Each week Credo posts a new quiz about how Republicans are trying to prevent meaningful legislation such as health care, reform, climate change, and more from being passed. For each question a web visitor answers correctly, Credo will donate money to the featured organization of the week. This week it's People for the American Way.
350/tcktcktck
350.org has spent the past year building a movement online and on the ground to unite the world around solutions to the climate crisis. Led by Bill McKibben and several youth organizers from all over the world, the organization held one of the largest political action days related to climate change in history this past October. "More than 19,000 (photos) in all, had been streaming in (to Time Square in NYC) around the clock from a diverse patchwork of 5,245 actions taking place in 181 countries," said Michael Silberman. "As more and more people access the tools to co-create, speak together, and self-organize, days of action like these are beginning to show us the tools and citizen leadership that will change organizing and nonprofits in the same way that social media and citizen journalism transformed the news industry."
Mother of the Year: Mom's Rising
The team at Mom's Rising developed this clever online video campaign to help build up their list just in time for Mother's Day. The campaign allowed people to honor their moms by personalizing the video news clip featuring mock news anchors, celebrities, and everyday people touting the web users mother's name. The user could then send their mom a link to the video and who would then get to see her name in lights. MomsRising's online membership instantly went from 140,000 supporters to 1.1 million.
BeThereFirst.org: Doctors Without Borders
Doctors without Borders has quite a mission – to provide humanitarian medical care to victims of armed conflict, epidemics and natural disasters. No small feat. To help raise $150K for their Emergency Relief Fund they launched the eye catching and information packed BeThereFirst.org microsite. From the start, the site had clear campaign goals, quickly made the case of their dire need to raise money for the Emergency Relief Fund, told potential donors how the money would be spent and featured compelling videos and stories with field staff as well as a real-time fundraising thermometer to give the campaign a sense of competition and urgency. BeThereFirst.org is a great example of how to create a microsite that has a hard-hitting impact on its target audiences and surpassed its fundraising goal.
Put a Ring On It: NTEN
When NTEN wanted to raise $10K in scholarship money for people to attend the annual NTC conference, Executive Director, Holly Ross announced a creative incentive via a blog and video post. She would let donors vote on which one of three potentially embarrassing (or health-hazardous) things she'd do (re-create Beyonce's video Single Ladies: Put a Ring on It, eat a gross bacon explosion or play her college marching band trombone in Union Square if NTEN reached their goal. NTEN members dug the fundraising contest so much, that they quickly rallied together to raise the $10K. Donors then voted for Holly to remake the Beyonce video that was later unveiled at the NTC conference to a crowd of 900 people. Holly received a standing ovation!
What are your favorite nonprofit website and advocacy campaigns from 2009?
You should follow Frogloop on Twitter.

Allyson Kapin
Allyson has been named one of "Top Tech Titans" by the Washingtonian, one of the Most Influential Women In Tech by Fast Company, and one of the top 30 women entrepreneurs to follow on Twitter by Forbes for her leadership role in technology and social media. As Founding Partner of Rad Campaign, she leads the firm's client and online strategic services. For over a decade Allyson has helped non-profit organizations and political campaigns create dynamic and award-winning websites and online marketing and recruitment campaigns. She works side-by-side with her clients to meet their web needs and maximize their online effectiveness to create real world impact.