Let's flashback to 2013 when Facebook announced in a blog post that they'd start autoplaying videos:
Since September, we've been testing a way to make videos more engaging on Facebook, and as a result we've seen views, likes, shares and comments increase more than 10 percent. We're beginning to test a similar video viewing format for advertisers. Marketers will be able to use this new format to tell their stories to a large number of people on Facebook in a short amount of time – with high-quality sight, sound and motion. This approach will continue to improve the quality of ads that you see in News Feed.
Recently, Socialbakers analyzed over 180,000 Facebook video posts across 20,000 Facebook pages owned by brands, media companies, celebrities, and entertainment companies, and found some pretty remarkable results that is worth nonprofits taking examining.
Here's some insight into what they found:
Facebook

really is dominating

YouTube

. Brands posted 20,000 more videos on

Facebook

than they did on

YouTube

in December 2014.
Video engagement is

skyrocketing

on

Facebook

. In January 2014,

Facebook

was getting just over half of all video interactions. In December,

Facebook

videos received more than 80% of all video interactions.

Marketers

are honing in on

Facebook

even more.

Marketers

are turnings to

Facebook

videos first, before other social networks, and nonprofits should take note. Natively uploaded videos are being found on

Facebook

more often. And, they're being watched more often.
Facebook also conducted their own research. They want brands (including nonprofits) to use Facebook to engage target audiences with videos. "We are seeing this shift to a visual language come to life on Facebook," Facebook reported. They're really pushing videos, and it's working.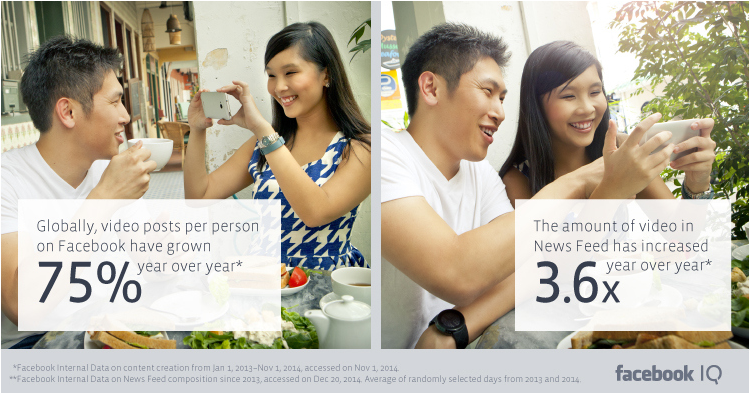 A snapshot of their findings...
In just one year, the number of video posts per person has increased 75% globally and 94% in the US.
Every day, people upload more than 350 million photos on average to

Facebook

.

Facebook

announced that, "with people creating, posting and interacting with more videos...the composition of the News Feed is changing." This is confirmed by the increase in video from people and brands in the News Feed. It's increased 3.6x year-over-year.
Since June 2014,

Facebook

has averaged more than 1 billion video views every day.
On average, more than 50% of people in the US who come back to

Facebook

each day watch at least one video per day.
Cisco Systems estimates that mobile video will increase 14-fold between 2013 and 2018.
With the huge increase in video production and consumption, Facebook appears to be the place for video. So if your nonprofit is producing short videos, it's definitely worth posting them to Facebook and testing audience response rates. Be sure and analyze what percentage of people on your FB page are watching the videos, sharing them, and commenting on them. Also analyze how you are promoting the video content. After you test a few videos on Facebook, you will have some good data to determine if a video strategy is something you should add to your social content strategy for 2015.

Allyson Kapin
Allyson has been named one of "Top Tech Titans" by the Washingtonian, one of the Most Influential Women In Tech by Fast Company, and one of the top 30 women entrepreneurs to follow on Twitter by Forbes for her leadership role in technology and social media. As Founding Partner of Rad Campaign, she leads the firm's client and online strategic services. For over a decade Allyson has helped non-profit organizations and political campaigns create dynamic and award-winning websites and online marketing and recruitment campaigns. She works side-by-side with her clients to meet their web needs and maximize their online effectiveness to create real world impact.