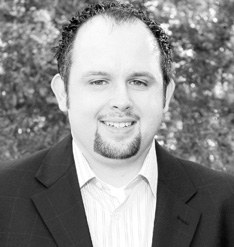 I have an email hoarding problem. I collect hundreds of nonprofit email messages every year for use in research projects and to keep tabs on what different techniques organizations are using. Last year I decided to unlock the email vault and do some analysis on "80 Email Subject Lines from End of Year Fundraising" from 2011.
For 2012, I analyzed 200 email subject lines sent to me from nonprofits between December 1, 2012 and December 31, 2012. Here are some interesting findings, best practices, and the complete list of email subject lines.
Analyzing the Email Subject Lines
I ran the subject lines of the 200 emails from 54 nonprofits through a text analyzer. The cloud graphic has the most frequently occurring words appearing larger than others. Common language words were removed. You can compare it to 2011's most common words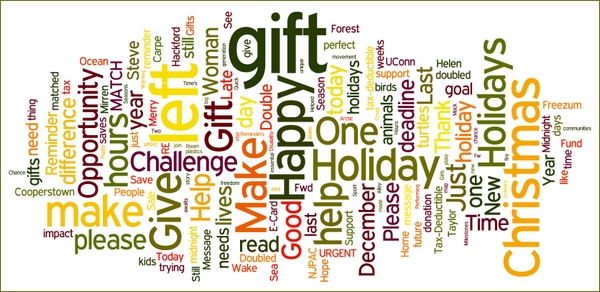 Words like "gift" and "holiday" were used the most in subject lines. "Help" and "donate" were less common. Both "challenge" and "Christmas" appeared a lot. Seven emails made reference to a tax deduction. Only three emails from three separate organizations used my name in the subject line. There were three faux forwards and two faux replies sent to me.
The Frequency
I received 25 emails from different nonprofits on December 31st which was the most of any day. The second most emails that I received were on December 28th with 14 in the inbox . (It was if someone had predicted that would happen.) I was sent 12 emails by one single organization during the month of December. Five other organizations sent me 9 or 10 emails. I was actually more surprised by the nonprofit's that sent me only a single email or no email at all during the end of the year.
Matching Gifts
A successful trend in year-end fundraising appeals are matching gift challenges. These types of programs are very attractive to donors. They offer an immediate impact for the gift and show that the organization has others invested in the mission. Some forethought and planning can make these very successful programs. Humane Society of the United States, Chesapeake Bay Foundation, and Room to Read all focused several emails on a double-your-donation theme. HSUS' Board and National Council gave $70,000 to match year-end gifts. CBF's Board of Directors agreed to match donations up to $200,000 before midnight on December 31. Room to Read noted that end of year donations would be matched by a generous group of donors up to $2.75 million.
Standing Out in the Inbox
While some emails didn't get a second look, others really stood out in the inbox. I could probably write a book on all the content and design highs and lows. I am still amazed at the prevalence of the all-image-text-on-graphics email designs. The number of emails that were clearly not designed for a mobile device certainly stood out. Responsive design hasn't made its way to email --- yet. But there were some messages that really got my attention. Here are a few of them: Rainforest Action Network sent a very moving email with the subject "The loss of our visionary leader, Rebecca Tarbotton" that let supporters know about their executive director's death in a swimming accident. Amnesty International included a celebrity message in their email titled "A message from Helen Mirren and Taylor Hackford" and later follow-up reply from their Chief Advocacy Officer. LIVESTRONG Foundation had one of the most attention getting subject lines with "Why the Cheerleaders Shaved Their Heads" and included a message from Indianapolis Colt's coach Chuck Pagano, who is battling leukemia. "It's the end of the year, but just the beginning for many!" from the Indiana University School of Philanthropy was a pleasant surprise. It has been exciting to see IU's Center on Philanthropy transform into the world's first school of philanthropy in 2012 Bread for the City had a great combination of emails with personal stories of impact, a board members matching program, and a last minute additional $10,000 challenge match from a donor. They showed it's possible for locally based charities to run a great online email and fundraising program. Extra bonus points for not using the typical lower ask amounts on their donation form.
200 Email Subject Lines to Check Out
Below are the subject lines beginning with those received on December 31, 2012 and moving backwards in time to December 1, 2012:
URGENT - 11:59 deadline tonight!
Top 5 Reasons to Empower One Woman
Last Chance to Make a Tax-Deductible Gift in 2012
Hours left: Carlos and Chetna
Time's almost up to have your gift matched!
One last thing
Good news: Transforming lives, rebuilding communities
Your last chance to help the animals in 2012!
Fwd: Only hours left - please make your gift before midnight
Before Midnight
Another matchmaker stepped up to the plate!
Start the Countdown to Midnight!
A gentle but urgent nudge - please give today!
one more thing?
Only a few hours left - have you made your gift?
18 hours left to have your gift matched
Give Today! There is Still Time Before the New Year!
LAST CHANCE to make your tax-deductible donation!
Carpe Freezum Help One More Child with an Intellectual Disability
Will you join One Woman?
We're so close to our goal for animals!
Happy New Year
Hurry Up! It's Not Too Late
Before the ball drops...
WNYC Reminder - Just a few hours left to make the 2012 tax deadline
It's not too late--gifts today will be doubled!
Double your dollars: Make your gift before the year ends!
Steve - now make 2X the difference!
Only hours left - please make your gift before midnight
48 hours left
tomorrow
Just one day left: your support is essential
MATCH: Make Your 2012 Tax-Deductible Gift Today!
Unexpected needs
The Gift Of Opportunity
Just one day left
The loss of our visionary leader, Rebecca Tarbotton
When school is just a bench
RE: A message from Helen Mirren and Taylor Hackford
Why the Cheerleaders Shaved Their Heads
need your help
2 days left to make a big difference
RE: An Ocean of Good
URGENT: year-end deadline
Make Your 2012 Year-End Donation to WWF
This water is like freedom
A message from Helen Mirren and Taylor Hackford
Carpe Freezum at the Polar Plunge! Please read Trista's story.
They Told Me I'd Never Run Again
What's your goal?
Fwd: Doubled
Make change possible
Double your impact for animals
There is still time to make your 2012 donation!
Nowhere else to turn
Make a difference in 2013!
Help Birds!
We can't do it WITHOUT YOU!
How to protect rainforests in 2013
Thank you for an incredible year!
A healthy future
Maximize your tax credit by the December 31 deadline
There is Still Time to Give!
It's Not Too Late to Support Friends of UNFPA
Make a difference in 2012
Doubled
Reaching New Milestones
Check Out Our Post-Holiday Clearance
The Gift Of Opportunity
Thank You
What's YOUR New Year's resolution?
Reminder: 2012 Tax Deadline Just Days Away
Research funds needed - please read
What we can accomplish together
Time Is Running Out
The future of this movement
Conservancy December 2012 Update
Your "Stand With Survivors" Car Magnet
What any mother would do
Performing surgery in a cave
An Ocean of Good
It's the end of the year, but just the beginning for many
Thank You from the Cornell Lab
Last minute gifts are only a click away
Merry Christmas!
Happy Holidays!
Merry Christmas from Opportunity Ghana
Just One Week Left!
For the person who has everything
Warning: Adorable leopard kitten photo inside!
Holiday E-Card
Happy holidays from our family to yours
Give Them a Home
Happy Holidays from the Naval Academy Alumni Association and Foundation
Cross them off your list
Last-minute gift ideas
Express your passion for birds
I'm celebrating Christmas this year because of you.
The Gift Of Opportunity
Happy Holidays from NJPAC
To Kids from 1 to 92
Only 2 weeks left in the One Woman Holiday Challenge
Seasons Greetings from ACBA
Hoarding Victim Goes Home after 1.5 Years
The Most Wonderful Time of the Year!
500,000 kids...
Where are you Haydn?
This holiday, give a gift that saves lives
Happy Holidays!
NJPAC needs your voice: please help preserve charitable deductions
Do you love sea turtles as much as we do?
Subpoenaed by Chevron
Light the Way. Double your impact.
Send a LIVESTRONG Holiday E-Card
Victories
Quick Reminder
Critical research needs you
Take Bread for the City's Christmas Challenge!
More and Better Homes for People in India
Turning hopeless into 'thank you'
Please Support The Wake Forest Fund
A Reflection on Tragedy and Hope
Please read: last reminder to support Wikipedia
Save the Date - Girls' Night Out!
Out in the cold
Evolution's Many Forms
Peter wrote a letter, and shook the world
Last day! Order your custom cards for Christmas
Have you read the new Impact?
Santa's special delivery: Give 3 baby chicks!
Sandy Hook School Memorial Scholarship Fund Established at UConn
There's only 2 weeks left!
A Message from our founders: Inspiring a generation of young readers
We're kicking off our $20,000 Christmas Challenge!
Two more days!
MATCH Increase! Help Us Meet Our Goal
Give the holiday gift of Opportunity
Make your gifts count in 2012
still trying?
I'm proud of who we are
Get on the map with me and Sting!
Our trash speaks volumes
Happy Holidays from Wake Forest
Holiday Sale: Up to 50% Off Fair Trade Gifts!
Sunday's Too Late
Give the gift of a UConn education
Happy Holidays from Cooperstown
Shih Tzu Puppy Rescued from Starvation
Ms. Mack
How a hero says, "Thank you"
Your generosity will be doubled this month
We won't stop until they do
Annual CBF Membership Renewal
Last day to get your holiday card mailed!
Save up to 25% with our Holiday Jersey Sale
You could be the one who puts us over our goal
There's still time - the perfect gift awaits
MATCH: $1 becomes $2 and changes more lives!
Alley Cat Allies eNews - December Edition
Please don't forget your tax-deductible gift for the birds
Donate today! See your name in lights!
Animal Fighting Is Not a Sport
We Need You.
Look Good, Do Good
Help keep plastics out of Arctic waters
No ordinary gift
I'm giving back.
no stone unturned
Call me crazy on World Human Rights Day
This little light of mine
Wall Street Journal article on Shock Trauma
Urgent reminder for Steve. Will you help rescue bears this Christmas?
Great to have you with us, Steve!
The perfect holiday gift for IU fans‏
The Season of Miracles!
Cure 1000 People by Christmas!
Winter is Here. Shop Jackets.
See Billy the Chihuahua LIVE - today!
Help us make this a life-saving Christmas
The One Woman Holiday Challenge is on fire!
Henry's Journey, Our Challenge, Holiday Music
The holidays won't be complete without...
You can help kids like Aiden
Happy Holidays from Room to Read
A meaningful gift idea
Fw: Sea turtles need your help
Knowing the signs saves lives‏
Holiday stories from the field
Free Shipping
Personal appeal from Wikipedia's founder
Give a Cooperstown Gift this Season
This season's most unique gifts
IU-Telecom: December Reminders‏
A Special Message from the Roger Tory Peterson Institute
Sea turtles need your help
The holidays are fast approaching, check out our Gifts of Hope bestsellers.
How You've Helped
Jeopardy
They're trying to take the Internet
Give the Gift of Love