Yesterday on the Care2 Engagement Blog we discussed 20 of our favorite email fundraising tips that nonprofits should be leveraging. But what about your website? Is it effectively converting donors and subscribers? Here's four website tips to start generating those conversions.
1. Incorporate a Prominent Donation Ask into Your Header
Add a prominent "Donate" button to the navigation or header area. Consider making it a different color to stand out. We've tested this strategy over the years at Rad Campaign for nonprofit website redesigns and have seen this increase donations.
You can also add a prominent callout at the top of the page that allows don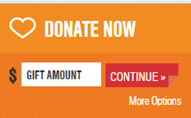 ors to start the process by entering a gift amount. See example on the right.


2. Incorporate a Prominent Email Subscription Button/Field into Your Header
Don't bury your email signup form on your website. Incorporate a short signup form in your header. Keep it simple. Ask for name and email only. The more form fields you add the less converstions you will get on the signup form. By having the signup form in the header, it will show up across your website, allowing users to signup no matter what page they are on.
You should expect at least 2% of all website visitors to signup and provide email addresses.

3 Leverage Popups
Popups introduce important calls-to-action such as subscribing to your email list or donating money to a specific campaign. They offer an easy way for website visitors to complete an action on the spot.
According to some studies, popups aimed at increasing email subscriptions have helped some websites increase conversion by more than 1,000%. Your nonprofit should test popups on its homepage as well as on internal pages. Note many visitors can enter your site from a Google search, and never see even your homepage so it's important that when you use popups that they are done on interior pages as well.


4. Feature Prominent Calls-to-Action on Your Homepage
Add a strong call-to-action on your homepage to convert visitors into subscribers and donors. In addition to incorporating prominent donation and email subscription actions into the website header, reinforce those asks on the homepage by highlighting them in other ways.
Now that your getting into year-end fundraising planning, make sure that these strategies are implemented across your nonprofit's website so that you can increase conversions during this prime time.