A lot of nonprofits question how big election years will impact their fundraising, especially if they are not a C4 or a PAC. They worry that donors will prioritize candidate donations over their nonprofit. A new report by Blackbaud shows that this assumption may be wrong. During the 2012 elections, data showed that political donors tracked by the Federal Election Commission gave more to nonprofit organizations in 2012 than they did in 2011. Another words many donors are happy to support both political candidates and nonprofits.
This study accounted for charitable giving that made up three-quarters of American reporting public charities in the following sub-sectors:
Arts and Cultural
Environmental and Animal, Healthcare
Human Services, International Affairs
Public and Society Benefit
Data was gathered from 143 national 501(c)(3) organizations representing the six sub-sectors. It did not include giving to religious or educational institutions or foundations.
Key Findings from the Study
1. Donors who gave to federal political campaigns in 2012 gave 0.9% more to charitable organizations in 2012 than they had in 2011. This is impressive given that the recession still loomed over the nonprofit sector in 2012.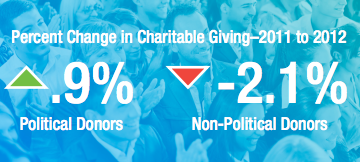 2. About 400,000 political donors studied were quite charitable, giving $800 million in political gifts in 2012, while also giving more to charity in the same year.
3. Donors who did not give to political campaigns reduced their giving to the charities they studied in 2012 by 2.1%. These findings held true across all sub-sectors as well as the demographic segments of age range, household income, and head of household gender.
4. There was a 10.8% increase in charitable giving among political donors aged 25 to 34. As you know, the 2012 campaigns inspired donations and generated more influence on young people than they did on older people with established charitable giving habits.
"Abundant studies have shown 45–54 to be the prime age range in which sustainable giving habits are cultivated; a time when discretionary income peaks and giving is prompted by maturing life experience. But we may have discovered in this study that high-profile campaign years are ideal target times for nonprofits to acquire young donors," said the study.
It will be interesting to see the correlation between political donors and nonprofit donors in the 2016 election. I'm betting we will see even better stats when the results are in.

Allyson Kapin
Allyson has been named one of "Top Tech Titans" by the Washingtonian, one of the Most Influential Women In Tech by Fast Company, and one of the top 30 women entrepreneurs to follow on Twitter by Forbes for her leadership role in technology and social media. As Founding Partner of Rad Campaign, she leads the firm's client and online strategic services. For over a decade Allyson has helped non-profit organizations and political campaigns create dynamic and award-winning websites and online marketing and recruitment campaigns. She works side-by-side with her clients to meet their web needs and maximize their online effectiveness to create real world impact.