Up until January 2012, Pinterest had been slowly gaining momentum and growing a user base over 22 months. Then suddenly, boom, Pinterest became the social media world's new darling. According to ComScore's data, Pinterest hit 1

1.7 million unique monthly U.S. web visitors, and crossed the 10 million mark faster than any other standalone site in history, though some analysts debate the accuracy of this figure. Nonetheless, no one, is arguing its explosive growth.
So as organizations begin to eye emerging social platforms, should they be investing their resources into Pinterest? In short – yes. I think it's important that nonprofit's cast a wide net and experiment with a variety of social networks and communities. Why? For two reasons.
To connect with your audiences who are using other social networks besides Facebook, Twitter, and YouTube. It's critical that you reach your audiences wherever they are and not just one channel.

To reach new audiences who might be interested in your issues.
However, how much time you invest in Pinterest really depends on your organization and your target audiences. Check out the data below
Pinterest Facts
According to data from March 2012 Pinterest users:
Are comprised mostly of women – 68%. And 97% of Pinterest fans on Facebook are women.
Spend on average 15.8 minutes on its site. For comparison sake, people typically spend about 12 minutes on Facebook, 3 minutes on Twitter and 16 minutes on YouTube.
Earn a decent living. About 30% of users annual household income is $100K.
27% are between the ages of 25 to 34.
22% are between the ages of 35-44.
17.9% are between the ages of 45 to 54.
4% are between the ages of 12 to 17.
50% have children.
Mostly repin images/pins.
Looking to share 13 fun facts about Pinterest with you staff? Check out the infographic below. And if your organization is looking for ideas of utilizing Pinterest check out this great post by Avi Kaplan of Rad Campaign on Steal These 42 Creative Pinterest Ideas for Nonprofits.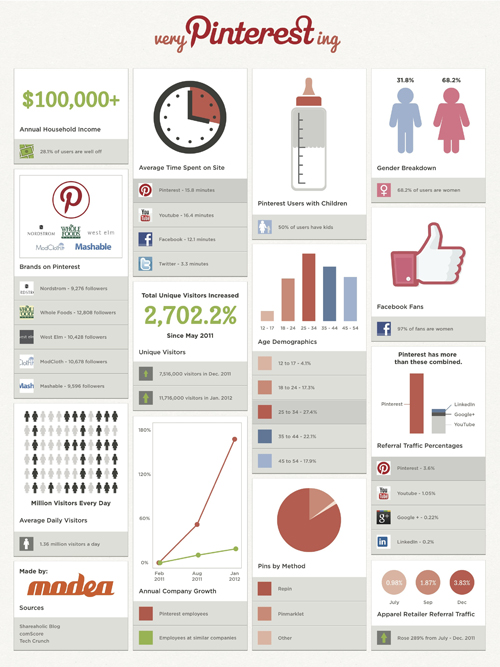 Allyson Kapin
Allyson has been named one of "Top Tech Titans" by the Washingtonian, one of the Most Influential Women In Tech by Fast Company, and one of the top 30 women entrepreneurs to follow on Twitter by Forbes for her leadership role in technology and social media. As Founding Partner of Rad Campaign, she leads the firm's client and online strategic services. For over a decade Allyson has helped non-profit organizations and political campaigns create dynamic and award-winning websites and online marketing and recruitment campaigns. She works side-by-side with her clients to meet their web needs and maximize their online effectiveness to create real world impact.