What goes down must come up, right?
Okay, maybe that's not the saying, but that's what is happening with charitable giving trends right now. The Blackbaud Index just released the newest giving data through June 2015.
We've pulled together the stats to keep you in the loop:
Overall charitable giving decreased 0.5% for the 3 months ending June 2015, compared to the same period a year earlier (based on data from 5,170 charities that raised more than $17 billion in the prior 12 months).


Online giving grew a significant 13.8% in the same 3-month period, compared to the same period a year earlier (based on 3,786 charities that raised over $2 billion online in the prior 12 months).

Overall giving grew 4.7% in the 3 months ending in June 2015, compared to the same period in 2014 (based on giving to 96 foundations representing more than $414.6 million in annual revenue).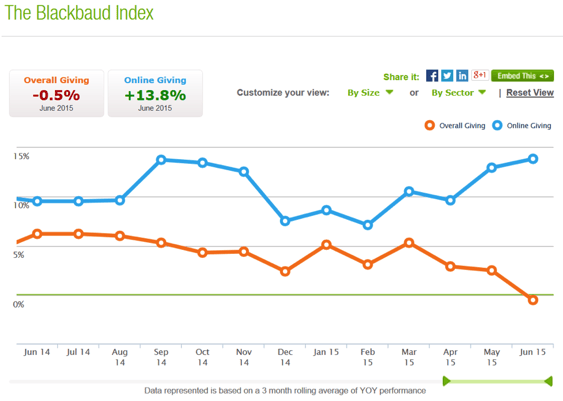 Have you noticed any growth in online giving at your nonprofit? How might that change your communication styles with your donors?

Allyson Kapin
Allyson has been named one of "Top Tech Titans" by the Washingtonian, one of the Most Influential Women In Tech by Fast Company, and one of the top 30 women entrepreneurs to follow on Twitter by Forbes for her leadership role in technology and social media. As Founding Partner of Rad Campaign, she leads the firm's client and online strategic services. For over a decade Allyson has helped non-profit organizations and political campaigns create dynamic and award-winning websites and online marketing and recruitment campaigns. She works side-by-side with her clients to meet their web needs and maximize their online effectiveness to create real world impact.