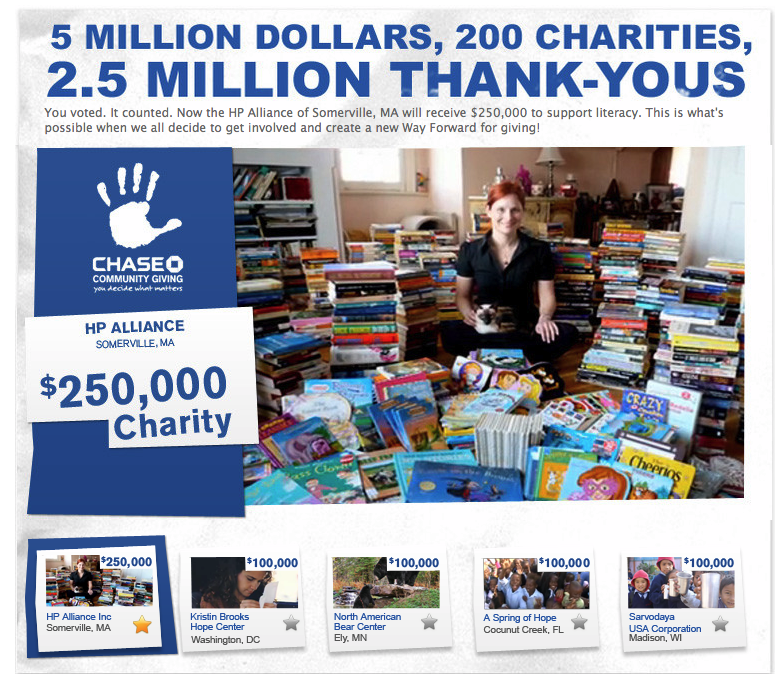 In the good old Web 1.0 days cause marketing campaigns got a bad rap. Some criticized corporations and said their cause marketing efforts were PR stunts designed to score brownie points with the public. In the Web 2.0 world, cause marketing contests such as Pepsi Refresh and Chase Community Giving have caused a different kind of ruckus. It's called digital litter. Why? Because in cause marketing contests, charities and ordinary citizens are encouraged to reach out to their online networks and ask people to vote for their favorite charities. The charity with the most votes receives cash grants ranging from $10K to $250K+ to help fulfill their mission. Critics say that the obsession with voting is not only cluttering up their email, but their social networking space too.
"The problems with using social channels heavily for things like vote-raising events like this is that it floods one's channel with that kind of promotion. That's problem 1. The secondary problem is that if you're someone with a larger following, you have to manage how many of these competitions you're going to promote, because one begets another begets misgivings about which charities one supports and which charities one doesn't," said Chris Brogan, who was irked enough to write about this recently on his personal blog.
Others in the debate feel that it's an organization's actual work on the ground that should speak louder than their talent for garnering "votes". What about small nonprofits who just don't have the large email lists or staff time and resources to spend all day on social networks asking people to vote for them? How can they take advantage of opportunities like this?
"I think that nonprofits really need to think about the ROI before entering these contests. Organizations need to hit the pause button and ask if they should participate in the contest in the first place," said Beth Kanter who developed an ROI checklist as result of her research through the American Giving Challenge.
What do you think? Are online fundraising contests effective or are they turning into digital litter campaigns?
You should follow Frogloop on Twitter.

Allyson Kapin
Allyson has been named one of "Top Tech Titans" by the Washingtonian, one of the Most Influential Women In Tech by Fast Company, and one of the top 30 women entrepreneurs to follow on Twitter by Forbes for her leadership role in technology and social media. As Founding Partner of Rad Campaign, she leads the firm's client and online strategic services. For over a decade Allyson has helped non-profit organizations and political campaigns create dynamic and award-winning websites and online marketing and recruitment campaigns. She works side-by-side with her clients to meet their web needs and maximize their online effectiveness to create real world impact.